The annual recorded music business in Japan fell by around 4.5% in 2014, according to preliminary RIAJ figures analysed by MBW.
Our forecasts suggest that Japan's total recorded music revenues stood at approximately 297.5bn Yen (€2.2bn) in the year. That would represent the first time they have dropped below 300bn Yen in history.
If accurate, it would mean Japan's annual recorded music income – inclusive of CD, DVD, Blu-Ray, ringtones, downloads and streaming – has dropped by a painful 38% since 2004.
It's the second yearly drop in a row for Japan, the world's second biggest music market: in 2013, music sales fell by 15% to 312.1bn Yen.
The news follows annual income dips in territories including the US, UK, Norway and Sweden in 2014 – while Italy and Germany's markets both increased in value.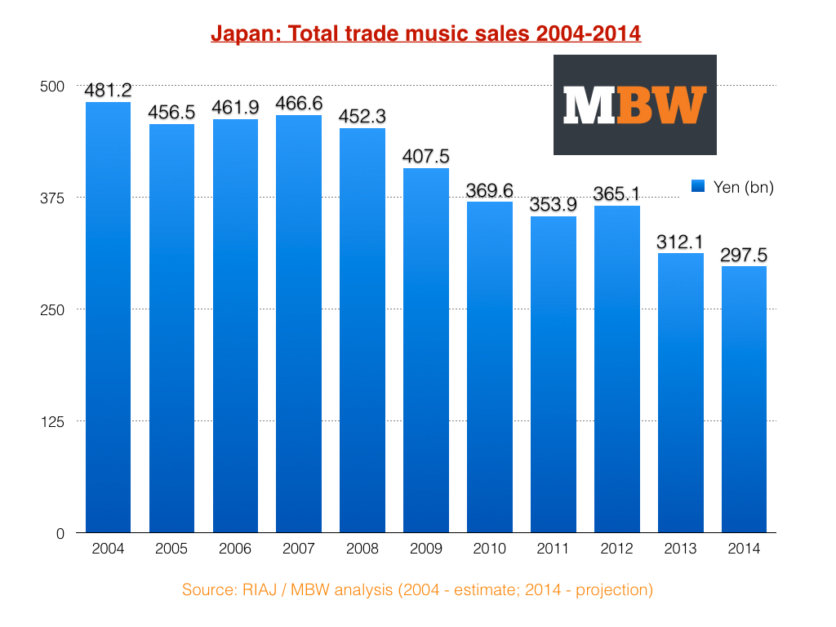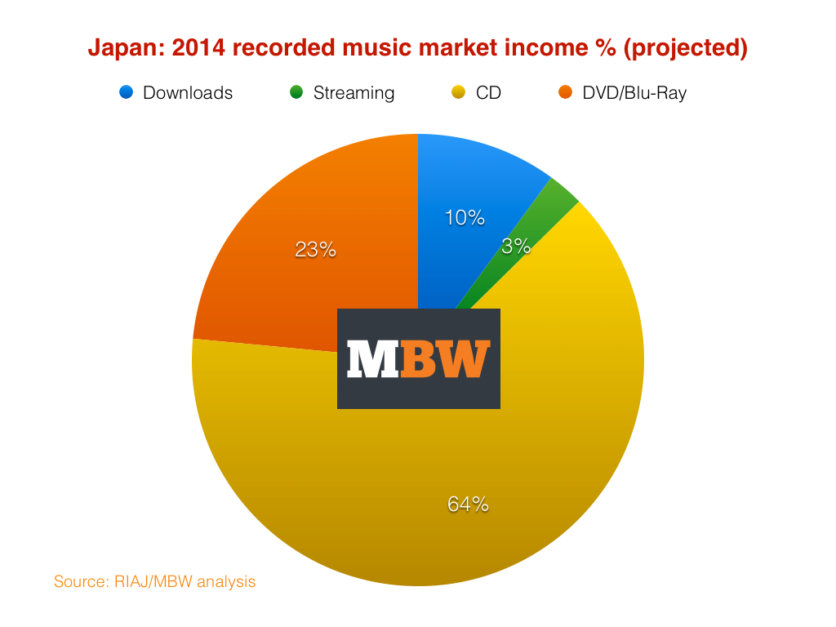 Non-digital sales
Income from non-digital music products in Japan in 2014 – including CD sales as well as DVD/Blu-Ray music videos – is already a certainty: according to confirmed RIAJ figures, the year's total stood at 254.2bn Yen (€1.89bn), a 6.5% decline on 2013's tally.
The CD was responsible for the vast majority of this revenue, generating 184.1bn Yen (€1.37bn) – down 6% year-on-year. Since 2004, when the CD generated 368.6bn Yen in Japan, the format's annual sales in the territory have now been cut in half.
In 2014, the CD's decline was entirely caused by a fall in domestic repertoire sales. Home-grown talent generated 155.7bn Yen (€1.16bn), down 7% year-on-year, while international artists matched their 2013 performance, bringing in 30.7bn Yen (€230m).
Confirmed sales of music videos on DVD and Blu-Ray dropped 6% in 2014, down to 67.7bn Yen (€500m).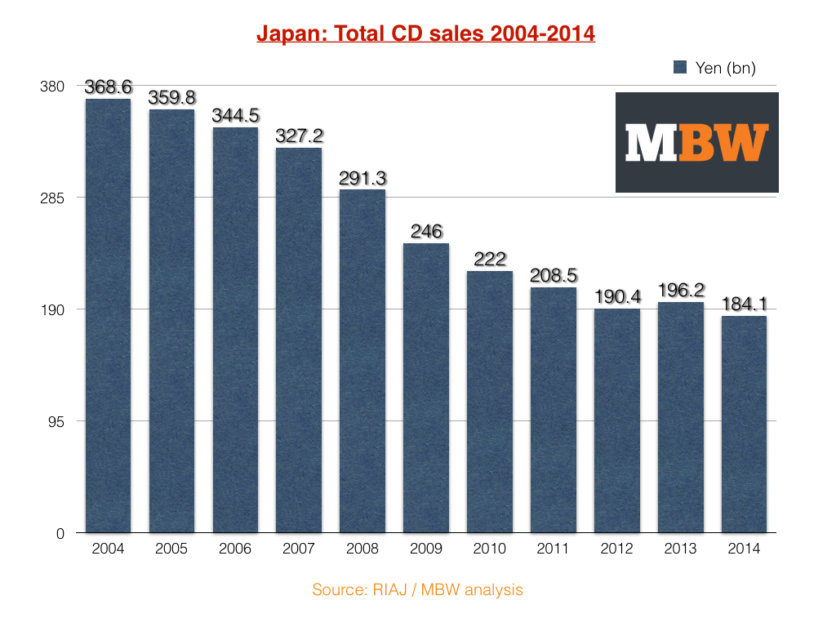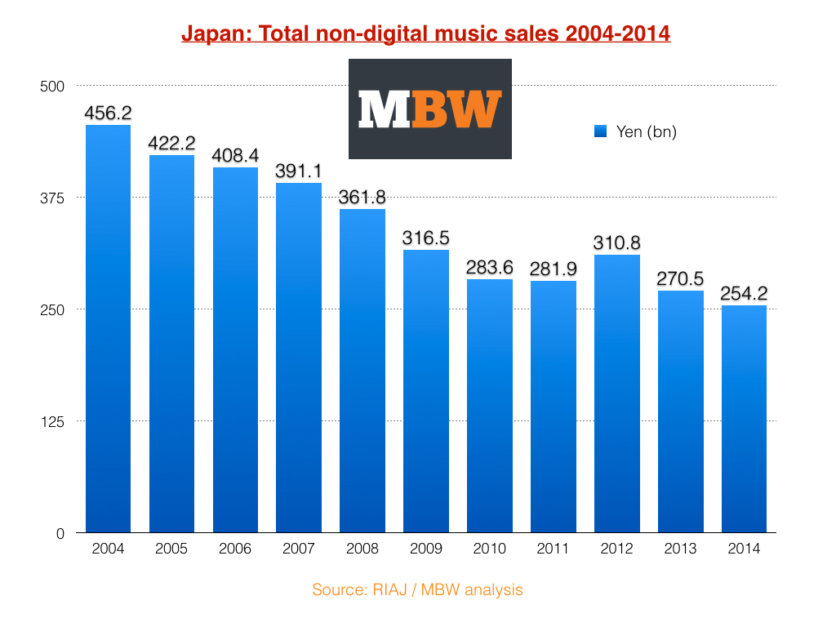 Digital sales
We don't yet know for sure what digital music sales in Japan across the whole of 2014 amounted to, but we can make a sensible estimate: according to RIAJ figures for the first three quarters of the year, digital music income was up 3% to 32.5bn Yen (€240m).
5.6bn Yen (€40m) of this – or 17.2% – was generated by subscription streaming platforms. That's three times the size of streaming's haul in 2013.
While streaming and album downloads both continue to grow, ringtones – across 'ringback' and 'master' – were down around 28% to 3.7bn (€30m) in Q1-Q3 last year.
Single-track downloads fell 8% to 15.6bn Yen (€120m). Album downloads were up to 6.1bn, meaning total downloads stood at 21.7bn Yen in the three quarters.
In previous years, Q4's digital music sales in Japan have remained similar to those in previous quarters, so we can reasonably estimate that across 2014, downloads, ringtones and streaming combined will have been responsible for somewhere in the region of 43.3bn Yen (€320m).
That would be the first rise in digital music income since 2009, and represent 14.5% of Japan's total market in 2014.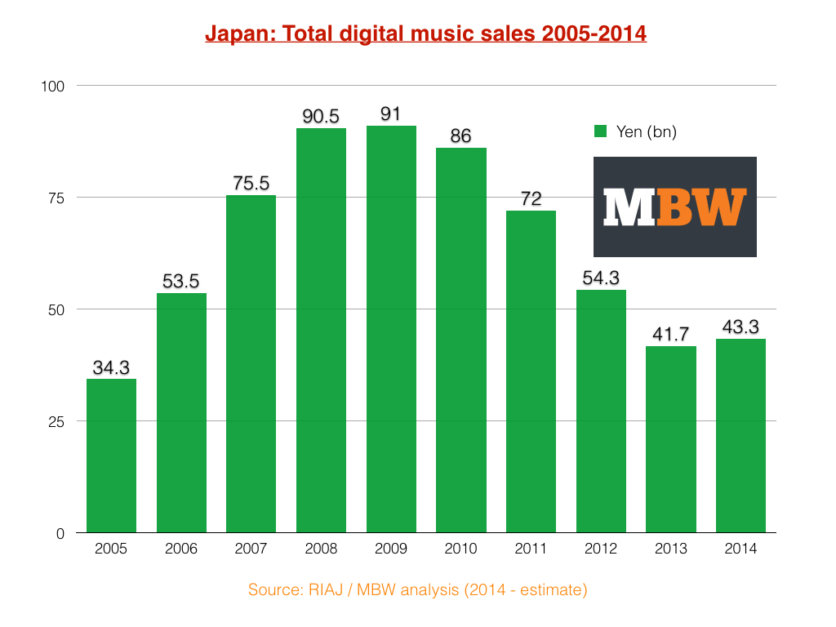 [Pictured: the best-selling single of 2014 in Japan: AKB48's Labrador Retriever]Music Business Worldwide