MBW Explains is a series of analytical features in which we explore the context behind major music industry talking points – and suggest what might happen next. MBW Explains is supported by JKBX, a technology platform that offers consumers access to music royalties as an asset class.
---
WHAT'S HAPPENED?
Two years ago, IMPALA – the European music trade body for independents, whose members include !K7, Beggars Group, Epitaph, [PIAS], Sugar Music, Wagram and Zebralution – published a ten-point plan to reform music streaming.
IMPALA said at the time that its aim with this report was "to make streaming fairer and provide a dynamic, compelling and responsible future for creators and for fans".
This past month, IMPALA issued an update to its ten-point manifesto, following what the organization says was a month-long review process.
The org says its new ten-point plan (see infographic below) is based on three key themes:
Getting more money into the market and making sure there is no dilution of revenues;
Changing how revenue is shared;
Boosting diversity, transparency and climate action.
---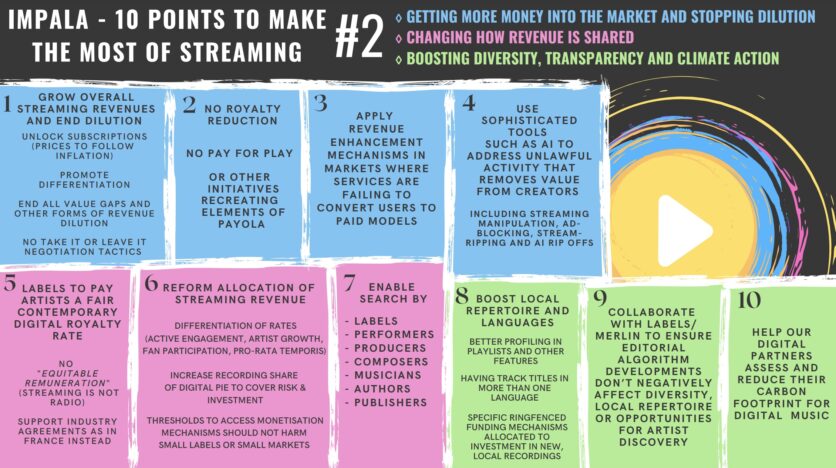 ---
Amongst the recommendations put forward by IMPALA in its new ten-point plan, which you can read in full here, is a call to "reform the allocation of streaming revenue" between different sectors of the music streaming economy.
And within this recommendation – abbreviated in Point 6 above – IMPALA recommends that the industry increases the share of the industry streaming revenue "pie" that is currently apportioned to record companies.
The aim of this increase, suggests IMPALA, would be "to cover risk & investment" made by labels.
Yet, obviously, increasing record labels' share of revenues generated by streaming platforms would inevitably mean a reduction of share in streaming revenue for one of two other parties: (i) Songwriters and publishers; or (ii) Streaming services themselves.
So which of these two recipients of streaming money is IMPALA suggesting should take a commercial haircut?
---
WHAT'S THE CONTEXT?
IMPALA's new report claims that "market assessments conducted in the UK (the most exhaustive and independent work done yet) shows that the revenue share of master rights in [record labels'] core business has been steadily eroded".
The market assessments IMPALA refers to there are: (i) the UK's Competition and Market Authority (CMA)'s market study into the music streaming business in the UK (2022); and (ii) the UK Intellectual Property Office (IPO)'s  'Music Creators' Earnings in the Digital Era' study (2021).
IMPALA's new report points out that the IPO's study found that "under streaming, the label's share of revenue has decreased (concurrently to an increase of revenues to artists) and that the share allocated to publishing rights has increased significantly more than that of recording rights (with songwriters seeing a corresponding increase)".
IMPALA adds that "in line with the IPO's findings, the CMA identified that the share of publishing in the UK has almost doubled from 8% in 2008 to 15% in 2021″.
Below you can see the relevant chart from the CMA report that illustrates the stat cited by IMPALA; it's partly based on data passed to the CMA by Apple, Amazon, and Spotify.
The chart shows that, in 2021, Recorded music rightsholders took an estimated 53% share of the UK streaming revenues paid to / generated by music platforms; while music publishing rightsholders took 15%.
The music services, meanwhile, retained 32% of the money.
---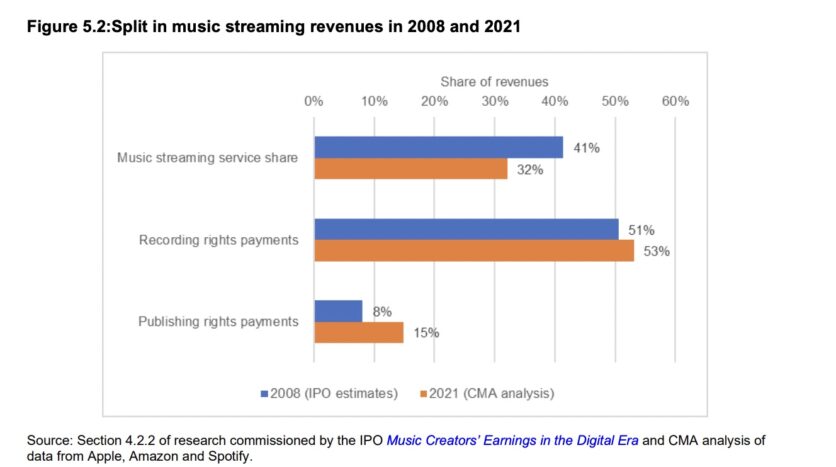 ---
In its new report, IMPALA then points to another stat from the CMA study: overall annual music publishing revenues paid out by the UK's largest music streaming services grew from GBP £100-200 million in 2017 to £200-300 million in 2021.
IMPALA quotes the CMA: "Major publishers in particular have seen above average streaming revenue growth between 2017 and 2021 – significantly outpacing their recording counterparts' revenue growth."
"With that in mind, we ask whether the label share is being undervalued compared to other parts of the sector, which are experiencing increases."
After highlighting these stats, IMPALA writes: "With that in mind, we ask whether the label share [of streaming revenues] is being undervalued compared to other parts of the sector, which are experiencing increases."
(To clarify, IMPALA doesn't overtly name music publishing/songwriters as the single sector "experiencing increases" in streaming revenue share over the past few years. But by process of elimination, this has to be what it's referring to: in the CMA/IPO data IMPALA cites, outside of recorded music, music publishing was the only sector that grew share between 2008 and 2021. According to the CMA data re-published in IMPALA's new report, the music streaming services saw their annual estimated share of the UK revenue "pie" reduce from 41% to 32% during this period.)
---
UPDATE: Mark Kitcatt, President of IMPALA and Chair of Streaming Working Group, has told MBW in a statement: "As chair of IMPALA's streaming working group, I would like to clarify that our plan calls for services to put up subscription prices (and stop dilution) and pay labels more to shore up risk and investment. At the same time we ask all labels to pay their artists modern digital royalty rates. Our plan also seeks a reallocation of revenue between tracks as this article reports at the end and includes a host of other proposals.
"To avoid doubt, we do not call for a reduction of the share to publishers. The references to how the publishing share has increased (from recent UK reports) are included to underline the poor progression of the master right share for artists and labels, rather than call for a reduction of what publishers earn. We invite everyone to read the full plan here and we flag the following extract which summarises our overall view: 'Once we grow revenue we can make a bigger pie, instead of fighting for the reallocation of one that's simply too small. Every part of the music business should be paid properly…'"
---
IMPALA adds in its new report: "We have always said that there cannot be a review of the allocation of revenues between different parts of the sector without a concomitant discussion about who's taking the risk and investing in music.
"With the evidence from the UK market assessments, the question now is how do we boost the recording share to ensure investment in new talent can continue?"
---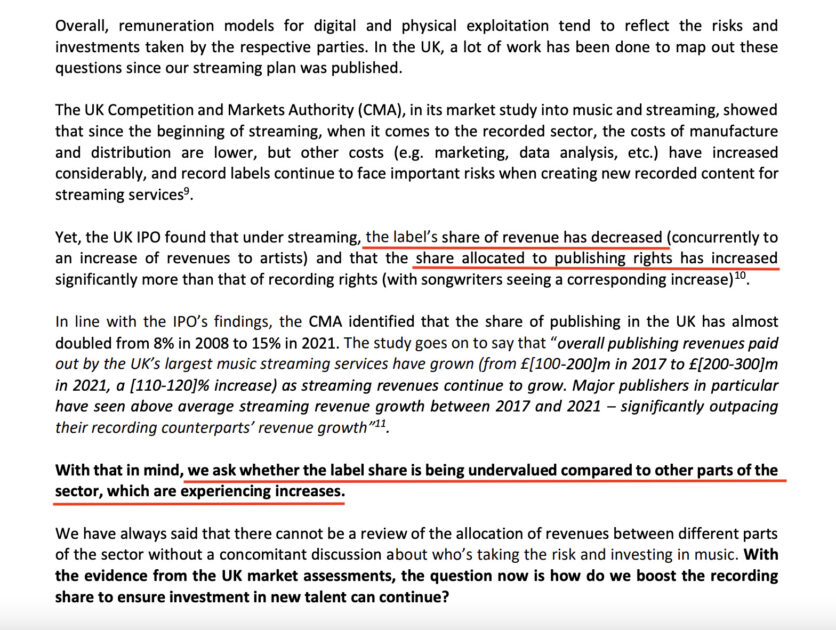 The relevant segment from IMPALA's new report (underlining MBW's own to highlight key passages). IMPALA argues that record labels have faced rising costs in marketing and data analysis in recent years, as signed artists have taken a higher margin of streaming royalties
---
What happens now?
IMPALA's question about the share of streaming revenues flowing to recorded music vs. music publishing will likely raise a few eyebrows in the latter community.
The report arrives against a backdrop of songwriters' and publishers' loud calls and legal battles to be paid a bigger percentage of the money flowing into the modern music business.
A prominent advocate for songwriters being paid more is Hipgnosis Songs Fund founder Merck Mercuriadis, whose public views on the share of streaming revenues received by labels vs. publishers appear to contrast with IMPALA's suggestions in its new report.
In a widely-read op/ed for MBW during Ivors Week in 2021, Mercuriadis suggested that "none of us should be able to sleep in good conscience at night until the true value of the songwriters' contributions are recognized – and until they go from the bottom of the economic equation to the top".
In that op/ed, Mercuriadis noted: "The recorded music side of the business today is getting 4/5ths of the revenue, operating on an 80% gross margin and a 40% net margin – and in most cases record companies own catalogue music masters in perpetuity. Very few famous artists own their masters.
He added: "Conversely, the publishing side of the business is getting 1/5th of the revenue, 1/5th of the margin and, quite rightly – whether through good management and lawyering or via renegotiations or reversions – the rights to songs regularly end up back in the hands of the songwriters."
"In that context it's no wonder that the recorded music companies exercise their control over their publishing companies. It's in their economic interest to push as much of the money in our business towards recorded music – where the lion's share goes to the record company. And to be clear: it goes to the record company at the expense of the songwriter."
---
Meanwhile, in the US, music publishers have faced their own battle with the streaming business in recent years to secure a bigger share of the pie.
The Copyright Royalty Board (CRB) recently accepted a (near) music industry-wide settlement that has improved songwriters' streaming royalty rates in the country effective January 1, 2023.
The settlement – known as 'Phonorecords IV' or 'CRB IV' – will see songwriters and music publishers paid a headline mechanical royalty rate of 15.35% of a given interactive streaming service's US revenue by 2027.
During the 'pre-battle' period of 'Phonorecords IV' in 2021, major streaming companies including Spotify, Amazon, and Pandora all suggested that the rate should be 10.5%
That 15.35% rate for 2023 – 2027 is slightly higher than the previous rate of 15.1% rate for the five years between 2018 and 2022, but lower than the 20% proposed by the NMPA last year.
---
A FINAL THOUGHT…
Outside of discussions over the sharing out of streaming's revenue 'pie', IMPALA's updated manifesto offers other suggestions that many in the music business – on both the publishing and recorded music side – will be likely be in favor of.
These suggestions include raising subscription prices and the use of "sophisticated tools, including AI, to address unlawful activity that removes value from creators, such as streaming manipulation, ad-blocking, stream-ripping and AI rip-offs".
The report also addresses the debate around music streaming's current payout model with a number of its own suggestions.
(For context: see recent views expressed on the matter by Warner Music Group CEO Robert Kyncl; Universal Music Group Chairman and CEO Sir Lucian Grainge; and even Snoop Dogg.)
IMPALA points to a "differentiation of rates" which it says "services may wish to explore" in order to address the way artists are paid from streaming.
The org also suggests the exploration of a number of different potential royalty models in streaming, including:
An "Active Engagement Model", which IMPALA says will "encourage artists to stimulate active fan engagement by attaching a premium value to tracks which the listener has sought out or reached by artist, track or album name, or where she has saved, 'liked', or pre-ordered an album or track, for example";
An "Artist Growth Model," which IMPALA claims will enable artists "to accelerate revenues to a sustainable level, support a broader diversity of emerging, and credible niche talent. The top tier streams would generate a bit less and bottom ones a bit more to help emerging and niche artists";
A "Fan Participation Model", which IMPALA says can "Facilitate spaces within services for rightsholders to develop incremental revenues through direct relationships with fans, e.g. by offering access to extra tracks, better audio, and special features".
A so-called "Pro Rata Temporis Model", which IMPALA says will  "deal with the value imbalance for long-form music content".
Music Business Worldwide