Rob Stringer took over as Sony Music CEO at the start of April last year – and now we know exactly how the company's global finances looked during his first 12 months in the hotseat.
The financial figures were announced by Sony Corp in Japanese Yen a couple of hours ago, and MBW has crunched them into USD at prevailing annual exchange rates – the fairest year-on-year reflection of how Stringer's US-based company is doing worldwide (and, we understand, the model Sony Music uses internally to judge its performance).
In short, Stringer has much to be pleased about: in Sony's FY 2017 (to end of March 2018), the company's recorded music operation turned over $4.03bn, up 12.2% year-on-year overall.
Streaming was the star of the show, with revenues rising 37.3% to $1.8bn – claiming 44.2% of Sony Music's total recorded music sales in the 12 months.
But – get this – physical sales were also up in the period, rising by just under $10m year-on-year to hit $1.22bn.
FY download revenues fell 18% to $449.4m, while combined other sources of recorded music revenue jumped 8.9% to $582.1m.
(These figures were all originally announced in Yen, but they convert to USD at different average annual rates in 2016 and 2017. See the end of this analysis for more details of how this is calculated and for the original Yen breakdown in each case.)
Pink's Beautiful Trauma was Sony Music's biggest-selling global artist project (on a revenue basis) in the 12 months to end of March 2018.
It was followed by DJ Khaled's Grateful (No.2), Camila Cabello's Camila (No.3), Khalid's American Teen (No.4) and Harry Styles' self-titled debut LP (No.5).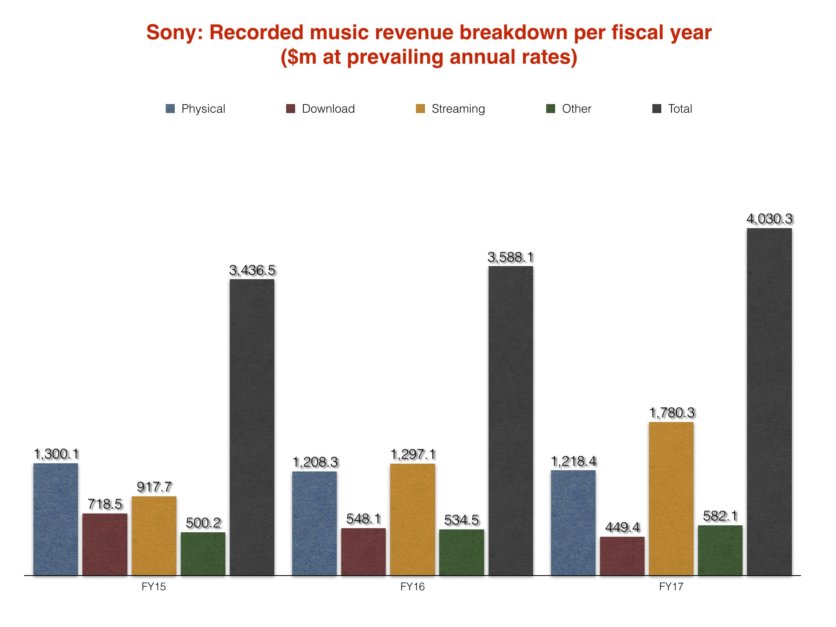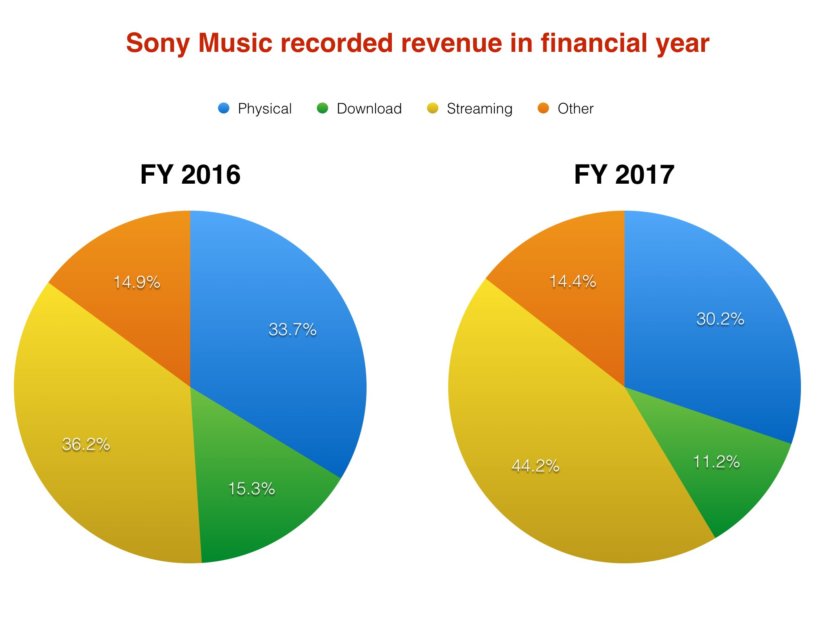 ---
Sony's results also tell us how the company's global recorded music operation fared in calendar Q1 2018 (its fiscal Q4) – ie. the three months to end of March this year.
In a big milestone for Stringer's team, Sony Music turned over a full $1bn ($1.01bn) in the three months.
These overall quarterly revenues grew 21.6% year-on-year, up from $832.5m in calendar Q1 2017.
Nearly half of Q1 2018's figure was claimed by streaming (46%), with the format generating $465.6m in the quarter – up by an impressive 40.1% year on year.
Justin Timberlake's Man Of The Woods was Sony Music's biggest-selling global artist project (on a revenue basis) in the period.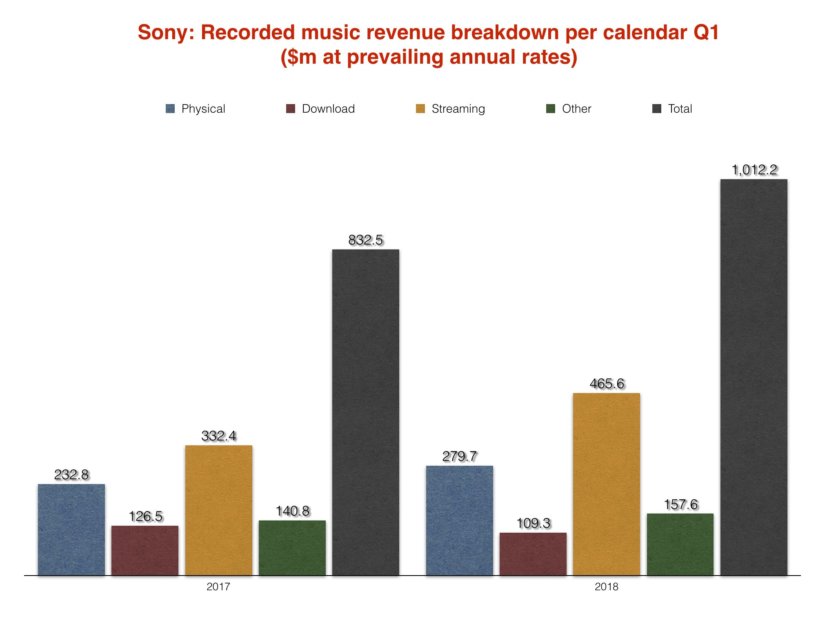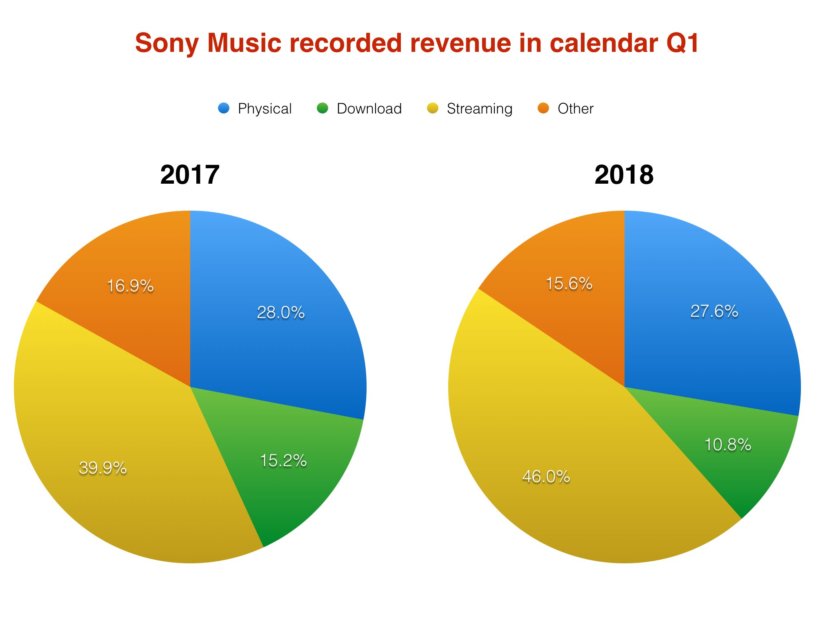 ---

Further note: MBW has reverse-engineered Sony's financials from Japanese Yen into US dollars at the following prevailing exchange rates in each year and quarter, as confirmed by the company:
Fiscal 2017: 110.9 Yen per USD
Fiscal 2016: 108.4 Yen per USD
Calendar Q1 2018 / FY Q4 2017: (Also) 108.4 Yen per USD
Calendar Q1 2017 / FY Q4 2016: 113.7 Yen per USD

By applying these exchange figures to each applicable period, we effectively get a US-leaning constant currency picture of Sony Music's performance.
This isn't a perfect system; it risks overplaying the major record company's global business slightly by converting a chunk of revenues from Sony Music Entertainment Japan (which would usually be straight-reported in Yen) into US dollars.
But it provides us with a cleaner reflection of the performance of New York-based Sony Music Entertainment outside of FX distortion – because the company had to convert its US currency into Yen in the first place for Sony Corp's results.
See below for Sony's annual and quarterly revenue breakdowns on a Yen basis.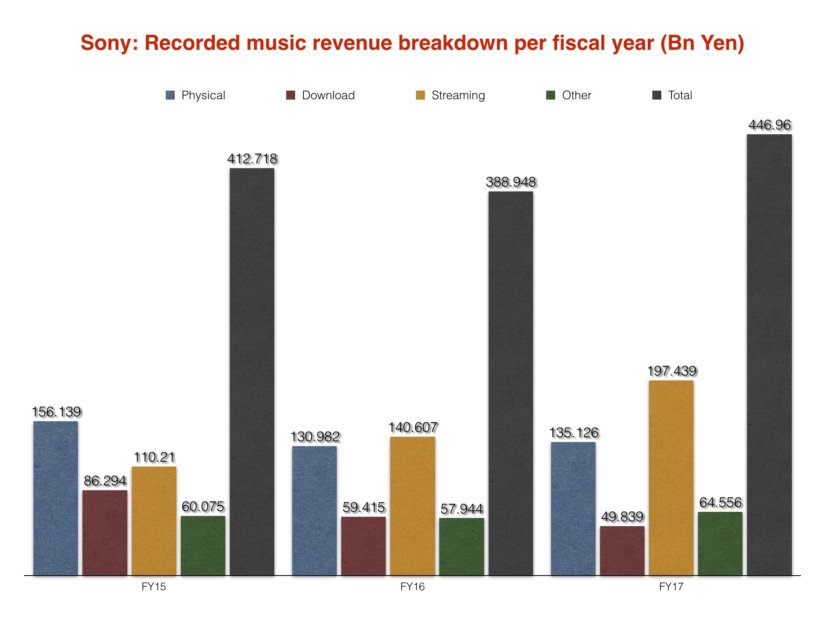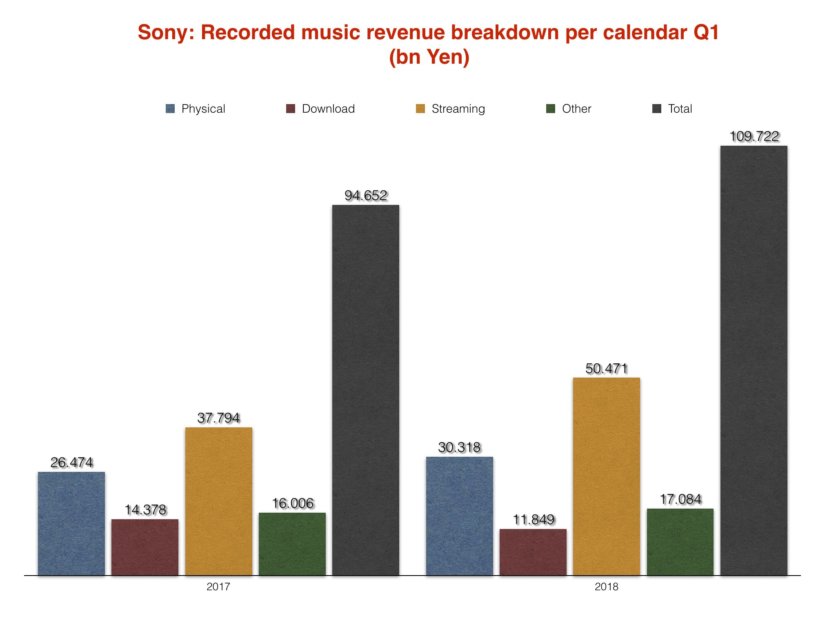 Music Business Worldwide