On February 22, Rag'N'Bone Man will collect the coveted BRITs Critics Choice award – pipping two other UK acts set for big things, Dua Lipa and Anne-Marie, to the annual prize.
New York-born Reservoir will be proudly applauding from the sidelines; but, in truth, they would have been delighted whoever picked up the gong.
Reservoir's writers have made crucial contributions to the three hits which are propelling this trio of bright young things forward.
In Rag'N'Bone Man's case, it's Human – already a No.1 record in no less than eight markets, co-written with Reservoir client Jamie Hartman.
For Dua Lipa, it's Blow Your Mind (co-written with Lauren Christy), and for Anne-Marie it's the global streaming smash, Alarm – co-written with Reservoir's Ina Wroldsen.
Reservoir's claim to boosting blockbuster British artists in 2017 doesn't stop there, either: Wroldsen also co-wrote Rockabye by Clean Bandit (ft. Anne-Marie), currently top of both the UK and Australian charts.
---

These are monster-size hits tailor made for the streaming age: largely thanks to Alarm, Anne-Marie is currently the 10th most-streamed artist on Spotify worldwide; largely thanks to Rockabye, Clean Bandit are Top 15.
What's behind this run of success for Reservoir, whose songwriters contributed to twelve recent Grammy nominations?
Well, acquisition helps. The well-funded private company has swooped for two respected UK indie publishers in recent years.
It snapped up Reverb Music in 2012, which saw more than 30,000 copyrights ingested into Reservoir, in addition to 100 active songwriters – including Hartman (James Bay, Christina Aguilera), John Fortis (Ellie Goulding, The Prodigy) and Peter Gordeno (Depeche Mode).
A year later, Reservoir bought out London-based P&P Songs, which owned over 1,000 titles and worked with a small roster that included Wroldsen (Calvin Harris, Jess Glynne, Little Mix).
Both of these takeovers came in the wake of Reservoir's 2010 acquisition of the music publishing assets of TVT Music Enterprises – and its roster including Scott Storch, Lil Jon and the Cinematics.
---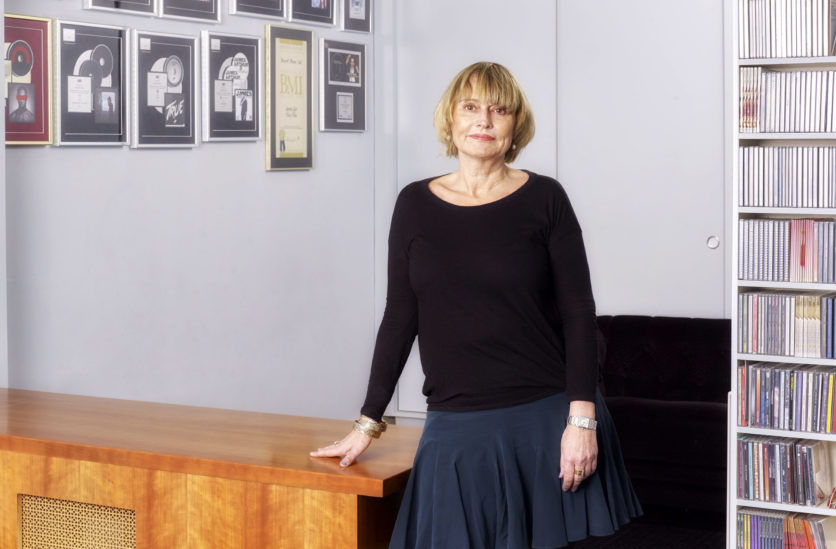 This buying power would mean little, says Reservoir, without a company-wide commitment to invest in top A&R talent.
Rather than mothballing Reverb as a stale catalogue acquisition, for example, Reservoir has pumped resource into the company as its strategic UK base.
The company is still run by former Reverb boss and A&R specialist Annette Barrett (pictured inset), who has worked with artists including George Michael, Elton John, Madonna, Prince and Sting across a 30-year career.
Elsewhere, Reservoir has hired 20-year UMPG veteran Donna Caseine (Mariah Carey, Alanis Morissette, Ariana Grande) to run its A&R efforts on the West Coast. Caseine recently brought over the Grammy-nominated Lauren Christy (Bebe Rexha, Chris Brown) to the company.
"People said publicly a few years ago that A&R was dead. We couldn't disagree more. There's no app, no portal, that can ever replace A&R."

Rell Lafargue, Reservoir
In Reservoir's New York HQ you'll find ex-Def Jam/Columbia exec Faith Newman (SVP of A&R and Catalog Development) as well as Hussain "Spek" Yoosuf (SVP of Creative and A&R) – working across a global client base which also includes 2 Chainz, Devo Springsteen (Kanye West, John Legend), Nitin Sawnhey and Joey Bada$$.
"People said publicly a few years ago that A&R was dead," Reservoir COO Rell Lafargue tells MBW. "We couldn't disagree more. Every creative person needs human beings to talk about ideas.
"There's no app, no portal, that can ever replace A&R."
---
The President & Founder of Reservoir, Golnar Khosrowshahi, echoes these words.
While other companies crow about their admin and technology ability, says Khosrowshahi (pictured, main), Reservoir is primarily focusing on the one area of the music business, as she puts it, which "one day cannot be automated".
An elected NMPA board member, Khosrowshahi is well-versed in wider industry issues, and offers some firm opinions on how the music industry should evolve in the years ahead.
MBW sat down with Khosrowshahi to ask why such a focus on A&R exists at her company, where she feels the music publishing industry is moving – and what the business can expect next from her acquisitive company…
---
The three BRITs Critics Choice winners are all being propelled forward by hits written by Reservoir clients. Is there anything to read into that?
We have put together, over the years, a creative team which I believe has an equal balance of experience and forward-looking mentality on the industry.
If you look at the past 20 years of the music industry, companies have suffered not because they didn't have experience, but because there's been a little bit of denial as to how this industry has changed.
"I don't see the business justification to invest in songwriters but not have the creative talent to support that investment."
That's part of it. But we also have a very high-quality, driven team which knows its songwriters and can help them on the creative trajectory that is suitable for their careers. It's not a cookie-cutter approach.
It's not 'let's just get them in all of these sessions in LA that everyone knows about'. We take a bespoke approach; we are essentially curating these careers. It's our contractual and fiduciary responsibility.
---
Why as a business are you so confident in investing in frontline A&R?
It will be, at some point, one of the only parts of this business that cannot be automated – that cannot be replaced by an app or some kind of back-end technology. It is the human touch of our industry.
I don't see the business justification to invest in songwriters but then not have the creative [executive] talent to support that investment.
If we're going to spend money, whether it's $1,000 or $100,000 into a songwriter, we better have the ammunition behind it to bring that investment home.
---
You have money to spend. You've acquired businesses like Reverb, P&P and TVT in the past. What's your ambition?
We would very much like to see ourselves in a top position, size-wise, within the independent publisher marketplace.
We want to maintain this curated approach to catalogue, and give bespoke attention to songwriters with a sense of independence – but scale is very important in this business.
If you want to administer and market assets well, it takes a number of people to do that. Having scale offsets that cost a little bit.
---
Are you actively looking for acquisition targets? And if so, what are you looking for?
We are always actively looking. We prefer to look at absorbing assets rather than companies.
That being said, Reverb and P&P Songs were both transactions that were company acquisitions, but for specific strategic reasons.
"We are always actively looking at the acquisitions market."
In Reverb, we found a group of like-minded individuals who we believed we could work with on a long-term basis. It was a turn-key, high quality way to establish a footprint in the UK.
We're always looking to diversify the catalogue, and we also want to diversify the roster: we don't want to be in a situation where our songwriter talents are duplicated.
If we have four or five songwriters who excel in the same milieu, then we're not really interested in adding to those areas. We see a pretty robust [music publishing] transaction environment right now.
---
Across Donna (pictured), Annette, Faith and yourself, Reservoir's senior executive team looks a little more diverse than many others in the music business…
This happens to be probably one of the industry's strongest A&R teams who also happen to be women. They have the career to back it up – and the success stories to back it up.
It wasn't deliberate, but it has come about and I'm proud of it.
"This happens to be one of the industry's strongest A&R teams who also happen to be women. It wasn't deliberate, but I'm proud of it."
I'm surprised at how clients, songwriters and people in the industry find it such an interesting fact.
We've simply put the best people we've found in the positions that they're in.
---
Los Angeles is becoming a hub for songwriting talent. Do you have ambitions to expand on the West Coast?
We do. It's interesting: for many years, people have asked me about Nashville and the possibility of expanding there. One of my answers has always been we'd sooner expand to LA.
Part of that is that we don't really have a songwriter base in Nashville. And while these things are cyclical, I don't think the LA base and opportunities are going anywhere.
It's the logical next step, and at some point we're going to need an office out there. That will be changing sooner rather than later.
---
You were elected onto the board of the NMPA. What are your biggest concerns about the monetization of this side of the business?
Today, our biggest concern is the 100% licensing issue.
That's a logistical concern: the back-end of [music publishing] is already difficult enough to manage. How does one even put the controls in place to effectuate that kind of a policy?
"Streaming is here to stay. We need to figure out how creators are going to be compensated."
Also, as we see this streaming market grow, we need to get to a place where creators are compensated in such a way they are not having to incrementally 'sell their product' 100 times over to make the same amount of money.
That's a big concern – and all the data, forecasts and projects call for significant growth in that area.
Streaming is here to stay. We need to figure out how the creators are going to be compensated. That's probably our most important job.
---
Can you see a day when the currently split between masters and publishing royalties will be adjusted? Especially when the three biggest record companies now effectively own the three biggest publishers?
I'm very optimistic we are going to get to a place where the publishing rights and creators' rights are recognized.
"The [major music companies] need to ask what the current streaming split means for the future. Because it means both sides suffer."
Because here's the alternative: if the livelihood of songwriters is threatened, the music industry as a whole is threatened. I don't think people will allow that to happen.
---
One concern I've heard is that it might be more cost-effective for the majors to allow the master right to hold the bigger value. Will they therefore be incentivized to make a change?
While in the immediate sense, you might be looking at the current profitability, they need to ask what that [split] means for the future. Because it means both sides suffer.
I remain optimistic about it, even if, for the near-term, it doesn't look as cost-effective for certain companies.
---
There seems to be a groundswell of support – outside maybe Spotify – of the idea of songwriters being paid on a per-stream basis. Is that something you're in favor of?
I am, and I'm optimistic it can be achieved. I'm generally in favor of formulaic approaches that simplify what we do, and the transparency that goes hand-in-hand with it.
What we do is already complicated enough. The more we can do as an industry collectively to simplify that, the better.
That's one of the [industry's] big problems today: when you want to put a value on something, it takes a significant amount of time to work out the method you're using to do so.
---
Final question: why music publishing, and do you have a plan to move beyond those rights into masters, management etc?
We have interest in moving beyond publishing when it makes strategic sense and enhances our service offering.
If you look at the business and consider which parts of it are going to become automated over however long, what other human touches [outside A&R] can we add? Management is obviously interesting from that perspective.
"When it makes strategic sense to buy more master rights – when we can license at 100% – that's super-captivating."
We did acquire some master rights – the Philly Groove and Nickel Shoe label catalogues – as a result of a 2012 acquisition.
When it makes strategic sense for us to [buy] more master rights – when it puts us in a position to license at 100% [across masters and publishing] – that's super-captivating.
But it always has to meet the criteria of helping us provide a better service to our songwriters.Music Business Worldwide