When HYBE Corporation confirmed in October last year that BTS were to take a break from making music together to honor their military obligations, the company asked its shareholders not to worry.
HYBE's plan during BTS's military hiatus, it explained, was two-fold: (i) To build what the Korean firm called a 'multi-label' strategy that would develop new superstars outside of BTS; and (ii) To rely on the solo releases of BTS members such as Jimin, Jin, Suga, and Jungkook to satisfy BTS fans until the group reconvened in 2025.
Yet this plan, presented by HYBE's global CEO, Jiwon Park, evidently didn't fully reassure the shareholders of HYBE, which has traded on Korea's stock exchange (KRX) since October 2020.
On October 13, 2022, in the same month that HYBE confirmed BTS's hiatus – and the same month that Jiwon Park presented HYBE's post-BTS plan – HYBE's share price hit an all-time low, sinking to 109,500 KRW.
That was down close to a quarter of HYBE's all-time share price peak of 400,500 KRW in November 2021.
---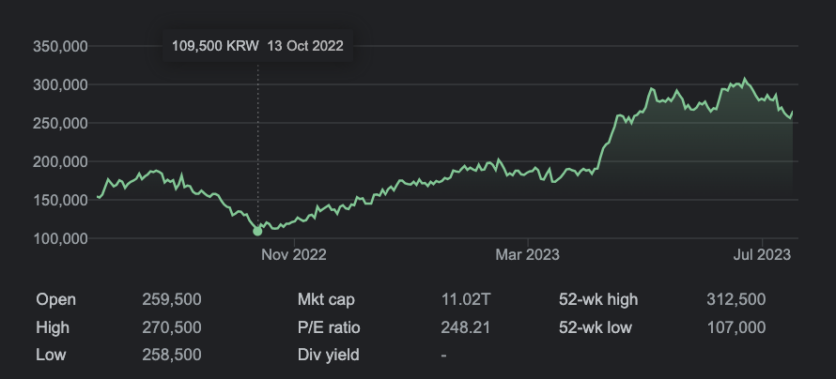 ---
You can see why analysts and shareholders were becoming nervous about the impact that BTS's hiatus might have on HYBE's wider business:
According to HYBE's CFO, Lee Kyungjun, speaking on the company's Q3 2022 earnings call in November, BTS was on track to contribute between 60% and 65% of all HYBE's annual revenues in 2022;
Speaking in February this year to analysts on HYBE's Q4 2022 call, Lee Kyungjun estimated that "BTS took up about mid-40% of the entire revenue" of the company in that quarter.
The release last Friday (July 14) of Jungkook's latest single, then – Seven, featuring rapper Latto – was a major test for HYBE's post-BTS strategy across the globe.
It's had quite the result.
According to Spotify data, Seven's debut day on the service saw it attract 15.995 million chart-eligible global streams.
That was enough to make it the biggest debut 24 hours for a new collaboration track in history, and the biggest new release on the service so far this year.
The only records from solo artists that have debuted with a bigger Spotify chart-eligible stream-count in their first 24 hours are:
Easy On Me by Adele (19.750m streams – Oct 15, 2021)
Anti-Hero by Taylor Swift (17.390m streams – October 21, 2022)
Lavender Haze by Taylor Swift (16.419m streams – October 21, 2022)
As It Was by Harry Styles (16.104m streams – April 1, 2022).
It's worth reiterating here that for all of these tracks we're talking about chart-eligible Spotify streams – i.e. they have already been stripped of any potential unfair 'gaming' by any artist's fanbase.
(Spotify has never publicly confirmed its formula for 'chart-eligible' streams, but it's understood that it limits any individual user to 10 chart-eligible streams of any track, each day.)
---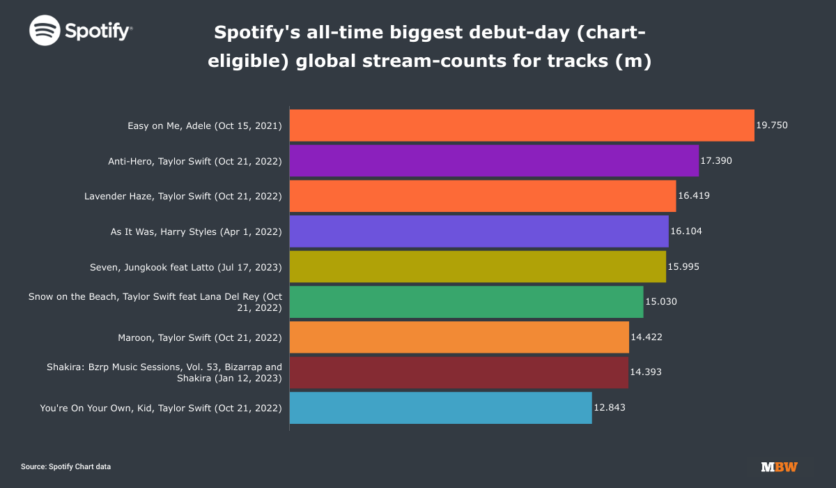 ---
Jungkook's Seven is doing an impressive job of maintaining its popularity, too: on its second day on Spotify (Saturday, July 15), it racked up 13.480 million chart-eligible global streams; on its third day (Sunday, July 16), it secured 11.610 million, according to official Spotify Charts data.
Seven was produced by Andrew Watt and Cirkut, who are also both credited as co-writers of the track alongside Jon Bellion, Latto, and Theron Thomas.
It was reportedly A&R'd by Scooter Braun, CEO of HYBE America, and was released in the US by HYBE/Big Hit/Geffen.
---
---
Seven's instant impact on HYBE's share price
Had you believed HYBE's insistence that BTS's disbanding last year wouldn't have too a grave impact on the company's overall business, you might have snapped up shares when they hit that all-time low (109,500 KRW) in October 2022.
Had you done so, you'd now be smiling from ear to ear.
At the close of last week (Friday, July 14), HYBE's share price stood at 256,500 KRW – more than double the price of that all-time low from October 2022.
The eyes of HYBE's investors over the weekend would have been closely watching the performance of Jungkook's Seven – a key indicator of whether HYBE's post-BTS strategy could continue to come good.
It appears the markets liked what they saw: HYBE's share price bounced by 3.12% on Monday (July 17) in Korea at the close of trading, rising up to 264,500 KRW.
---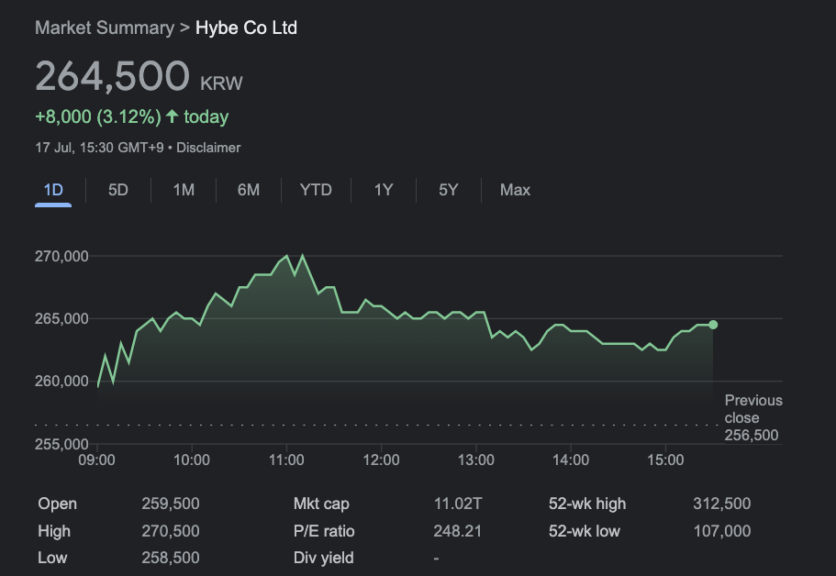 HYBE's share price jumped 3.12% on Monday on the Korean stock exchange, which has now closed for the day (July 17; source: Google Finance)
---
As a result, in market cap terms, HYBE is worth 11.02 trillion KRW today, according to Google Finance. That equates to USD $8.7 billion at current exchange rates.
In other words, that 3.12% share price rise on Monday (July 17), inspired by the early success Jungkook's Seven, just added approximately USD $260 million to HYBE's market cap valuation.
So far this calendar year, HYBE's share price is up 56.05%.
Other music-based influences on that share price recovery have included the performance of HYBE's Seventeen, who in May sold 4.5 million copies of their latest album in its first week.Music Business Worldwide