Did HYBE just establish itself as the world's fourth biggest music rights company?
The South Korea-headquartered firm, which began life as Big Hit – and remains the home of BTS – posted record annual revenues in 2021.
Those revenues hit 1.257 trillion South Korea Won (KRW), according to new investor filings, up by a whopping 58% year-on-year.
That KRW figure converts to USD $1.098 billion at annual average exchange rates (per the IRS) – the first time that HYBE has broken the billion dollar annual revenue barrier.
HYBE is still some way off being referred to as a "major"; the smallest of the 'Big Three' major music companies, Warner Music Group, turned over USD $5.58 billion in calendar 2021.
But HYBE is putting distance between its size and other 'mini majors' who each turn over hundreds of millions of dollars per year – companies like Concord and BMG (with the latter posting $357 million in the first half of 2021).
One influential factor in HYBE's 58% growth in 2021 was its $1 billion acquisition of Scooter Braun's Ithaca Holdings in April last year.
This deal not only increased HYBE's presence in the US market, but also brought Braun's talent management firm, Scooter Braun Projects (Ariana Grande, Justin Bieber, Dan & Shay), under HYBE's umbrella.
---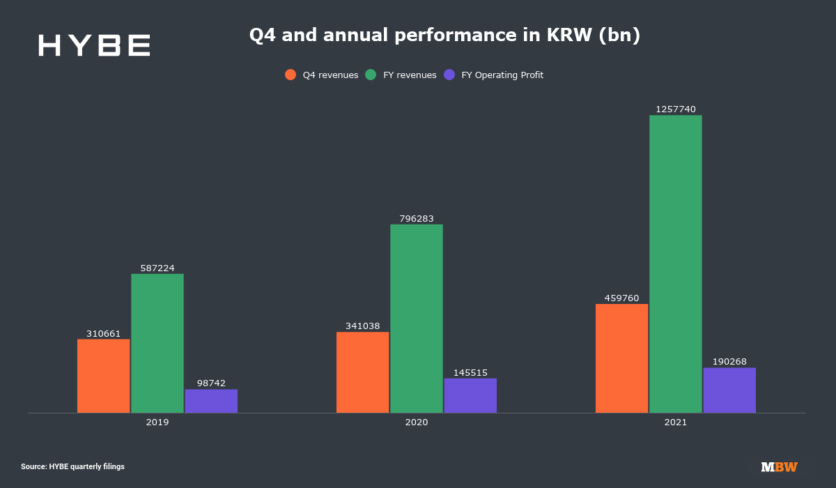 ---
In addition, the Ithaca buyout gave HYBE a significant presence in country music, via Big Machine Label Group.
Braun's Ithaca bought Big Machine for around $330 million in 2019. Braun subsequently – and controversially – sold the masters for six Taylor Swift albums on Big Machine to Shamrock, for around $300 million.
However, Ithaca (and now HYBE) kept the rest of the Big Machine catalog and roster, including stars like Thomas Rhett, Florida Georgia Line and Tim McGraw.
Amongst HYBE's biggest organic revenue drivers in 2021 was its "Artist Indirect" business, which generated 733 billion KRW ($640m) last year – up 72.8% YoY.
The company has previously cited its "Artist Indirect" business – revenue-generating projects that use an artist's brand/likeness, without the actual artist needing to be involved – as one of the main reasons it  did well during the pandemic in 2020.
---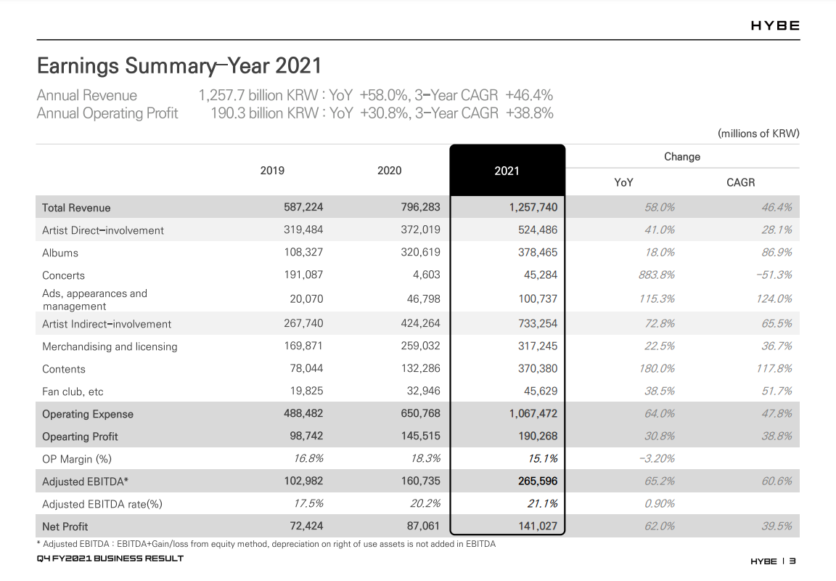 ---
Meanwhile, HYBE's concerts business grew by a huge 883.8% YoY in 2021 to 45.2 billion KRW ($39m).
This performance was driven by the slow return of concerts last year, including BTS' four shows in Los Angeles in December, which marked their first "offline" concert in two years.
HYBE's operating profit in 2021 hit 190 billion KRW ($166m), marking growth of 30.8% YoY.
Digging deeper into HYBE's financial results reveals that the company's album sales revenues grew 41% YoY to hit 524 billion KRW ($456m) in 2021 (see below).
---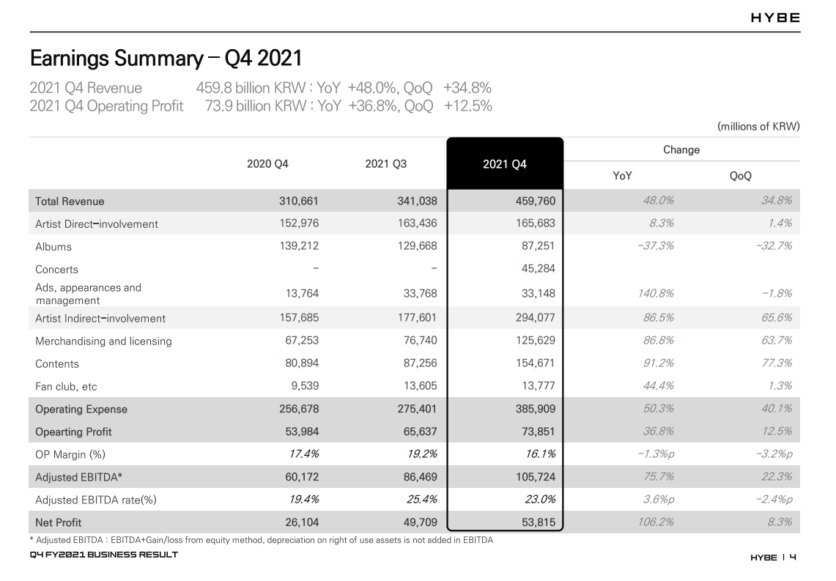 ---
In Q4, the three months ended December 2021, HYBE generated revenues of 459.7 billion KRW ($402m), an increase of 48% compared to the same quarter in 2020.
However, HYBE's quarterly album sales revenues fell 37.3% YoY to 87 billion KRW ($76m) in Q4 (see above).
---
Within its 2021 filing, HYBE also breaks down annual album sales volume from HYBE and Ithaca-affiliated artists (see below).
HYBE claims that its annual artist album unit sales more than doubled year-on-year (up by a 2.1-times multiple) in 2021, to more than 25 million.
It pins this increase on "inorganic growth through Ithaca Holdings acquisition and organic growth of Korean artists".
---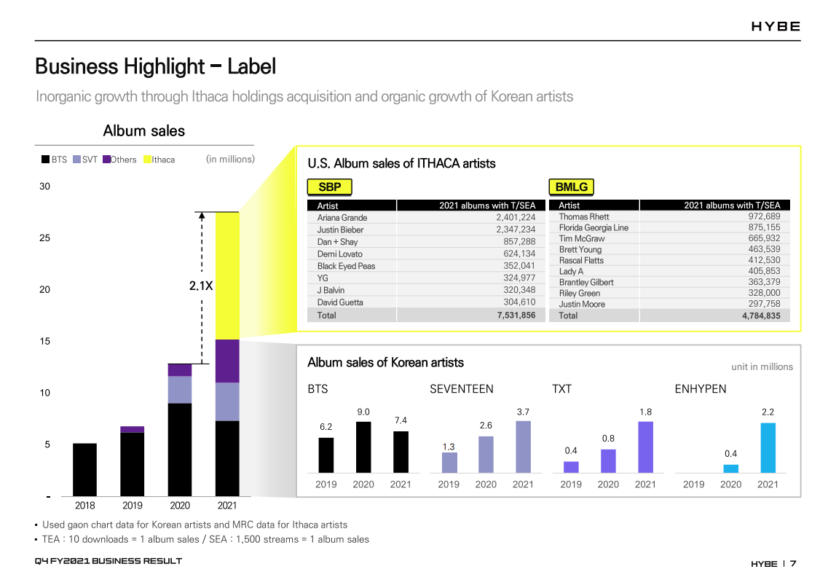 ---
Elsewhere, HYBE reveals that Weverse – its fan-community app that pulls together content made by and for Big Hit artists including music videos, teasers, movies, merch sales and live streams – grew to 6.8 million Monthly Active Users in Q4 2021, which was up 7% compared to the prior quarter (Q3).
The average revenue per paying user (ARPPU) for Weverse fell by 11% compared to the prior quarter (see below).
---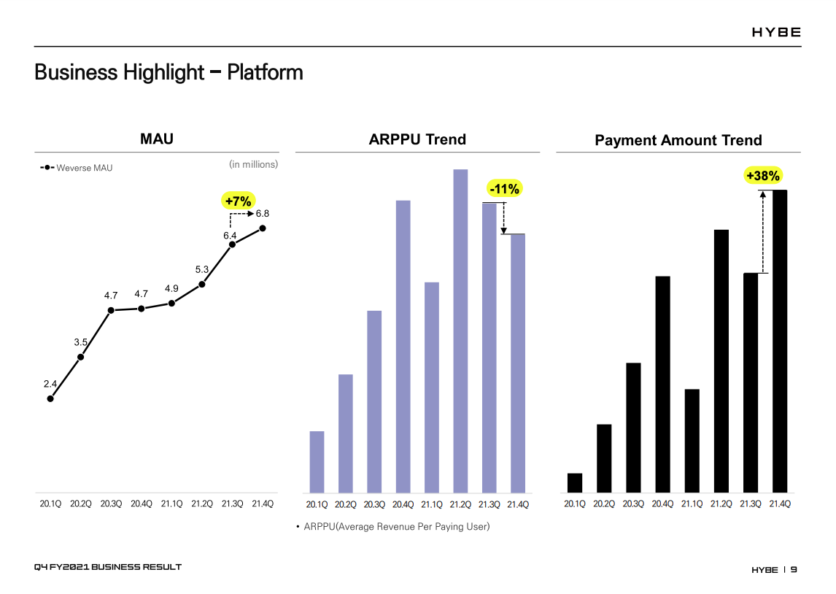 ---
The publication of HYBE's financial results follow the news that BTS will perform their first in-person concerts in Korea since October, 2019 at the Seoul Olympic Stadium on March 10, 12 and 13.
They will also be taking their BTS PERMISSION TO DANCE ON STAGE show to  Las Vegas at the Allegiant Stadium in front of a live audience in April.
Additionally, following the announcement in November that HYBE acquired a $421 million stake in a crypto firm, with plans to launch digital collectables, HYBE notes in its investors presentation that that it plans to launch a new "platform/item" in mid-2022, with additional plans to "Invigorate [our] fan community".
---
All KRW-USD currency conversions in this report have been calculated at the average annual rate published by the IRS in the United States.Music Business Worldwide