MBW's Stat Of The Week is a series in which we highlight a single data point that deserves the attention of the global music industry. Stat Of the Week is supported by Cinq Music Group, a technology-driven record label, distribution, and rights management company.
---
Publisher and songwriter royalties collected by their societies globally hit EUR €8.48 billion in 2021 (USD $10.02 bn).
Although that total royalties haul represented a 7.2% rise versus 2020, it remained below pre-COVID levels, highlighting the impact of lockdowns on live performances.
That's according to CISAC's Global Collections Report 2021, published Thursday (October 27).
The report showed that, although collections rose from €7.91 billion in 2020 — reversing the 11.5% drop the previous year — they were still down 5.1% from the record €8.94 billion set in 2019 before the pandemic wreaked havoc globally (see below).
---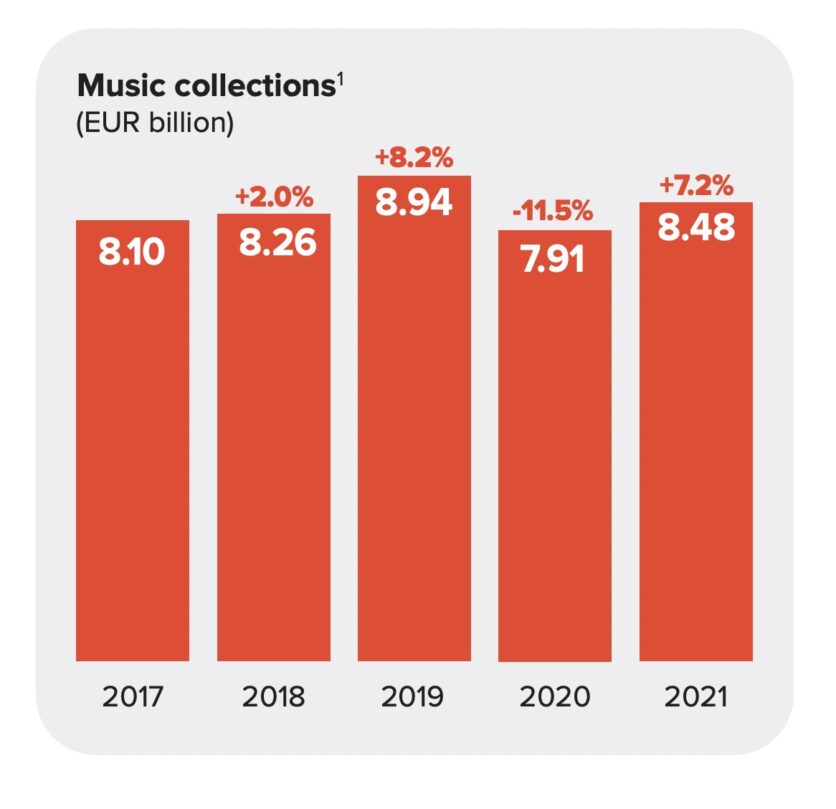 ---
CISAC (the International Confederation of Societies of Authors and Composers) attributed the slow recovery to the continued slump in live and public performance income in 2021, as well as a slight decline in broadcast.
"The result illuminates the disastrous impact of the two-year lockdown on live and public performance income, the potential for further digital growth and the urgent need for actions to unlock more value for creators in the streaming market," CISAC said.
Breaking down CISAC's figures further reveals that collections in the live and background music sector fell for the second straight year to €1.49 billion ($1.76bn) due to pandemic-related curbs on concerts, festivals, live entertainment and venues.
The latest figure remained 45.1% lower than pre-pandemic levels in 2019 when collections reached €27.2 billion.
---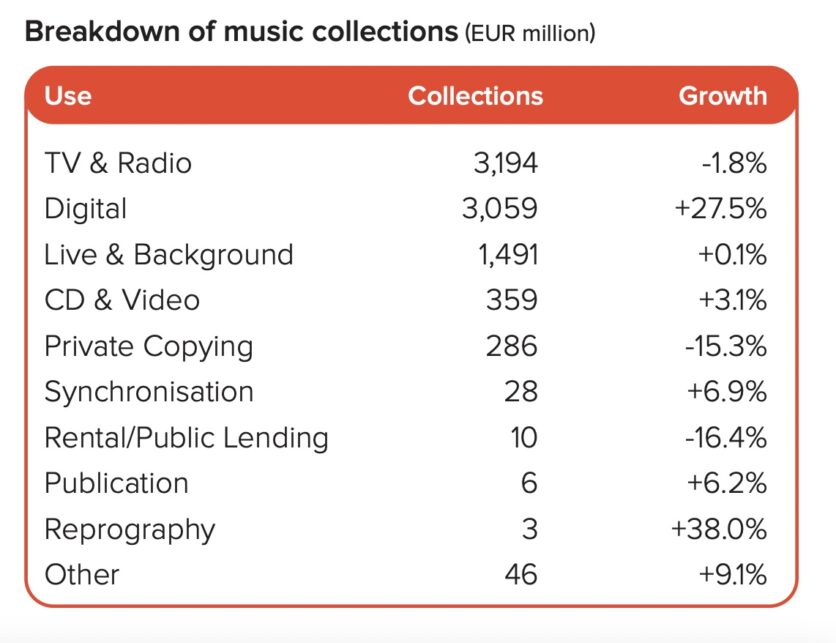 ---
Collections from TV and radio royalties, meanwhile, remained the largest revenue source for global music collections in 2021, accounting for 37.7% of the total at €3.194 billion ($3.77bn), although the latest figure declined 1.8% YoY.
"Broadcast collections have maintained a long-term trajectory of slight year-on-year decline in recent years, reflecting the general shift from linear to OTT and on-demand subscription streaming," said CISAC on Thursday.
Digital collections, meanwhile, recorded the fastest growth at 27.5% YoY to €3.059 billion ($3.61bn). The figure was also up 48.2% from the pre-pandemic revenue in 2019.
CISAC attributed the strength to the sharp organic growth in the streaming market, rising music subscriptions, new and renewed deals with digital platforms like YouTube and TikTok and continued strong growth of subscription video on demand.
---
For many markets, digital collections were the primary source of revenue in the music industry.
"With the shift to streaming, there has been a sharp rise in markets with digital as the largest music income source. The two-year period of the pandemic has transformed the share of digital income in those territories, especially in the Asia-Pacific region," CISAC said.
These markets include Indonesia, Thailand, India, Vietnam, Hong Kong, the Philippines, Mexico, Sweden, Chile and Australia.
However, CISAC noted that digital uses of music creators' works remained undervalued last year, representing just 36.1% of music creators' collections.
According to CISAC's report, creators across all repertoires saw their global royalty collections hit €9.58 billion ($11.32bn) in 2021, up 5.8% YoY, but this was still down from the 2019 level of €10.11 billion.
This is despite a 27.9% jump in digital royalties boosted by the growth of subscription streaming.
---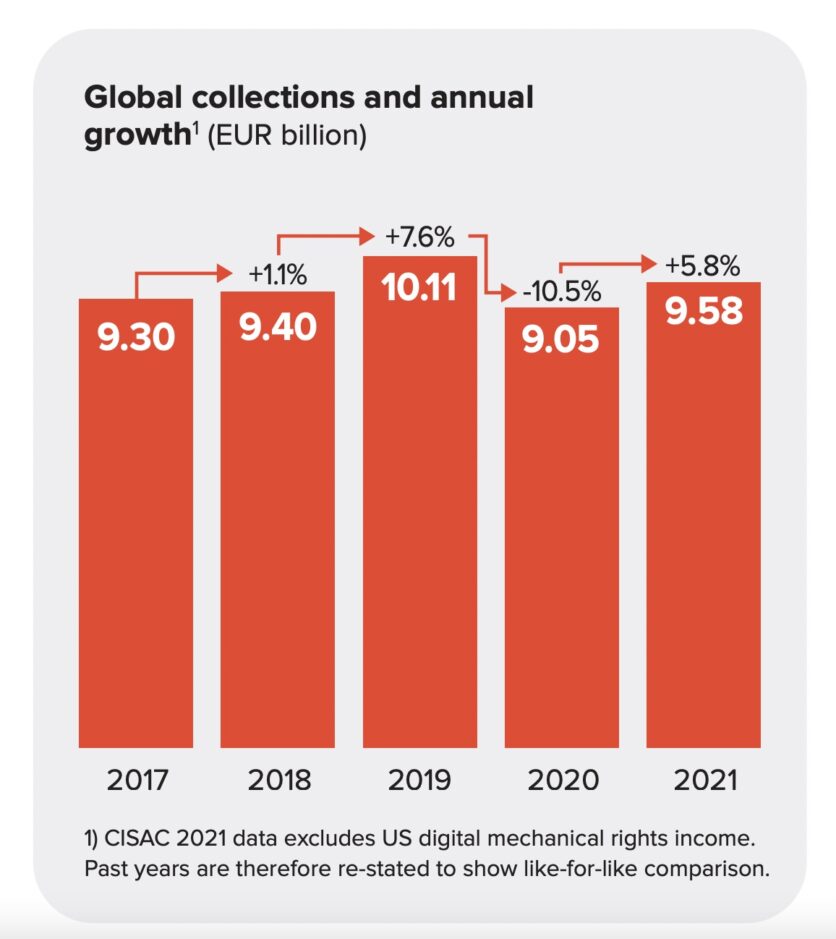 ---
CISAC stressed the need for improvements in the market infrastructure for streaming services.
"Growing global digital collections is today CISAC's top priority," said Gadi Oron, CISAC's Director General.
"Growing global digital collections is today CISAC's top priority."

Gadi Oron, CISAC
"First, we are working to constantly improve the data management that helps drive collections. That is why we push forward with improvements and new services around the music works identifier ISWC, a key part of the infrastructure of the streaming market," Oron added.
CISAC has also pledged to make the (International Standard Musical Work Code) work more accurately and seamlessly across the value chain and continue advocating a fair environment in music, audiovisual, visual arts and other repertoires.
"The streaming world is still unfinished business when it comes to ensuring a fair environment to earn a living."

Bjorn Ulvaeus, CISAC
"The streaming world is still unfinished business when it comes to ensuring a fair environment to earn a living," CISAC President Bjorn Ulvaeus said.
CISAC expects further growth in 2022, helped by the return of live concerts, theaters and exhibitions.
However, Oron acknowledged that uncertainty remains due to the ongoing cost of living crisis.
"Whatever the impact this will eventually have on royalties, I am confident that CISAC's global network will continue to lead in the fight for fair value for creators' work," Oron said.
Said CISAC President Björn Ulvaeus: "Digital royalties collected by CISAC societies are growing impressively, but the streaming world is still unfinished business when it comes to ensuring a fair environment to earn a living.
"Too much of the data needed to identify and remunerate creators is incomplete or missing when works are ingested on streaming services. The result is a lot of money that is left on the table when it should be going into creators' pockets."
CISAC Director General Gadi Oron added: "After the 10% fall experienced in 2020, our societies' return to growth last year is an impressive achievement. Bearing in mind that income from live concerts and public venues was largely non-existent, the acceleration of digital licensing by many of our members to offset the decline in other areas is a real success story.
"The recovery is only half done, though. There is, without a doubt, much more room for growth, and to achieve that, we need to bring more value to creative works in the digital market and promote a fairer ecosystem for creators."
---
All EUR-USD conversions in this report for 2021 have been made using the average annual exchange rate for the calendar year as published by the US Internal Revenue Service (IRS).
---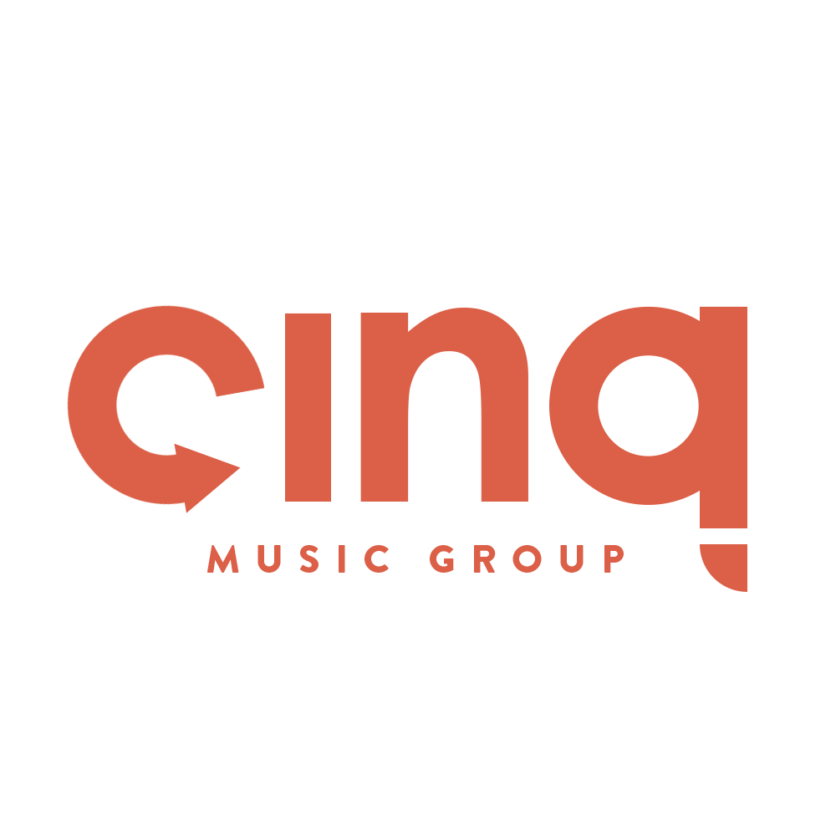 Cinq Music Group's repertoire has won Grammy awards, dozens of Gold and Platinum RIAA certifications, and numerous No.1 chart positions on a variety of Billboard charts. Its repertoire includes heavyweights such as Bad Bunny, Janet Jackson, Daddy Yankee, T.I., Sean Kingston, Anuel, and hundreds more.
Music Business Worldwide