Global recorded music revenues are estimated to have grown by 24.7%, to $28.8 billion in 2021.
That's according to a new report from Midia, published today (March 18), a few days ahead of the release of IFPI's Global Music Report.
Midia says that the 24.7% increase in 2021 represented the market's "largest annual growth in modern times".
Elsewhere in Midia's new report, the consultancy firm estimates that global streaming revenues reached $18.5 billion in 2021.
This marked a year-over-year increase of 29.3%, or $4.2 billion, versus 2020, which Midia says was also a record increase.
Midia cites non-DSP revenue – representing deals with platforms like Facebook parent Meta, TikTok, Snap, Peloton and Twitch – as a key driver behind last year's streaming growth.
Non-DSP streaming recorded music revenue – i.e. revenues from digital platforms such as those listed above – totalled $1.5 billion in 2021.
Traditional DSP streaming, on services such as Spotify, Apple Music, Amazon Music and YouTube Music, reached $17 billion, according to Midia estimates
Breaking down the major labels' revenues, Midia estimates that Universal Music Group generated recorded music revenues of $8.2 billion in 2021, giving it a market share of just under 29%.
Midia estimates that Sony Music Group (SMG) was the fastest growing major for the second successive year. According to Midia, SMG increased its market share "by growing significantly faster than the total market".
Midia also estimates that, for the first time since 2017, the major labels did not see their collective market share decrease.
---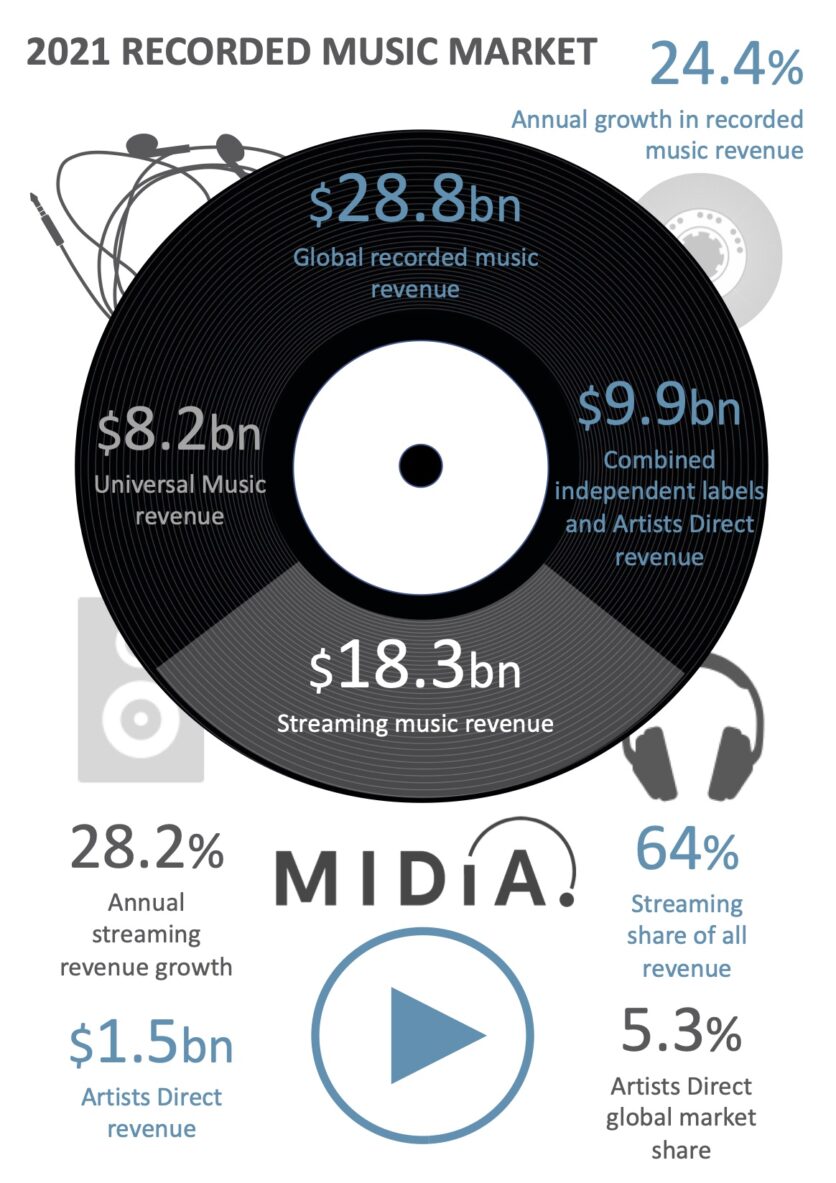 ---
One area of the global recorded music business that is always particularly interesting to see Midia's estimates for are the independent labels and artists direct (i.e., self-releasing artists) sector.
Combined, Midia estimates that independent labels and artists direct generated $9.9 billion in 2021.
The artists direct segment alone is estimated by Midia to have driven $1.5 billion of that $9.9 billion revenue in 2021, up from $1.2 billion the prior year.
In other words, self-releasing artists are estimated to have generated $125 million each month in 2021, or around $4 million every day.
Midia also estimates that self-releasing artists' market share increased to 5.3% in 2021, up from 5.1% in 2020.
"We suggested back in 2020, that 2021 was going to be a strong year for the recorded music market. As it turns out, 2021 was the fastest growing year in living memory."

Mark Mulligan, Midia
Midia's Mark Mulligan said: "The recorded music market looked vulnerable in 2020, relying entirely on streaming for growth, with the outlook inextricably tied to that of DSPs. 2021 was a very different story, with growth on most fronts, but, most importantly, the rise of non-DSP revenue, reflecting an increasingly diversified future in which labels can fret a little less about the prospect of slowing subscriber growth in mature markets.
"When coupled with longer-term growth opportunities (NFTs, the metaverse, etc), the outlook is positively rosy. Although 2021 was boosted by exceptional circumstances (e.g., the wider economy rebalancing after the Covid-depressed 2020, and much of the non-DSP income being in the form of one-off payments), annual growth of 24.7%, points to the emergence of a new era for an increasingly diversified recorded music business.
Added Mulligan: "We suggested back in 2020, that 2021 was going to be a strong year for the recorded music market. As it turns out, 2021 was the fastest growing year in living memory, with growth across most formats, contrasting strongly with 2020 when streaming was the only growth segment."
"2021 was a big year for the music business, with a record amount spent on music catalogue acquisitions and IPOs for Warner Music Group (WMG), Universal Music Group (UMG) and Believe Digital.
"These developments turned out to be the symptoms of a surge in global market growth, with recorded music revenues.Music Business Worldwide