Epidemic Sound, the controversial Swedish production music company, saw its revenues jump significantly in 2019 – but also posted a hefty eight-figure annual operating loss.
That's according to the yearly financial report of the company's parent, Epidemic Sound Holding AB, posted this summer in Sweden, and now obtained by MBW.
Epidemic Sound AB posted net revenues of 375.3m SEK in the 2019 calendar year, equivalent to $42.1m at current exchange rates.
Yet the firm saw annual operating costs more than double year-on-year, hitting 605.0m SEK ($67.9m). These operating costs included 263.3m SEK ($29.6m) spent on salaries and other staff expenses.
As a result, Epidemic Sound posted an operating loss of 206.7m SEK ($23.2m) in 2019, more than double the size of operating loss it posted in the prior year period (81.9m SEK).
The company's loss before tax in 2019 weighed in at 216.4m SEK ($24.3m).
Epidemic Sound's FY 2019 net revenues were up by 66% on the 225.9m SEK it generated in net sales during FY 2018 (which, for accounting purposes, covered the 13 months from November 23, 2017 until the end of December 2018).
In May this year, Epidemic Sound laid off nearly a fifth (19%) of its 419-strong worldwide workforce.
At the time, the company's founder and CEO, Oscar Oscar Höglund, told Music Ally that the redundancies were being made as part of a  "realignment" of Epidemic Sound's business model. He further suggested that Covid-19 had "supercharged" the firm's transition into a digital-first business.
---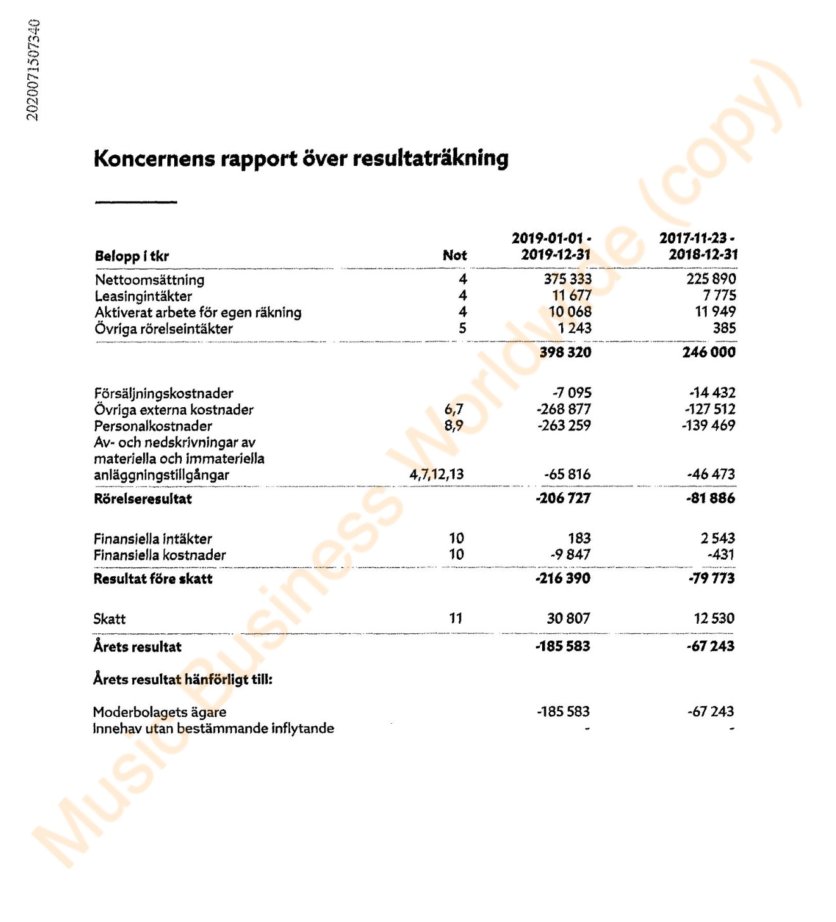 ---
Epidemic Sound's business model has two tiers: (i) licensing its library of rights-cleared production music to broadcasters, airlines and hotels; and (ii) generating royalties from this music on streaming services such as Spotify and YouTube, as well as licensing it to platforms like Netflix and Twitch.
Many in the industry – MBW included – have raised questions over the vast amount of Epidemic Sound music appearing on Spotify playlists such as Deep Focus, Sleep and Peaceful Piano, which share millions of followers (and billions of streams) between them.
A particularly controversial element of Epidemic Sound's business is that the composers and artists it works with are barred from registering their songs with performing rights collection societies.
Epidemic fully acquires the rights to these composers' music (both recorded and publishing) via a one-off upfront payment. The company then commits to sharing streaming revenues 50/50 with the songwriters/artists in question.
In the FAQs of Epidemic Sound's website, it tells musicians: "We created a free-flowing distribution of our music for all our customers by being the sole owner of the financial rights to our music, which is not possible for us if the Music Creator is affiliated to a collecting society, due to their exclusive affiliation agreements."
It adds: "Thus, none of our Music Creators can be affiliated with any PROs/NROs or collecting societies (ASCAP, BMI, SESAC, SoundExchange, STIM, SAMI, etc.), while working for Epidemic."
This obviously calls into question what, if any, performing rights royalties the likes of Spotify would be required to pay out when Epidemic Sound's music is streamed on such platforms.
Late last year, widespread controversy erupted over Netflix and Discovery both seeking to use royalty-free music content in order to avoid paying performance royalties to composers.
"none of our Music Creators can be affiliated with any PROs/NROs or collecting societies (ASCAP, BMI, SESAC, SoundExchange, STIM, SAMI, etc.), while working for Epidemic."

Epidemic Sound
Discussing why it requires full ownership of its composers' copyrights, Epidemic explains on its website: "We partner with Music Creators who value distribution over ownership so they can benefit from their music flowing freely via our powerful distribution network along with the up-front payments and 50/50 split on received streaming revenue."
Epidemic's FY 2019 filing reveals that Netherlands-based private equity house EQT owned 38% of shares in Epidemic Sound Holding AB, as of the close of last year.
Twenty percent of the company is owned by "two senior executives and other personnel within the Epidemic Sound Group", with 41% owned by unnamed shareholders.
In June this year, Epidemic Sound announced a deal to supply copyright-free music to the media library of Adobe, best known for its creative software and stock images.
Epidemic Sound expanded into the US market late last year, appointing Kate Vale as its Managing Director in North America. Vale is the former MD of Spotify in Australia and New Zealand (ANZ).
You can read the latest full annual accounts of Epidemic Sound Holdings AB through here.Music Business Worldwide