When Drake made new album Views exclusively available on Apple platforms, some thought the Hotline Bling star was sacrificing the chance to reach a huge chunk of his audience.
Critics pointed out that, last year, 46m people listened to the Canadian rapper on Spotify; around half of the Swedish platform's global active user base.
Last Friday (April 29) Views landed on Apple Music and no other streaming platform.
It also arrived on iTunes as a download, but was only – with the exception of two tracks – available as a full album; a move that compounded scepticism over Drake's approach.
Drake wasn't worried.
Drake was right.
---
MBW can reveal that Views is not only going to beat the US week-one streaming album record this week – it's going to smash it to smithereens.
The background: In November last year, Justin Bieber's Purpose set all-time streaming records in the States.
The precise number is debatable, but whichever source you believe, songs from Purpose were streamed more than 100m times in the US during its opening week.
Trusted market monitor BuzzAngle pegs Purpose's record-setting week one stream number at 111.3m.
That's across on-demand audio platforms; no YouTube, no Pandora.
Last week, Beyonce quietly consigned Purpose's record-setting exploits to history.
Her Columbia-issued album, Lemonade – a TIDAL streaming exclusive – spawned 115.5m on-demand audio streams in the US in its opening seven days, according to BuzzAngle.
Now, Views has already set a new streaming record – midway through its opening chart week. Impressive.
Yet it's the magnitude of this performance which speaks volumes both about Drake's superstar appeal and the power of Apple Music.
According to BuzzAngle's hot-off-the-press figures, tracks from Views were streamed 191.4m times in the five days to end of Tuesday (May 3).

With two full days left to report, Drake's album is not only on course to easily top 200m on-demand plays, but to potentially double Beyonce's record-breaking streaming figure.
(That's in addition to US iTunes album downloads of Views, which are predicted to hit around 900,000 week one – generating a cool $12.5m.)
An important caveat: our streaming number relates to total plays, and so includes three Views tracks – Hotline Bling, Pop Style and One Dance – that are available on non-Apple services such as Spotify.
---
Talking of Spotify…
Despite a major snub of Daniel Ek's platform with Views, Drake's popularity on Spotify is doing the exact opposite of what you might have predicted.
Last month, when MBW checked in on Spotify's most streamed monthly artists, Drake was at No.7 with 21.5m global active listeners.
Not bad.
Right now, he's Spotify's second biggest worldwide artist with 29.74m active monthly listeners – and growing fast, adding 343,800 just today (May 4).
Meanwhile, Drake's One Dance is currently the biggest track in the world on Spotify's Global Top 50, with 6.4m daily plays.
Hotline Bling, Drake's most popular Spotify track, has 434.67m plays to date – generating around $3m for the star and his fellow rights-holders. The track will hit half a billion streams soon enough.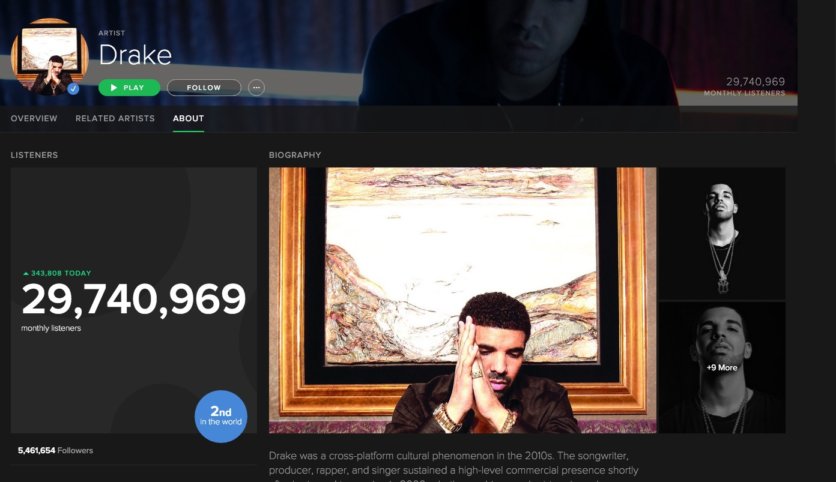 Drake is not the biggest current superstar on Spotify, however.
That honour goes to Rihanna, who pips the Views artist with 31.47m active monthly listeners.
The biggest driver of Rihanna's current popularity? Her smash hit Work – her biggest ever track on Spotify with 325.6m lifetime plays.
That's Work. Feat Drake.
Daniel Ek must be looking at his two most popular artists this week with slight bemusement.
One of them is a shareholder in TIDAL.
The other just made the biggest new album in Apple Music's – and streaming's – history.Music Business Worldwide