How much does being No.1 on the weekly industry album charts really matter in a streaming world where the concept of an LP 'sale equivalent' is as nebulous and debatable as it comes?
Literally: how much does it matter? Like, what financial number would you put on it?
We might be about to find out. According to the (notoriously tabloid-y) Page Six, one artist who just missed out on a US chart-topping album is planning to hit Billboard with a "monster lawsuit" in retaliation.
That artist is DJ Khaled, signed to Sony's Epic Records. His latest album, Father Of Asahd, landed at No.2 on the Billboard 200 chart two weeks ago, underneath the No.1 record that week, Igor, by Tyler, The Creator.
The breakdown of those albums on that Billboard chart, for the week ending May 23, were as follows: Igor was credited with 165,000 weekly equivalent sales, broken down into 74,000 'real' sales (of physical and digital albums), plus 90,000 Streaming Equivalent sales (SEA) and 1,000 Track (download) Equivalent sales (TEA).
According to Billboard, Father Of Asahd was credited with 137,000 equivalent sales in the week – with 35,000 in 'real' album 95,000 in SEA units, and 7,000 in TEA units.
The problem: DJ Khaled claims that his 'real' weekly album sales number was deliberately under-represented on the chart, due to Billboard dismissing purchases by consumers who ordered his record in a 'bundle' with an energy drink.
Billboard has faced industry scrutiny for some time regarding its chart rules relating to albums being 'sold' as part of bundles with artist merch and tickets. (Billboard is reportedly planning to announce later this year that it will tighten its rules regarding merchandise bundling.)
According to the New York Times, both Father of Asahd and Igor benefitted from such bundles in the controversial chart week in question. Igor was bundled with Tyler, The Creator clothing merch and political campaign-esque lawn signs which read: Vote Igor!
DJ Khaled's album, meanwhile, was wrapped up with sales of energy drinks through e-commerce site, Shop.com.
---

---
However, Billboard reportedly disqualified most of DJ Khaled's bundled energy drink/album purchases, according to the NYT, because charts officials suspected "that some of the marketing by Shop.com and its corporate parent, Market America, had crossed a line by encouraging unauthorized bulk sales".
According to sources quoted by Page Six, DJ Khaled's proposed lawsuit alleges that Billboard "unfairly disqualified more than 100,000" sales of his album. Lawyers for the artist have reportedly sent an initial letter of complaint to Silvio Pietroluongo, SVP of Charts and Data Development at Billboard.
A quoted Billboard source denies that the disqualified Khaled sales amounted to 100,000, but does acknowledge that some sales were struck from the record due to "strange anomalies in the data".
That may or may not refer to bulk purchases of Father of Asahd on Shop.com. At one point, a blog post from Market America encouraged shoppers to buy 12 energy drink/album bundle packages to "push DJ Khaled… to No.1!"
---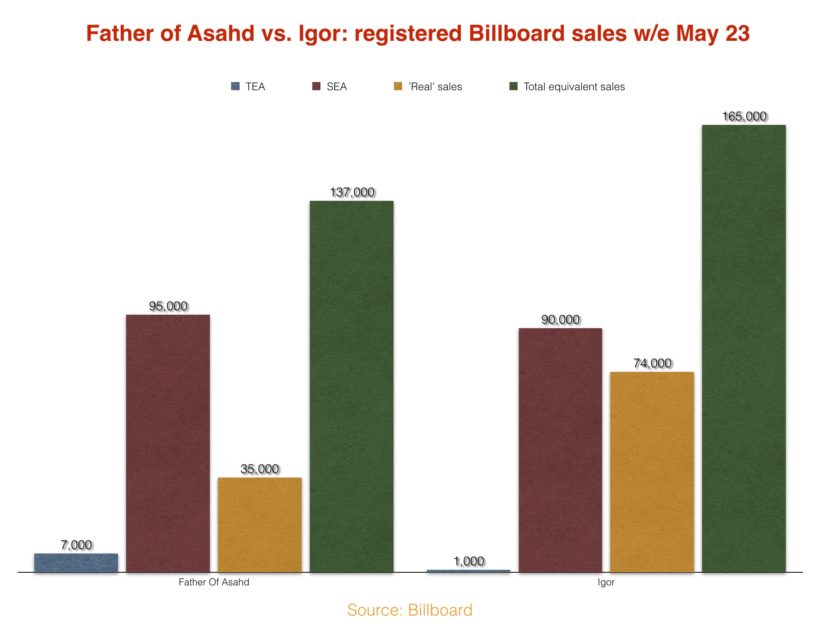 ---
Deanna Brown, President of the Billboard-Hollywood Reporter Media Group, confirmed that some DJ Khaled sales had been disqualified. She told the NYT:  "In this particular instance, we saw an organization encouraging purchases among their members by promising them material and organizational benefits."
In a statement, Desiree Perez, Chief Operating Officer at Roc Nation – which represents DJ Khaled – said of Billboard's decision to cap the artist's sales: "We dispute their decision on behalf of DJ Khaled and, frankly, every artist who is forced to navigate bundling an album download with an inexpensive item that still effectively represents their brand. It's confusing and demeaning to the art."
She added: "We're obviously not fans of bundling, nor should anyone who cares about artists making music. But our hands are being forced by Billboard's desperate, last-ditch effort to keep streaming from eliminating what's left of music downloads."
This isn't the first time that Billboard has landed in hot water over its rules regarding bundled album deals. Last year, Nicki Minaj fired off a series of furious tweets after missing out on the Billboard 200 top spot with her album, Queen, as Travis Scott's ASTROWORLD hit No.1, boosted by bundled merch and ticket sales.Music Business Worldwide