The MBW Review offers our take on some of the music biz's biggest recent goings-on. This time, look at the surprising, out-of-the-blue valuation of Universal Music Group at over $40bn – backed up by Vivendi's CEO. The MBW Review is supported by FUGA.
---
There are bullish valuations, and then there are bull-in-a-china-shop valuations. This was the latter.
On Friday, November 17, Vivendi CEO Arnaud De Puyfontaine stunned the upper echelons of the music business by slapping a pricetag on Universal Music Group that exceeded $40bn.
The French exec (pictured) told the Morgan Stanley European Technology, Media and Telecoms conference in Barcelona that he had recently seen a valuation estimate for UMG in this region, presumably from an unnamed bank.
When asked if he personally agreed that UMG was worth more than $40bn, he simply replied: "Yes."
We've run the numbers.
Conclusion: Arnaud De Puyfontaine is severely testing the boundary between bloated modern market interest in music rights… and utter fiction.
---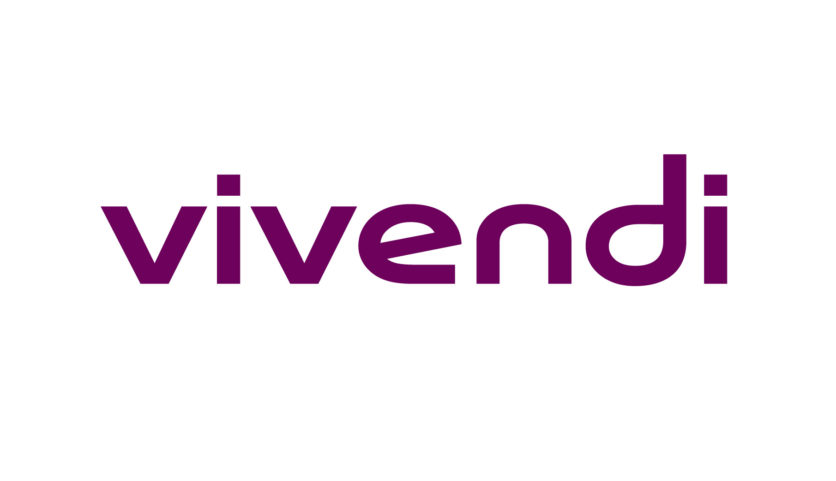 As MBW has previously covered, there appears to be an increasing appetite at Vivendi for Universal Music Group to be 'spun out' on the stock market as its own entity.
Should that happen, and UMG land an IPO at a $40bn valuation, the company's key shareholders would stand to make a vast return.
Let's not forget that as recently as March 2013, the business was being valued at just €6.5bn – according to a (rejected) bid believed to have come from Japanese giant Softbank.
Universal's value since then, according to Arnaud De Puyfontaine, has increased more than 500% – in little over four years.
Think on this: in the same time frame, the annual turnover of the global recorded music business has increased by just 13% ($15bn in 2013 up to 2017's expected IFPI tally of $17bn-odd).
Another angle: a $40bn+ valuation of UMG is more than double that cited by Vivendi top brass back in April, when it was revealed that some investment banks believed the company could be worth as much as $22bn (€20bn).
All of which begs the question: is Vivendi's latest valuation at all grounded in reality, or as crazy as it first sounds?
---

A good place to start when answering that question is UMG's modern-day financial performance.
In the earnings call which followed its recent Q3 results (covering the year to end of September), Vivendi said that UMG's annual revenues are expected to grow 10% this year.
In terms of profit, meanwhile, Vivendi said that UMG's EBITA figure is expected to grow by close to 20% in 2017.
That would mean a UMG revenue figure this year of around €5.8bn ($6.5bn), up on 2016's €5.27bn ($5.9bn) haul.
And it would mean an annual 2017 EBITA profit of approximately €770m ($865m), up on €644m ($724m) in 2016.
Interestingly, as you can see below, a €770m EBITA would represent UMG's biggest ever profit under full-Vivendi ownership – finally exceeding the €744m achieved in 2006.
Crucially for Sir Lucian Grainge and co, these revenue and EBITA forecasts would equate to a 2017 profit margin of around 13.3%.
That's significantly healthier than the equivalent, sub-12% EBITA vs revenue margins seen at UMG in 2016 (11.8%) and 2015 (11.6%).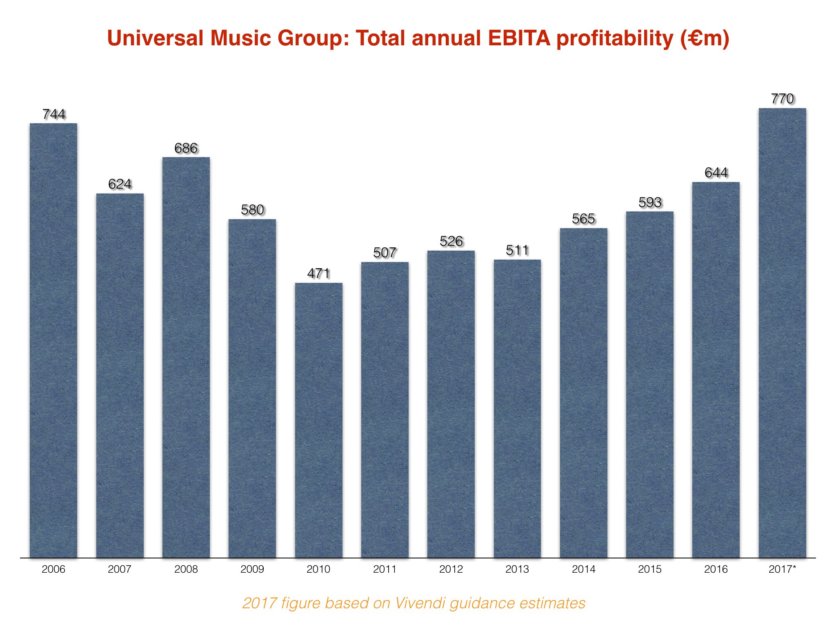 ---
But how do you get from these figures to Arnaud De Puyfontaine's gigantic valuation sum of $40bn+?
A $40bn company pricetag would certainly represent a very generous multiple on 2017's annual revenue forecast at UMG – of over 6-times.
Going off a profit-based valuation (as most big deals in the music business seem to right now) seems even less realistic.
The €770m ($865m) that UMG is expected to post in EBITA this year would need to be multiplied 46 times to reach a $40bn valuation.
It's worth considering that recent market activity has seen Concord Music buy Imagem for around $550m – a multiple worth 10-to-12-times Imagem's gross profit (net publisher share).
Meanwhile, Round Hill has reportedly snapped up Carlin Music America for $245m (yet to be confirmed); a price which would represent a multiple of just over 16-times Carlin's gross profit (NPS).
These multiples do not compare to the gulf between Universal's current EBITA (a smaller figure than gross profit, obviously) and its mooted $40bn valuation.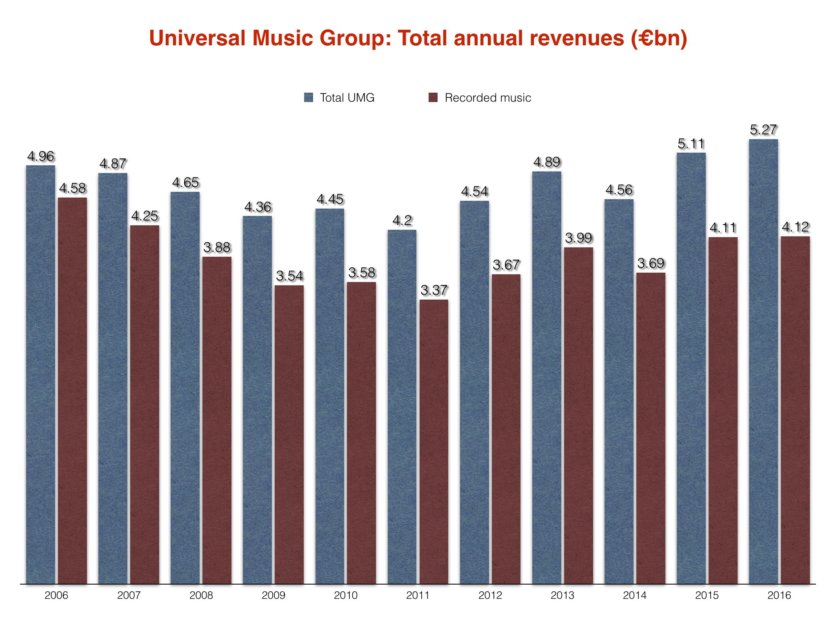 ---

Yet before we write off a $40bn valuation as pure fantasy, let's take a trip into the future.
Goldman Sachs recently released a heavily influential report which suggested that the recorded music business alone would be worth $41bn a year by 2030.
Side-note:  Quite how any investment bank can forecast so far into the music business's future seems, to MBW's frazzled little brain, beyond comprehension.
For one thing, there's a major material evolution happening amid the very deals that artists ink with labels; will the margin for record companies continue to get eroded as acts gain momentum off their own steam?
What about the reversion of catalogue rights away from the majors: will that have an impact on Universal, Sony and Warner's modern-day streaming cash cow?
That's not even considering YouTube and the potential impact on the industry, one way or another, from future regulation decisions that force Google to adjust – or allow it to relax – its royalty and copyright practices.
---
Regardless, let's say for a second that Goldman's guesswork is on the nose, and that nothing else changes in the modern industry from now until 2030.
That would mean transposing Universal's current global recorded music market share of around 33% to a much bigger marketplace.
A 33% revenue share of a $41bn industry would see UMG turning over $13.5bn in annual recorded music revenues.
Let's keep the hypotheses going: recorded music sales currently account for around 79% of UMG's total annual revenues, with its other money generated by publishing (UMPG), merch and additional divisions.
At that proportion, a $13.5bn recorded music turnover would mean a total UMG annual company turnover of approximately $17bn.
(To refresh your memory: this is going off the supposition that the recorded music industry will be worth $41bn in 2030 and the supposition that UMG's market share will remain the same.)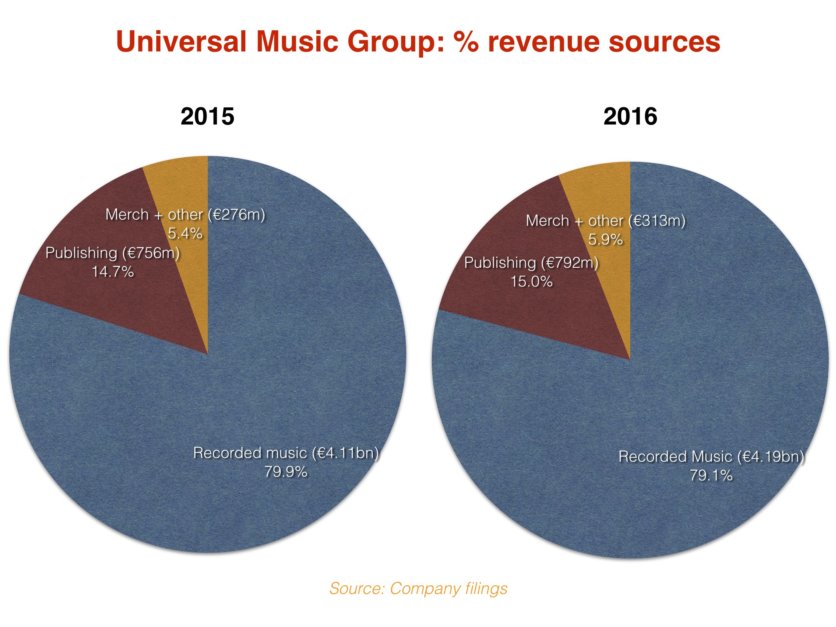 ---
The final piece of the puzzle: let's apply UMG's forecast EBITA profit margin for 2017 (13.3%) and see where we come out in Goldman Land, 2030.
Dramatic pause.
If UMG turns over $17bn in 2030, at a 13.3% margin, it could expect to see $2.26bn in EBITA profit.
Here's the thing: even with all of that engineering and guesswork, using the most positive music business forecast in existence and fast-forwarding 13 years, Universal would still need to achieve an EBITA multiple in excess of 17-times to get to a $40bn valuation.
Such mathematics makes a $20bn – $30bn valuation seem less shocking, and all-the-more possible.
Which may, of course, be entirely the intention.
Two years ago, Arnaud De Puyfontaine was asked whether Vivendi was keen on selling off Universal Music Group, and replied emphatically.
"The disposal of our music business will be over my dead body," he said.
The $40bn valuation he's now happy to slap on UMG just goes to show: if you're going to make a corporate move which takes you to the brink of mortality… you might as well ask for crazy money.
---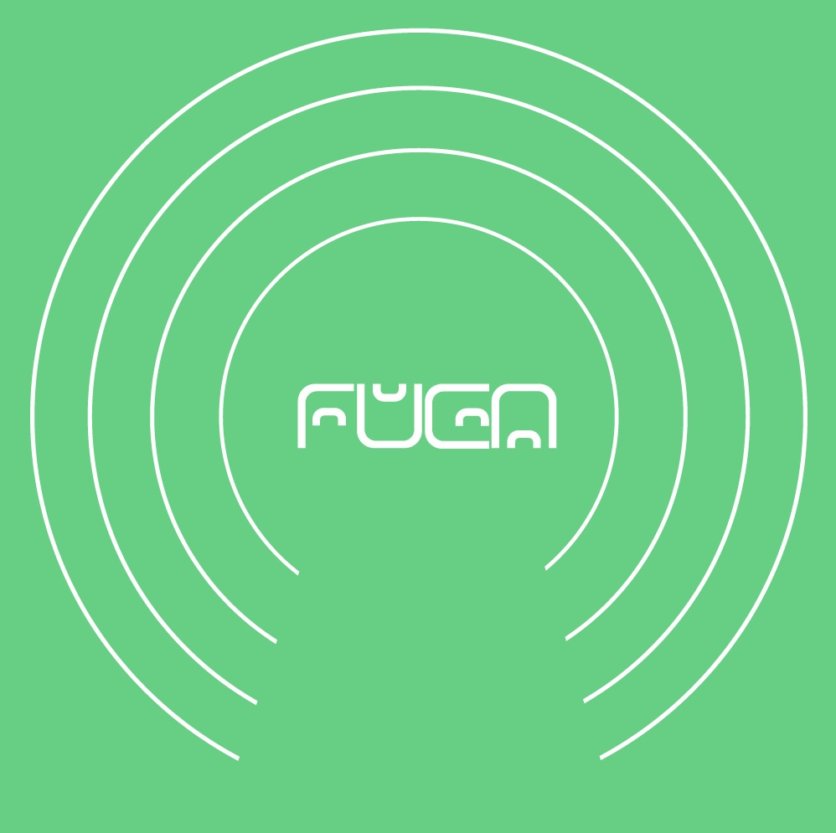 The MBW Review is supported by FUGA, the high-end technology partner for content owners and distributors. FUGA is the number one choice for some of the largest labels, management companies and distributors worldwide. With a broad array of services, its adaptable and flexible platform has been built, in conjunction with leading music partners, to provide seamless integration and meet rapidly evolving industry requirements. Learn more at www.fuga.comMusic Business Worldwide