If you thought that rising interest rates and financial stability had put paid to the boom in music rights acquisitions, think again; with two significant deals in less than a week – first Simple Minds and now Jean-Michel Jarre – BMG says otherwise.
CEO Hartwig Masuch told MBW today: "If you believe as we do that the long-term prospects for music are positive, there's no reason to back off right now. On the contrary. With much of the froth going out of the market as pure investment vehicles face pressure in funding, there is even more reason to invest.
"That's why quietly we have struck more than 30 deals for publishing and/or recorded rights already this year."
The key to making those deals work, says Masuch, is having the right infrastructure to make the most of the assets.
"The pure investment fund [investing in music rights] has the benefit of simplicity, but the danger is that they lack the levers to really make investments perform," says Masuch.
"If you are fundamentally just banking cheques passively, you're missing out on upside.
"The ideal combination is a highly focused low-cost investment capability married to an efficient and effective operating company. That is where we fit in."
The Financial Times reported this morning (July 21) that Bertelsmann-owned BMG is prepared to spend up to USD $1 billion in 2022 alone, if – and it's a big if – it manages to secure the Pink Floyd catalog.
(Pink Floyd's master recordings catalog plus other additional assets from the band – including neighbouring rights income and 'name & likeness'  rights– are on the block for a rumoured $500 million. Some sources have speculated to MBW that, with BMG and the three major record companies all in the race to buy this rights bundle, the eventual price could even head towards $600 million.)
According to Bertelsmann's 2021 annual report, Bertelsmann's lifetime investment in BMG (that's 'new' BMG, as established in 2008) had reached EUR €1.969 billion at the close of last year (see below).
A further USD $1 billion investment in 2022, therefore, would imply a near-50% increase in the company's total investment in BMG.
---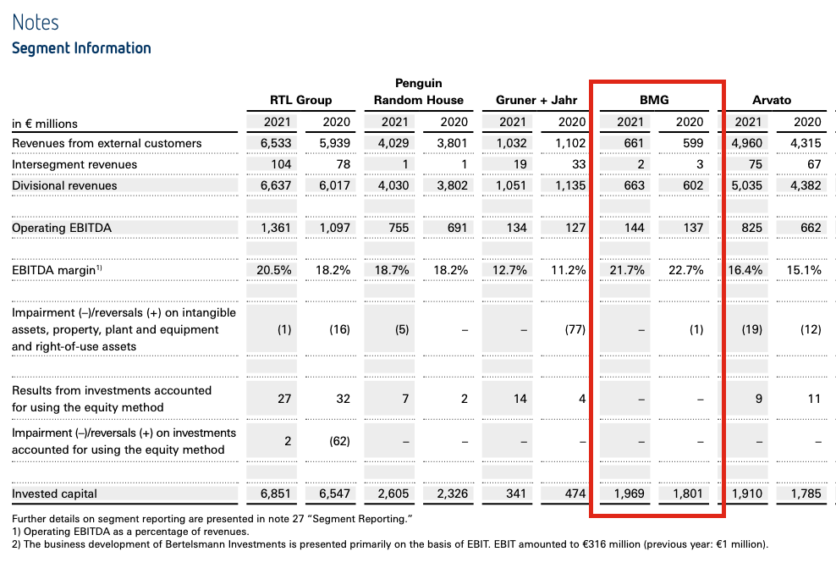 ---
Speaking to MBW today, Masuch said: "With markets in turmoil, this is a great time to be part of a privately-owned company which takes a long-term perspective."
But he refused to be drawn on the $1 billion figure reported in the FT – or on a potential Pink Floyd bid.
"It would be wrong to say there's a specific number we're determined to spend," he said.
"Every deal needs to justify itself on its own terms. It might be disappointing to some sellers, but there is no blank checkbook. We will walk away from any deal which fails to make sense."
BMG's decision to up its commitment to rights acquisition this year reflects its long-term position as a contrarian investor.
In the period between 2009 and 2017, the company struck more than 100 acquisition deals in publishing (including Crosstown, Bug, Chrysalis, Primary Wave and Stage Three) and recordings (Sanctuary, Union Square, Mute, Vagrant, Infectious, Rise, RBC and BBRMG).
"With markets in turmoil, this is a great time to be part of a privately-owned company which takes a long-term perspective."

Hartwig Masuch, BMG
This was a time when few were buying – and in retrospect many of those deals now look like a bargain.
BMG took a break from acquisitions between 2018 and 2020, before coming back strong in 2021 with a run of artist-specific transactions with the likes of Tina Turner, Mötley Crüe and ZZ Top.
And in 2022 so far, its 30 catalog rights acquisitions have included the aforementioned Simple Minds and Jean-Michel Jarre, plus Primal Scream, John Lee-Hooker and many more.
(These, it's important to clarify, are BMG's own acquisitions; the company's separate jointly-funded vehicle with KKR acquired the interests from ZZ Top towards the close of 2021).
"I wouldn't necessarily say that we're contrarian," says Masuch of BMG's approach in the market this year. "We just try and avoid the herd instinct."
He adds: "For us the most important thing is to stick to your brief and execute regardless of whatever anyone else does.
"Our brief is very distinctive so it's not surprising that our investment cycle tends to be different to others'."Music Business Worldwide