MBW's World's Greatest Managers series profiles the best artist managers in the global business. This time out, we catch up with Benjamin Evans, manager of Australian guitar-pop phenomenon, 5 Seconds of Summer. He talks about his history with the group, including the recent break and reunion, his time at Modest!, why 5SOS aren't a boy band and much more. World's Greatest Managers is supported by Centtrip, a specialist in intelligent treasury, payments and foreign exchange – created with the music industry and its needs in mind.
---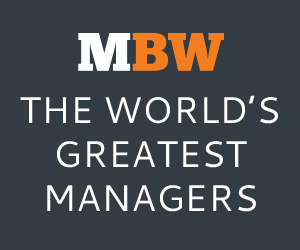 Benjamin Evans, the long-term (but also quite new – details later) manager of world-conquering Aussie pop-rock band 5 Seconds of Summer, doesn't love music.
He certainly likes it, he definitely knows about it, and he absolutely loves managing his superstar client.
But music itself? Not his No.1 passion.
This 'confession' is both radical and refreshing. Almost every music exec in any interview will begin by proclaiming their obsession with music, how they could never have imagined doing anything else, that they're actually a frustrated lead guitarist and what their favourite Steely Dan album was in kindergarten.
And maybe it's all true. Most/some of it. Some/most of the time. Or maybe Evans is just less prone to bullshit.
He says: "I'm really a sports fan, a good food fan, traveling, my friends and family, they're all my passions over music. I'm passionate about the artists I work with, but I'm not a passionate music fan in general. That might sound strange, but I think it also makes me a good manager, at least I hope it does.
"I think I have quite an objective view of the industry and what I think is right. I never idolized one artist or aspired to be one, I just liked good music or a good show, whatever it was."
The strange thing is, when Evans does talk about his childhood and teenage years, in Nottingham, England, quite a lot of it is about music. Or, perhaps more accurately, is music-adjacent.
"I vividly remember the moment I knew I wanted to be a manager. It was 1996, I was 13 and my parents drove my sister and I down to London for a show in Hyde Park.
"I was standing in the middle of this giant field surrounded by 100,000 people and the smell of ganja… I'd never been to anything quite like it.
"I remember watching The Who and saying to my Dad, 'I wanna be that guy.' He's like, 'Who, Roger Daltrey?' And I said, 'No that guy, side of stage, what does he do?' I was fascinated by the people separate to the artist.
"I knew I'd never be a performer, nor did I have any ambition to, but I wanted to be that person behind the scenes, in the wings, that's what really sparked my curiosity about music management."
"I'd had a lot of beer, it was a three-hour journey back home and I was sick all over the van. It was a lesson learned: don't drink on the job!"
Evans also recalls a close childhood friend, Will Sanderson, "who I thought was the best guitarist on the planet. I used to squeeze in his van when he'd go to gigs with his band and help out wherever I can." (Sanderson is still a great friend and is currently on the road with Harry Styles – so he obviously wasn't bad.)
"One time we went down to Water Rats in London. I'd had a lot of beer, it was a three-hour journey back home and I was sick all over the van after eating a cold cheese sandwich trying to sober up. I think I was about 16, totally broke and had to pay for the van deposit. It was a lesson learned: don't drink on the job!"
Talking of motorways and getting messy, it was around this time that Evans (the not-that-passionate music fan, remember) threw himself into the burgeoning UK rave scene.
"Going raving was all I really cared about. Every weekend was about getting in the car and going to Sanctuary in Milton Keynes, Q club in Birmingham, Hippodrome in London… we used to go everywhere, often in my mate's transit van with mattresses in the back."
He partly rescues his ambivalence argument, however, by explaining that he was as interested in the infrastructure and logistics as much as he was entranced by the blissed-out vibes and repetitive beats. "I wanted to know how these events were put together and who was behind them.
"I offered help to a friend in Notts who was heavily involved in local events through his own independent hip-hop label. And then I started getting involved in putting events on – student and club nights, hip-hop and garage nights – in different parts of the country."
He pursued all these interests via a music management course at college, work experience at (what was then) Sony ATV, followed by stints at a PR firm and then finally, a management company.
---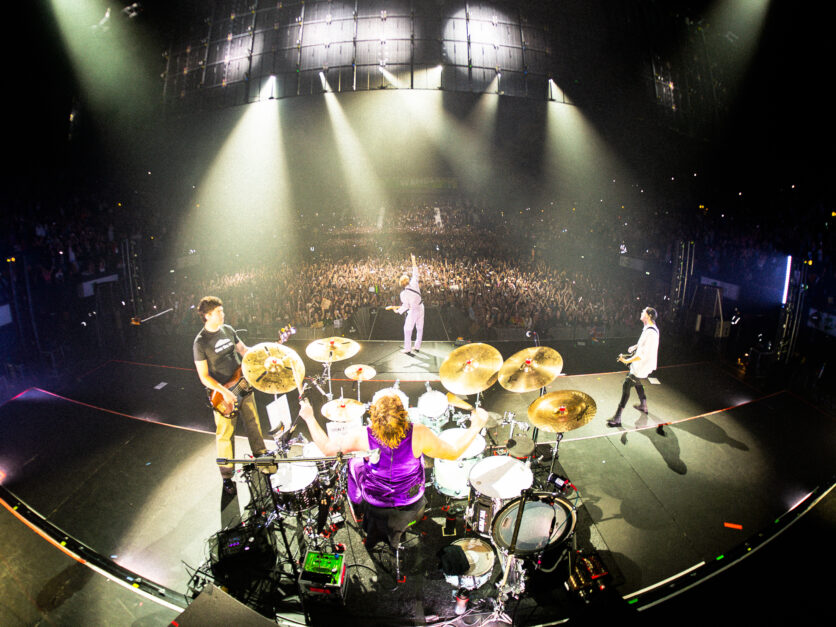 ---
Unfortunately, that gig didn't last and Evans found himself back in Nottingham, out of the loop, until, eventually, he pestered and persisted his way into Modest! Management.
There, after a few years, he began working with 5 Seconds of Summer, four Australian teenagers (Luke Hemmings, Michael Clifford, Calum Hood and Ashton Irwin) who very quickly became one of the most successful rock-pop bands in the world.
Their first three albums (5 Seconds of Summer, 2014; Sounds Good Feels Good, 2015; Youngblood, 2018 – all released via Capitol) went to No. 1 in the US and the UK.
Calm (2020, Interscope) only missed out on the top spot Stateside because of a shipping error (but went to No. 1 in the UK), while their latest record, 5SOS5, released by BMG last month, was No. 2 in the Billboard 200 – kept from the summit by the streaming juggernaut that is Bad Bunny. (Again, it was a No. 1 in the UK).
Evans was with the band on every step of that remarkable journey, until they left Modest! in early 2021 – a split that both sides have said was amicable and chiefly down to the band wanting L.A-based representation.
They joined YMU in February last year, with Evans leaving Modest! soon after to set up his own company, 17 Artists.
5SOS's relationship with YMU only lasted around eight months, however, and this time the split wasn't especially amicable: it was followed by talk of a $2.5m lawsuit surrounding alleged unpaid commission. That situation has, MBW understands, now been resolved.
The band, however, less than a year after leaving Modest! and making the biggest team-change of their career, needed a new manager. Thankfully, they knew just the man…
---
You spent 12 years at Modest! Management, what did you learn there?
Firstly, you never stop learning in management, but yes, I owe so much to Richard [Griffiths] and Harry [Magee] at Modest, they were certainly great mentors for me.
It was a baptism of fire managing artists from X Factor [at the time, Modest had the contract to manage all artists that appeared on the show].
These artists were superstars overnight. It was both brilliant and brutal – and emotionally so challenging for those contestants, to have such fame so quickly and then potentially fall away and go back to relatively normal lives.
Managing their well-being while under such a spotlight was really tricky at times and it definitely educated me on people management. There was no better education, to be honest.
As much as I had loved working on [X Factor], I was really eager to work with an artist, not from the TV world who we could develop. When the chance came to work with 5 Seconds of Summer, it was exactly what I had been waiting for – a band with ambition and talent who I could grow alongside.
---
What were your high points during your time at Modest!?
Actually, some of my favourite memories are to do with the great friends I made and the family culture we had at the company for so many years.
In terms of achievements, there are obvious moments like No. 1 albums and selling out huge venues, but I think it was [5SOS's] third album, Youngblood, that sticks out. It was that era when people outside the band's fanbase really started to take them seriously.
We always knew how good these guys were, but they were misunderstood by a lot of people. When you see a group of guys topping the charts at the age of 17/18 you instantly think they're the next big boy band, and that's understandable. But they were proper musicians and songwriters.
As a manager at that time, their ability to change that perception was inspiring. It was always up to them to shake off that tag and prove people wrong, all we could do was encourage that.
They just needed to be themselves and let their music and live shows do the talking. They were where they were because they fucking deserved it.
---
What was the working relationship with Capitol like in terms of breaking the band and then managing that success, breaking them global etc? In particular, what was it like working with Nick Raphael and Jo Charrington?
I loved working with Nick [Raphael] and Jo [Charrington, previously the co-UK head of Capitol]. They wanted to win and there was no bullshit with them. The whole team were brilliant: Murray Rose, Tom Paul, Charlie Knox, and the international team with Rob Fleming and Tom Burrows. We all got along really well, which helps.
Nick and Jo were proper A&Rs, and even if the band didn't always agree, it was refreshing to have strong opinions. I think you need that. But they always respected the band's choices.
We all agreed She Looks So Perfect was the perfect debut single. It was pop, but guitar pop. The video was a little rebellious and the lyrics were cheeky. It was catchy, it matched the band's personality.
"We did some pretty brutal promo trips around the world, but it certainly paid off."
We invested a huge amount of time internationally right from the first album, through all three albums that we made with Capitol. We did some pretty brutal promo trips around the world, but it certainly paid off.
Wherever they went, there were hundreds of fans outside the hotels or radio stations; they were shutting down streets. It was chaos, but the band were special. They had this really close connection to their fans and they were backing it up in everything they did. They just had that rare talent and work ethic you are sometimes fortunate enough to work with as a manager and label.
I'm not sure we will see it again either, in the way 5SOS burst onto the scene so quickly with that level of fanbase. With the exception of K-Pop, I think it's a lot harder to break through at the level in today's world.
Maybe I'm wrong, but I think the listener today likes so many different artists or even songs, rather than being totally obsessed with one artist.
---
What was the mood like in the camp ahead of the release of the new record?
After 11 years of releasing music, there was a very different expectation. While No. 1 records are, of course, very special, we know the band aren't defined by charts – and I remind them of that. They have stood the test of time and we've just had a really successful touring year during very difficult circumstances.
Our perspective was very much that we are proud of what we have achieved this year, both the music that's been created and how everything had been executed.
One of the proudest factors behind this album and what makes it even more special, is that 80% was written by the band and produced by Michael [Clifford].
To then get No. 1 in major markets like the UK, Australia, and No. 2 in the US was a brilliant achievement statistically, but that makes me more happy for the band and the people who work so hard behind the scenes.
What pleased me most personally was seeing these respected outlets reviewing the music so well and acknowledging where the band are in their careers. They are serious musicians and more and more people are seeing that now.
---
How frustrating was it not to hit No. 1 in the States, especially after the logistical issues that prevented Calm from getting there last time round?
Sometimes there's nothing you can do about streaming artists like Bad Bunny! We were extremely pleased with No.2 in the US; it was a huge success.
There are so many factors that determine where an album charts, and that changes week on week.
For that reason, how do you really determine what's considered a success? And as I mentioned before, the band shouldn't be defined by that.
---
Boy bands traditionally have a definite shelf-life. First up, how do you feel about the phrase 'boy-band'? Secondly, how much does that idea of a shelf-life influence strategy? Do you collectively work towards evolving, becoming something that can be around for the really long haul?
It's an interesting question, but I'm afraid, to me, it's also definitely a misinterpretation of the band. We've spent years answering the 'boy-band' tag, or rather educating people that the band are not a 'boy band'. But it would be unfair if I ask you to rephrase it. The band constantly have had to answer it, so I will too!
They are four guys in a band that can sing and play instruments. If that's a boy band, then so be it. But they are a boy band as much as The Killers, The Strokes or the Rolling Stones are a boy band. They are also a fucking rock band. I guess the Beatles were the first rock band that was also a 'boy band' to some.
"5SOS are a boy band as much as The Killers, The Strokes or the Rolling Stones are a boy band."
I urge anyone to watch a 5SOS live show and then tell me they're a boy band. These guys grew up together and formed a band, they've written all their music from record one, and now Michael has produced most of the latest album.
As I said earlier, it was up to them to prove people wrong and they've done that. Their fan base has grown with the band and the demographic is changing.
These guys are mid-twenties and have released five No. 1 albums over 11 years. They are only just beginning.
---
How would you describe 5SOS as people – and the dynamic in the band?
Is it always laughs and smiles… no it's not [laughs]. Nor should it be!
It's work at the end of the day, and from the outside you don't see that. But nobody works harder than these guys and they truly care and support each other. They care about their team. It's those values that keep them close and keep the right people around them.
---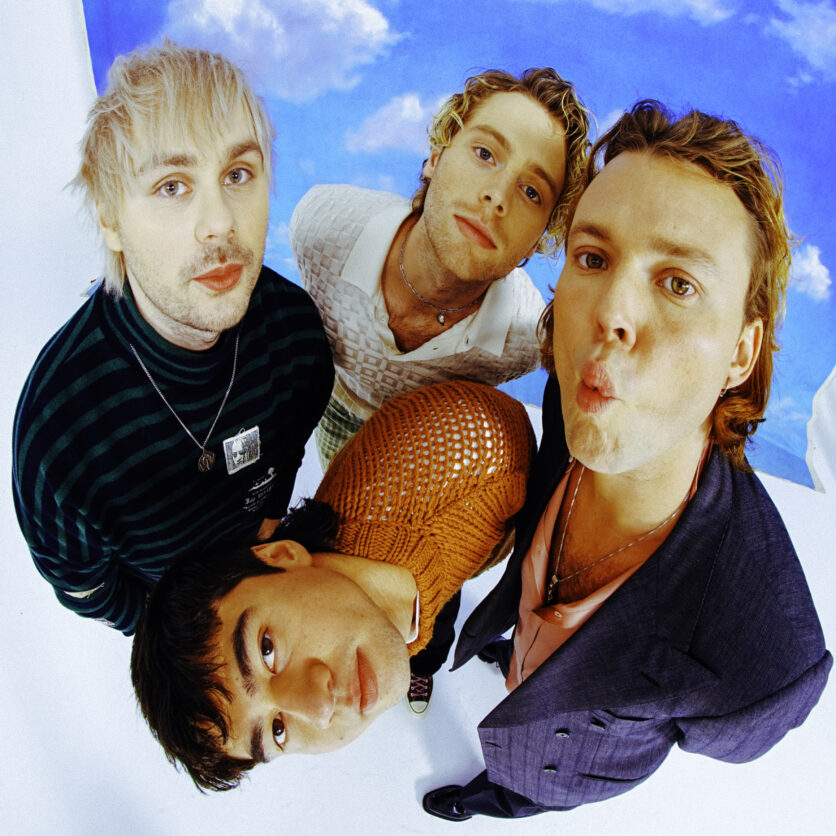 ---
What was it like working with BMG on the latest album?
BMG are taking records incredibly seriously, that is clear. Thomas Scherer, Cyndi Lynott, Dan Gill and the team have been great partners for us on this campaign and we're not done yet.
The band have always dictated how their records sound and what's released, so it hasn't been very different from the previous albums in that regard. We actually made most of the record before signing the [BMG] deal, but we did the same on [the band's previous] album at Interscope. We wouldn't sign with someone who didn't put the artists' opinion first.
I guess the biggest change [at BMG vs. a major] is being far more aware of the budgets, because it's essentially all the band's money and I'm very used to just going to the label and asking for more cash! But they've honestly been brilliant across the board.
---
Now that you've gone down the route of retaining rights ownership via your deal with BMG, would you ever consider reverting to a more traditional label deal within the major system?
It's very simple: We want to work with whoever shows the most belief in the long-term growth of the band and are prepared to invest in that.
Who's the most passionate about working with the band? More than anything you need people on your team who love the project, otherwise, what's the point? One of the reasons we signed with BMG was because they showed that.
I suppose one of the biggest compliments I could give BMG is that they function almost identically to how the majors do, yet we have a very artist-friendly deal. It's a great setup, but, in truth, we will always want to work with the team who can deliver the above.
---
What is the most important thing you can do for an artist as a manager and what's the relationship like?
Belief and trust. If you don't believe in the artists you represent then you may as well walk away. And without stating the obvious, you have to trust each other and build a team and environment that shares that value.
Management is often about saying what the artist doesn't want to hear, when they need to hear it. But so long as they trust you, they know what you're saying is with the right intention; that's key.
"Nobody will ever truly understand what you do, even the artist… Just like we, as managers, will never truly know what it's like being an artist."
I always say management is about doing the necessary for the unknowing. Nobody will ever truly understand what you do, even the artist. I've had one day off in the last 12 months and that was Christmas day.
The artists don't see that, they don't see the relentless hours of calls, emails, planning, etc. that goes into the daily business of music management. Just like we, as managers, will never truly know what it's like being an artist.
I'll never know what it's like waking up and seeing what someone has said on this or that platform. I'll never know what it's like standing up in front of thousands of people to perform or do an interview on live TV, irrelevant of how you're feeling that day. I'll never know what it's like trying to write a song – it might sound fun, but it's not always and can be really challenging to their well-being.
You just need to be understanding and aware, at all times, how this job can impact life – for the artist, our teams, the fans and ourselves.
---
What would you change about the music industry today?
This isn't so much a music industry point, but I don't like how exposed artists/people are in general with social media. There is very little protection.
Also, and it's probably a common answer – that I was actually just talking to the band's lawyer, James Sully about – but greater rewards for songwriters.
Record companies take the greater risk, as they pay the recording costs and bear the brunt of the promotion and marketing of recordings – including the staffing costs that [go with that]. But distribution costs have diminished so much in the new digital world, the balance between publishing and recording income doesn't seem equitable.
---
Finally, what advice would you give a young manager just starting out?
Work in as many areas of the business as you can before being a manager and always ask questions. Learning the ins and outs of all aspects of the business will help make you a great manager.
Secondly, learn how to manage yourself. It took me a long time to realize that. This job takes over your life with huge sacrifices on family, relationships, mental health. It's very difficult to ever switch off, so you really need to manage yourself, which I still don't do enough.
"This job takes over your life with huge sacrifices on family, relationships, mental health. It's very difficult to ever switch off, so you really need to manage yourself."
Thirdly, as I've already said, only work with clients you 100% believe in. That's not just 'are they going to sell records?', it's the whole culture around that artist: is it what you believe in? If it isn't, don't go near it.
Lastly, be a lawyer first!
---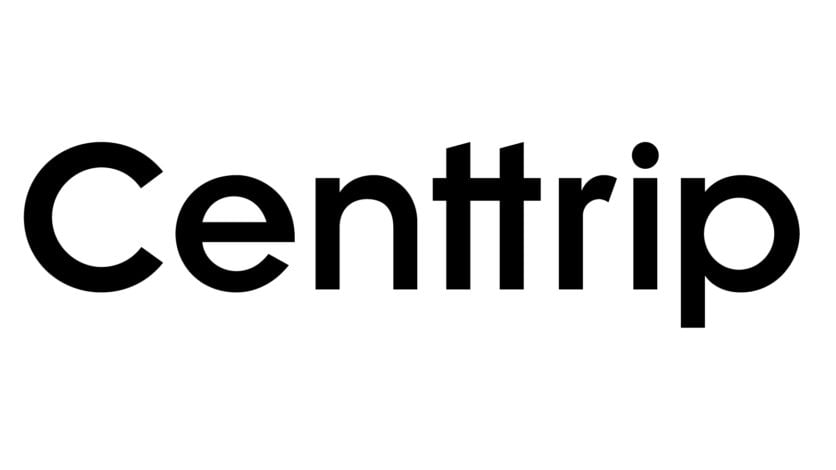 A specialist in intelligent treasury, payments and foreign exchange, Centtrip works with over 500 global artists helping them and their crew maximise their income and reduce touring costs with its award-winning multi-currency card and market-leading exchange rates. Centtrip also offers record labels, promoters, collection societies and publishers a more cost-effective way to send payments across the globe. 
Music Business Worldwide