MBW's Stat Of The Week is a series in which we highlight a data point that deserves the attention of the global music industry. Stat Of the Week is supported by Cinq Music Group, a technology-driven record label, distribution, and rights management company.
---
For decades, the record industry has turned its attention and investment to one thing above any other: the hit record.
Yet new figures out of the US this week suggest that hits – as in blockbuster, industry-dominant megahits – are increasingly becoming a lesser-spotted beast.
Despite millions more people playing music on streaming services each year, the industry's biggest streaming hit at the mid-year point of 2021 is significantly smaller than its biggest streaming hit at the mid-year point of 2020, of 2019, and of 2018.
To illustrate this point, we must turn to MRC Data's new half-year industry report, covering the US record industry in the first six months of 2021.
MRC's numbers show that the biggest hit of H1 2021 in the US was Olivia Rodrigo's drivers license, which attracted 460.2 million on-demand audio streams during the six months.
That's a lot of plays.
But 460.2 million is the smallest amount of on-demand audio streams collected by the USA's No.1 hit at the mid-year point for four years:
In the first half of 2020, Roddy Ricch's The Box pulled in 728.7 million audio streams in the first half of the year, according to MRC / Nielsen Music data.
The No.2 streaming track in the H1 2020 period, Life Is Good, by Future (Ft Drake), also scored more mid-year plays than drivers license, with 476.2 million.
In the first half of 2019, Lil Nas X's Old Town Road pulled in 596.1 million audio streams.
And in the first half of 2018, Drake's God's Plan pulled in 655.0 million audio streams.
You'd have to go back to H1 2017 – when Ed Sheeran's Shape Of You ruled with 354.2 million streams – to find a time when the USA's mid-year No.1 audio streaming record had more plays than drivers license.
---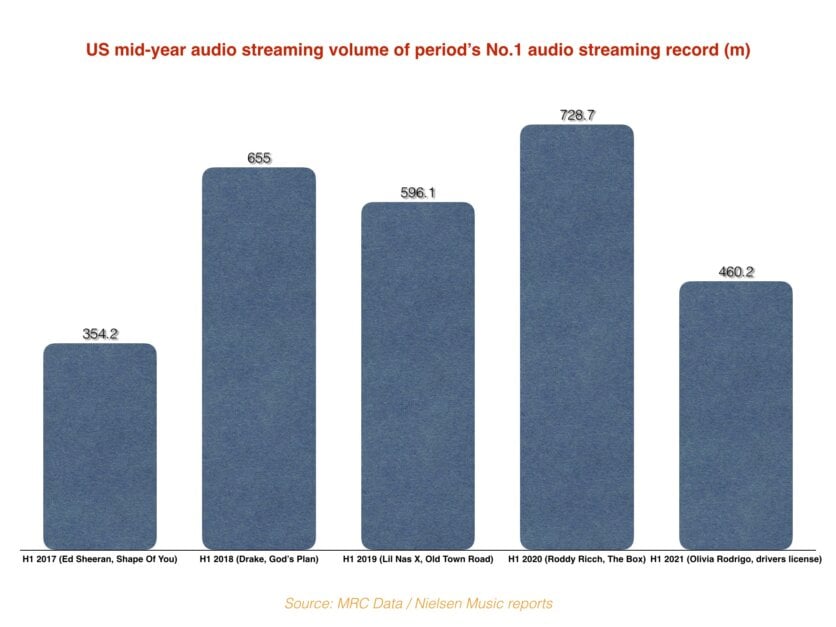 ---
This is all especially odd, of course, when you consider the massive growth in streaming's popularity between 2017 and 2021.
Although the latest MRC mid-year report doesn't give a specific figure for the US industry's total audio streaming volume in H1 2021, it does reveal that this number was up by approximately 15% on the same figure in 2020.
A prior MRC Data report shows that US on-demand audio streaming mid-year volume stood at 419.8 billion in H1 2020… meaning we can be confident that the H1 2021 equivalent number weighs in at around 482.8 billion.
That 482.8 billion number, in turn, is up 80% on the total amount of on-demand audio streams recorded by MRC / Nielsen in H1 2018 (268.2 billion).
And yet the number of streams racked up by the No.1 midyear audio streaming record in 2018 (God's Plan, 655m) was nearly 200 million streams bigger than the biggest record in H1 2021 (drivers license, 460.2m).
---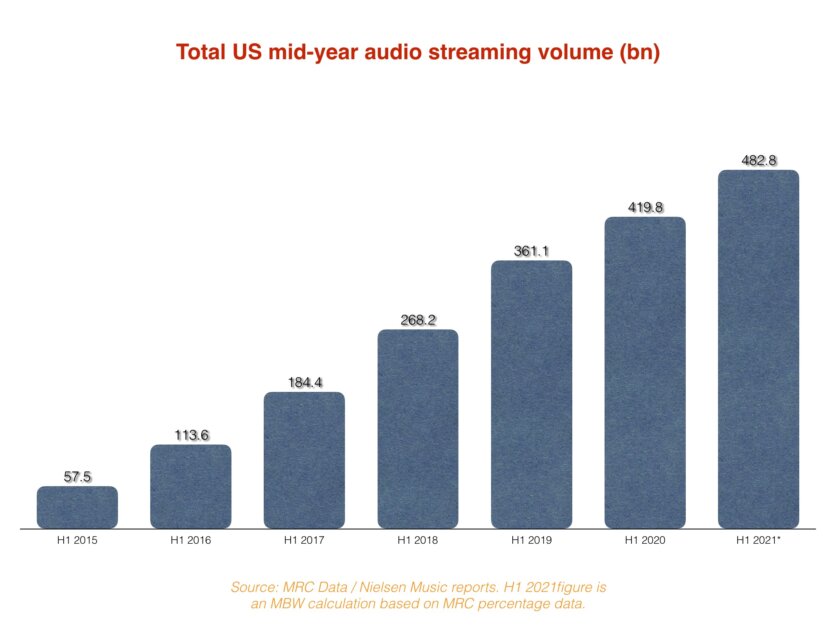 ---
So what's going on?
Someone might reasonably argue that the "death of the megahit?" narrative here actually has a simple explanation: Olivia Rodrigo's drivers license simply isn't as popular as the other tracks mentioned above. It's a big hit, for sure – it's just not a megahit like God's Plan, Old Town Road, orThe Box.
One might also consider the fact that H1 2021 was mired in Covid lockdowns (and related uncertainty) – not exactly ideal conditions for superstars to release a plethora of chart-topping bangers.
Yet digging deeper into the numbers suggests whispers of "the death of the megahit" may actually reflect a longer-term, empirical trend – rather than a mere pandemic anomaly.
Below, MBW has calculated the cumulative volume of on-demand audio streams shared by the USA's Top 10 audio streaming hits in the first half of each year, as tabulated by MRC Data / Nielsen Music.
---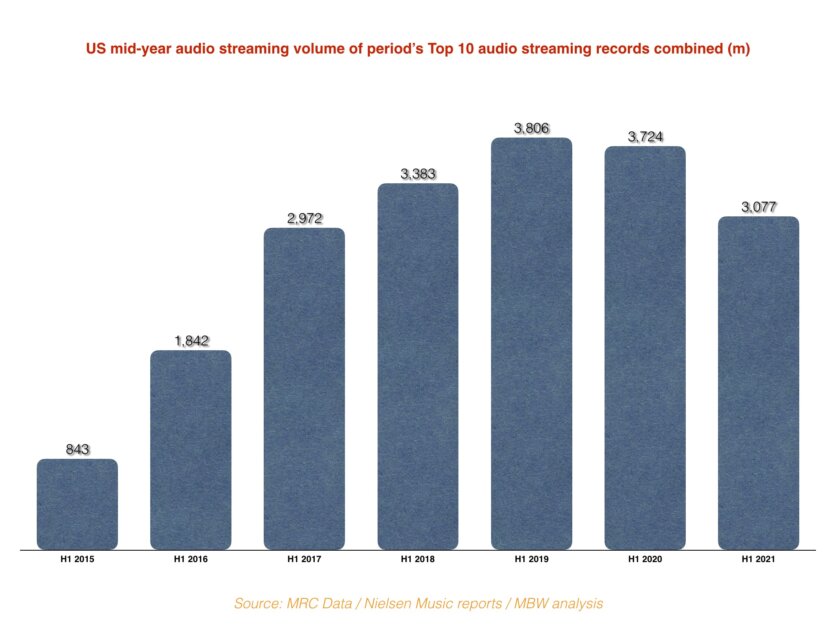 ---
As you can see, this cumulative mid-year Top 10 figure hit a peak in H1 2019 – 3.81 billion audio streams – following sustained year-on-year rises in each prior year.
Last year, for the first time, this number fell slightly.
And in H1 2021, even with drivers license doing its best to pull the market upwards, it's fallen again – this time by 17%, or a whopping 647 million plays, year on year.
---
Stat of the Week:

The cumulative mid-year market share of the USA's Top 10 on-demand audio streaming tracks has been slashed in half over the past three years.
---
In our next graph, we show how these cumulative Top 10 audio stream numbers fare as a market share percentage of the USA's total audio streaming volume in each half-year period.
There's a very clear pattern.
Between H1 2018 (1.26%) and H1 2021 (0.64%), audio streaming's Top 10 tracks have seen their joint mid-year market share slashed in half.
---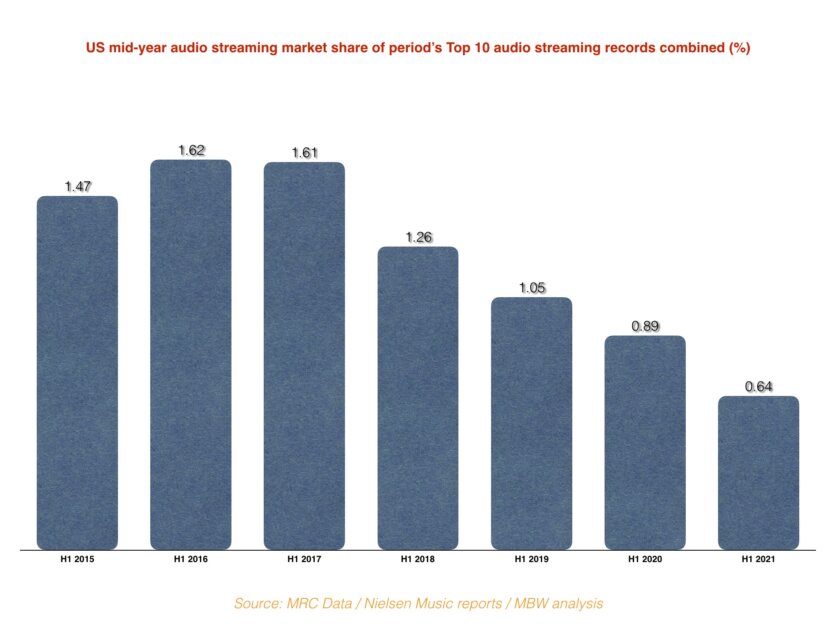 ---
With catalog music significantly growing its US market share in H1 2021, are we witnessing a seismic shift in the make-up of the record business in the world's biggest market?
Or will this prove to be more of a Covid-inspired blip, one which will be corrected as some of the world's biggest stars (Ed Sheeran and Drake included) inevitably release hit singles in the second half of this year?
The global music rights industry – not to mention its most powerful investors – will be watching closely to find out.
---

Cinq Music Group's repertoire has won Grammy awards, dozens of Gold and Platinum RIAA certifications, and numerous No.1 chart positions on a variety of Billboard charts. Its repertoire includes heavyweights such as Bad Bunny, Janet Jackson, Daddy Yankee, T.I., Sean Kingston, Anuel, and hundreds more.Music Business Worldwide