Africa-focused music streaming service Mdundo has published its quarterly report for calendar Q3 2022 (ended September 30).
The streaming company reports to have seen its monthly active users grow by a whopping 107% YoY, from 10.4 million in calendar Q3 2021 to 21.5 million in calendar Q3 2022 (fiscal Q1 2022-32).
The platform's largest country in terms of monthly active user numbers was Nigeria with over 6.5 million MAUs, followed by Kenya, South Africa and Tanzania.
Mdundo's latest MAU number disclosure follows the publication of its annual report in July for its fiscal year ending June 30, 2022 (starting July 1, 2021).
Within that report, for its first full financial year after it listed on the First North Nasdaq Copenhagen in Denmark, the company reported 216% YoY revenue growth, from DKK 2.3 million  (approx. $301,832) in its 2020/2021 fiscal year to DKK 7.2 million ($944,878) for the full fiscal year ending June 30, 2022.
Mdundo's revenue from paying subscribers accounted for 18% of its total revenues, which was up from 2% versus the prior year.
Mdundo offers two tiers, a free, ad-supported service and a Premium subscription-based tier.
The company says that its premium tier has been an "increasing focus' since its IPO in Denmark, with a strategy to establish telecommunication partnerships, having struck four telco deals since the beginning of 2021, one with MTN in Ghana, one with Vodacom in Tanzania and two in Nigeria with MTN and Airtel.
Mdundo says that its focus is primarily on its free service, however, with ads served to users via display banners and audio advertisements embedded into music tracks.
According to the company's annual report, a track downloaded from Mdundo has a 5-10 second advertisement playing before the actual track. The revenue generated from ads increased 165% YoY from DKK 2.25 million ($295,283) to DKK 5.95 million ($780,860) in comparison to the year ending June 2021.
---
As explained by Mdundo CEO Martin Nielsen in an interview with MBW last month, Mdundo's strategy also includes focusing on hyper-local content.
The service allows musicians and rights-holders to create accounts and upload content directly to its platform. Mdundo says that the total number of songs directly uploaded to its service reached 400,000 songs as of June 2022.
---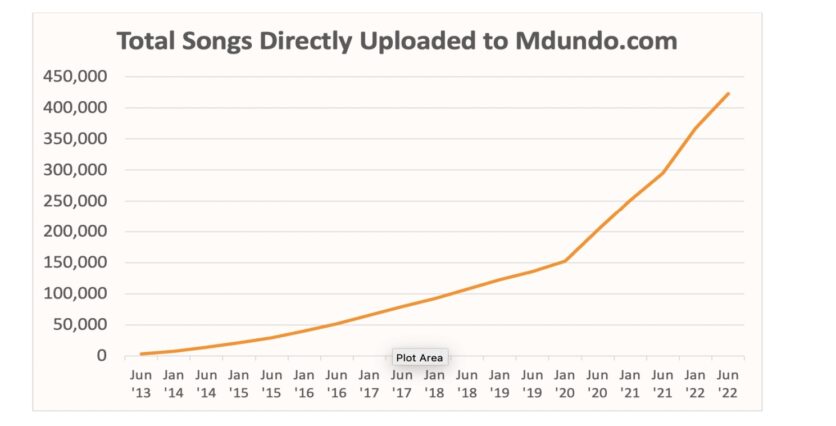 ---
The company also struck a licensing agreement with Universal Music Group in July, having had existing licensing agreements in place both with Warner Music Group and Believe.
Mdundo reports in latest quarterly update that a total of $1 million has been paid to rights holders by the music service since it was established in 2013. It expects a "minimum" of $1 million to be earned by rightsholders from the platform in Mdundo's fiscal year 2022-23.
Looking to the future, Mdundo is aiming to reach 50 million monthly active users as well as a positive EBITDA for the financial year ending June 2025.Music Business Worldwide