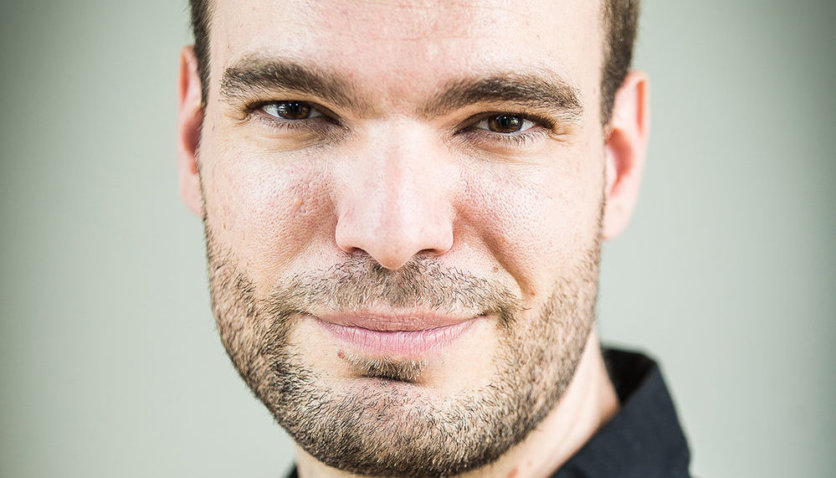 The following MBW blog comes from Dave Cool (pictured inset), Director of Artist & Industry Outreach at musician website & marketing platform Bandzoogle.
---
At Bandzoogle we're extremely fortunate to help tens of thousands of musicians and bands from around the world build their own professional websites.
However, having the tech tools at your disposal is only one step in making a great website.
How you design it, how you organize the content, and the content itself are key to building a site that will convert potential fans, engage your current fans, and impress industry gatekeepers.
Over the last few years we've reviewed thousands of musician websites. We often see the same issues come up over and over again. Here are some of the biggest mistakes we still see musicians making with their websites that you should avoid:
---
1. Not using professional photos
When it comes to your website, we cannot overstate the importance of using professional photos. Great photos help create a positive first impression for potential new fans, as well as for industry and media.
However, if the images on your website are low-resolution, badly cropped, poorly lit, or simply don't fit your brand, chances are, people won't take you or your music seriously. This might seem extreme, but when landing on your website for the first time, the photos are going to give people their first impression of your music.
Be sure that your header and background images look great, and always have plenty of high-res options for industry and media in your digital press kit.
---
2. Website isn't mobile-friendly
It's a mobile world. Mobile digital media time is now higher compared to desktop. You not only need a mobile-friendly website, the mobile experience must be seamless.
This means your site must load quickly, and be easy to navigate (no pinching the screen to zoom in!). Your content needs to be easy to find, music must be easy to listen to, and any e-commerce tools must work perfectly on mobile devices.
Maybe most importantly, Google actually punishes sites in search that aren't mobile-friendly. On the plus side, this change to Google's mobile search rankings actually boosts mobile-friendly pages. You can test the mobile-friendliness of your site here: www.google.com/webmasters/tools/mobile-friendly/
---
3. Website isn't updated regularly
If someone lands on your website and the last update was for your 2014 summer tour, it's going to give the impression that you're no longer active. This can have a real negative impact for potential fans, and especially industry and media.
Be sure to always have your latest news visible right on the Homepage. You can use a blog for this, but again, you'll have to keep it up to date. Other elements you should look to update regularly would be your concert calendar, photos, videos, and of course, your music.
One simple solution to make sure that you're always showing your band's latest activity is by embedding your Twitter and Instagram feeds on your website. While other elements of your site may not be totally up to date, at least people landing on your site will see that you're still active on social media.
---
4. Not enough music / no direct-to-fan purchase options
If there is anywhere that fans should be able to find your entire discography of music, it's on your own website. Don't simply offer a taste of your music then send fans away to iTunes or Spotify.
Be sure to have all of your music available to stream, and offer some free downloads in exchange for an email address to help build your mailing list. There should also be direct-to-fan purchase options, where you keep most of the money (100% with Bandzoogle, 85% with Bandcamp), and also collect valuable email addresses.
Once you have those elements in place, you can then provide links to outside store options and streaming services. Just remember that those services will not share their customer emails with you, so you won't be able to follow up directly with those fans about future albums, tours, or merch offerings.
---
5. There isn't a mailing list sign-up
Speaking of email, far too many band websites don't have a mailing list signup. Or if they do have one, it's buried in the content. Be sure to have a mailing list signup right at the top of your Homepage, with a clear-call-to-action offering an incentive for fans to join (for a great example, check out what Bandzoogle members Sonic Boom Six – pictured above – have done here).
Why is this so important? Simply put: you own your mailing list. No matter what happens to your favorite social media platform, you will always own that database of emails. With social media, those platforms own that fan database and can disappear (MySpace), or change the rules at anytime (like Facebook has done many times). As Benji Rogers, Founder of PledgeMusic has said:
"If email is not the biggest part of your social strategy, then you are giving the power of communication with your fans to companies who will gladly take them and whose advertisers will thank you to no end for providing them with eyeballs."
Email marketing has also been found to be 40 times as effective as Facebook and Twitter combined. So if you're looking to sell music and merch, or if you're crowdfunding your next album, you'll get much better results with a dedicated email blast to your fan list.
---
Dave Cool (yes, that's his real name) is the Director of Artist & Industry Outreach at Bandzoogle. Built for musicians by musicians, Bandzoogle intends to make it easy to build a beautiful mobile-friendly website, and sell music, merch & tickets commission-free. Dave is a recovering punk rock drummer, comedy nerd, wine snob, and loves to connect on Twitter. Follow him at @dave_coolMusic Business Worldwide