Record industry crisis? What record industry crisis?
The income of South Korean 'K-Pop' singers has soared over the past three years, according to new data from the country's National Tax Service – and the good times are being passed on to the country's labels.
In the first nine months of 2014, the three major K-Pop labels ― SM Entertainment, YG Entertainment and JYP Entertainment ― all reported record-high profits.
As you can see below, the average yearly income of K-Pop singers rose 72.2% between 2010 and 2013 – climbing from 26.97m (€21,000) won to 46.74m Won (€37,000).
That, though, is a bit of a misleading figure: the income of the biggest K-Pop celebrities was much, much higher… while many more wannabe stars in the notoriously ruthless South Korean pop industry made do with not much at all.
Brace yourself: The Korean Herald reports that K-Pop superstars Super Junior pulled in nearly 31.4 billion won just in the first half of last year – which equates to a staggering €24.6m – followed by Girls' Generation (pictured) at 30.3 billion won (€24m), Big Bang at 29.4 billion won (€23.3m) and 2NE1 grossing nearly 27.5 billion won (€21.8m).
Or to put it another way, K-Pop's biggest stars are earning just under a million Euros a week. (Divided amongst their multiple members, of course.)
The average income for annual salaried workers in South Korea as well as other 'celebrities' in the entertainment industry also grew in the three years between 2010-2013, but only by around 24% each.
The average for all celebrities ― including singers, actors and other public figures ― grew by 24.3% up from 31.82 million (€25,000) won in 2010 to 39.56 million (€31,000) won.
Apparently the particularly high jump in K-Pop singers' earnings is down to an increased focus on revenue-generating activities for K-Pop stars outside of South Korea.
"Hallyu provided K-Pop stars a greater opportunity outside Korea to turn their fame into profits, mostly through concert tours and album sales," Kim Hun-shik, a pop culture critic, told the Herald.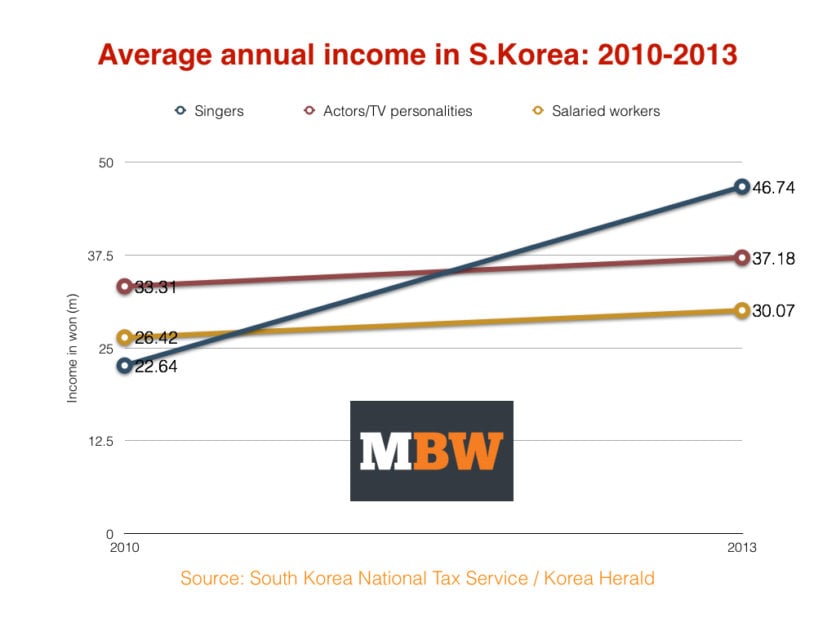 Music Business Worldwide