No wonder he's smiling.
Not content with becoming streaming's first billion dollar record company, Universal Music Group posted its biggest annual revenues in a decade last year.
As MBW's research below shows, UMG's annual income  – across recorded music, publishing, licensing and other activities – had previously never topped €5bn since French media empire Vivendi acquired the business in 2006.
2015's €5.108bn tally was 12.1% up on the major's income in 2014 in actual terms.
However, UMG's results in 2015 were greatly helped by a favourable Euro-to-dollar exchange rate, with the major music group doing 42% of its total global business in North America last year.
At constant currency, UMG's overall income rose 2.5% on the prior year's tally (€4.56bn).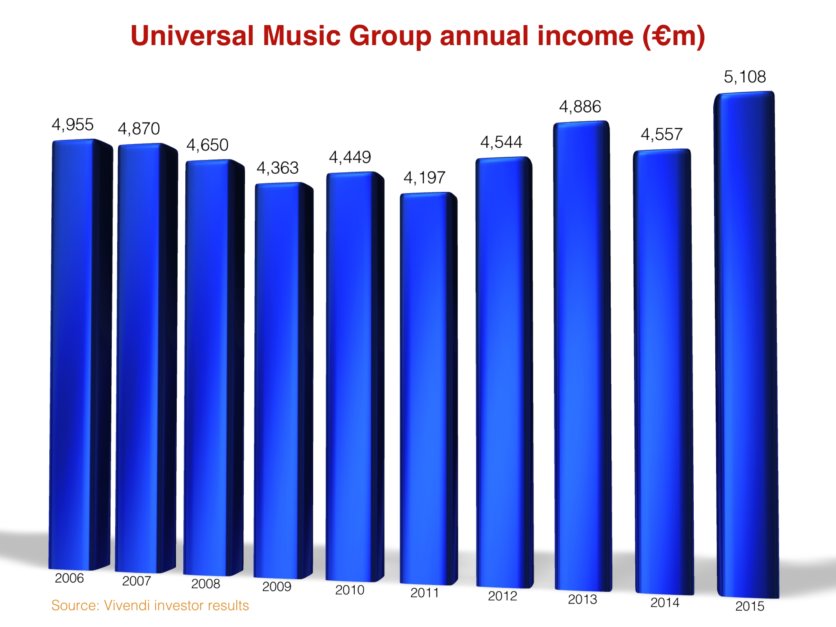 UMG told investors last week that its huge income in 2015 was mainly down to ''significant growth in subscription and streaming revenues more than offset decline in physical and download revenues".
In the 12 calendar months of 2015 – the year Apple Music launched – UMG's streaming income was up 56.2% to €954m.
That's a staggering year-on-year rise of €344m.
UMG's download revenue fell 13% in the year but was still slightly bigger than streaming at €1.02bn.
Elsewhere in recorded music, UMG accrued €1.41bn from physical music sales (-0.5% in actual terms) and €728m from licensing (mainly sync) (+15.3%).
Interestingly, unlike its overall corporate revenues, UMG's recorded music haul for the year (€4.113bn) wasn't its highest over the previous decade.
That came in 2006, when the company's recorded music operations alone pulled in €4.584bn.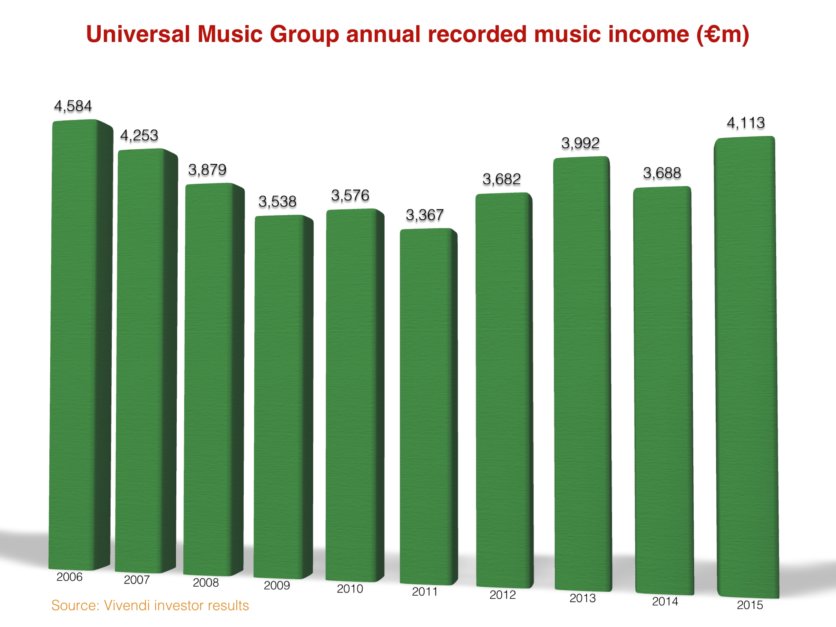 So if recorded music wasn't the crucial factory in UMG's record-setting revenues last year, what was?
One major contributor was Universal Music Publishing Group (UMPG), which registered its own high-watermark income for Vivendi last year.
The €756m UMPG posted in 2015 was 12.4% up on its revenue figure in 2014 – and up 3.0% at constant currency.
(The leap from 2006-2008 below represents Universal's acquisition of the original BMG Music Publishing for €1.63bn – a deal completed in June 2007.)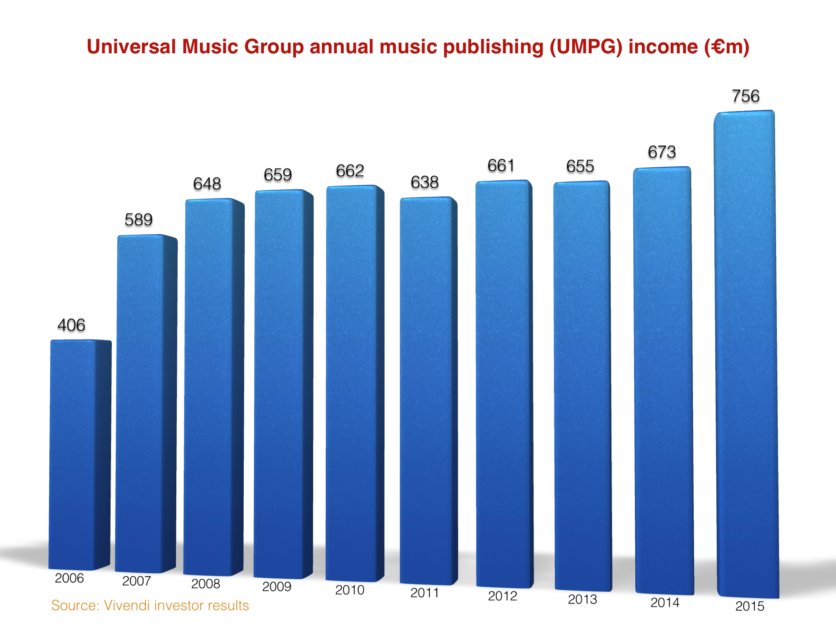 Other standout rises in income included 'merchandising & other', which rose 19.1% in actual terms to €276m.
Vivendi ultimately judges the business performance of UMG boss Lucian Grainge (pictured) on 'Earnings Before Interest Taxes and Amortization' – essentially, profits before fixed costs are removed.
2015's EBITA was UMG's highest for seven years, indicating a growing profitability at the company in the wake of its buyout of EMI in 2012 and the restructuring costs incurred.
That said, EBITA as a percentage of revenues in 2015 (11.6%) was down on 2014 (12.4%) – likely explained because  2014's figure included a capital gain on the divestiture of UMG's interest in Beats (€179 million).
2015's number included a windfall from litigation settlements of €56m – which would have included payouts from Pandora and Sirius XM for the use of pre-1972 recordings.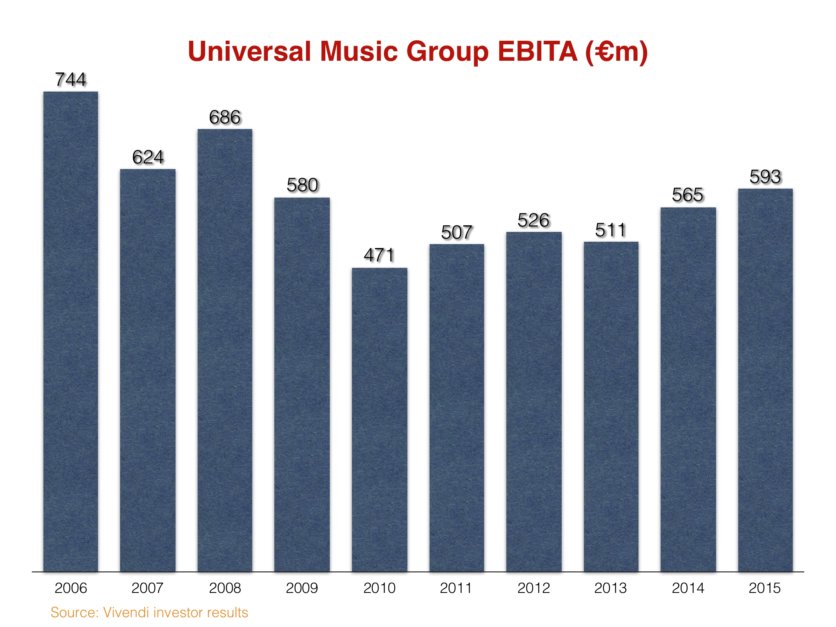 Below, you can see the changing shape of UMG's recorded music income from physical and digital – with the later now split between the declining downloads format (52% of digital income in 2015) and the fast-growing income source of streaming (48%).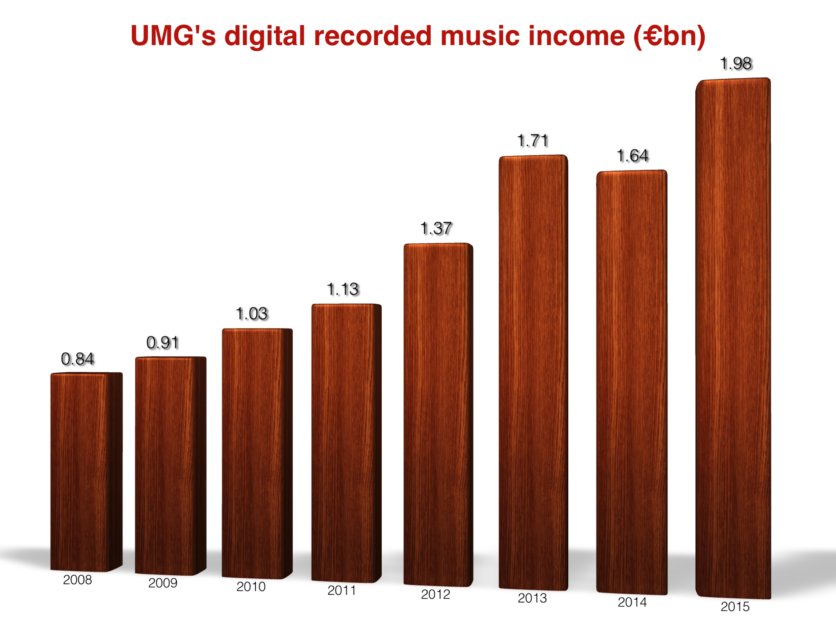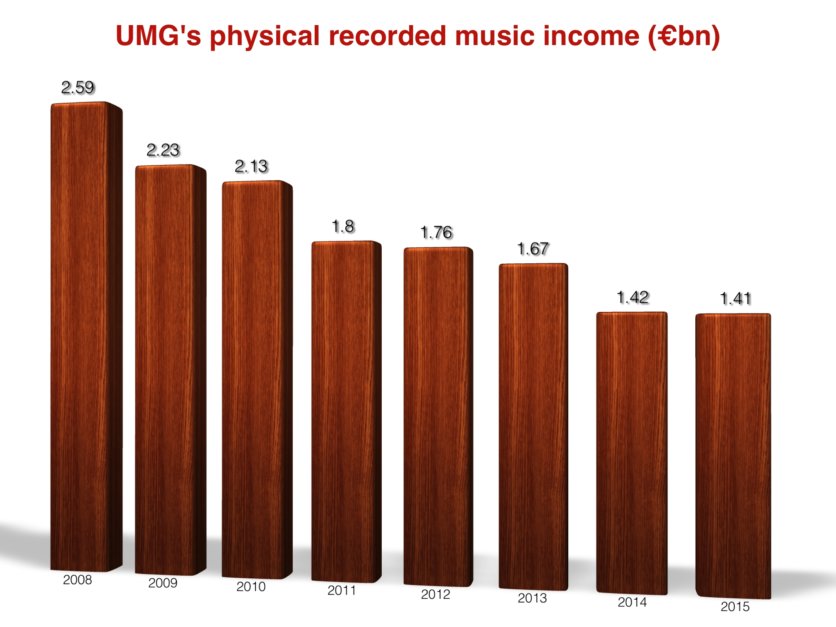 Music Business Worldwide