Revenues at ByteDance-owned video app TikTok grew 545% year-on-year in Europe in 2020, jumping up from $26.46 million in 2019, to $170.78 million last year.
As first reported by CNBC, the firm's financial results were revealed in a filing published on the UK's Companies House on Monday (October 4) for TikTok Information Technologies UK.
TikTok Information Technologies UK and its subsidiaries act as an operator of TikTok for users in the EEA the UK and Switzerland.
TikTok reports in the filing that its revenue growth in the region resulted from "a substantial increase" in its user base, which is says  "attracted more online advertisers and paying users".
Paying users, explains the filing, "means a registered user account that has purchased virtual items or other products and services on our platform".
TikTok reports that its operating losses for the year increased by 442% year-on-year, from $118.71 million in 2019, to $644.27 million in 2020.
TikTok pins its rocketing operating losses on "the increase employees to support the growth of the business", in addition to "increased sales and marketing efforts across the EEA, the United Kingdom and Switzerland".
The company's monthly average number of employees across Europe increased from 208 in 2019 to 1,294 in 2020.
---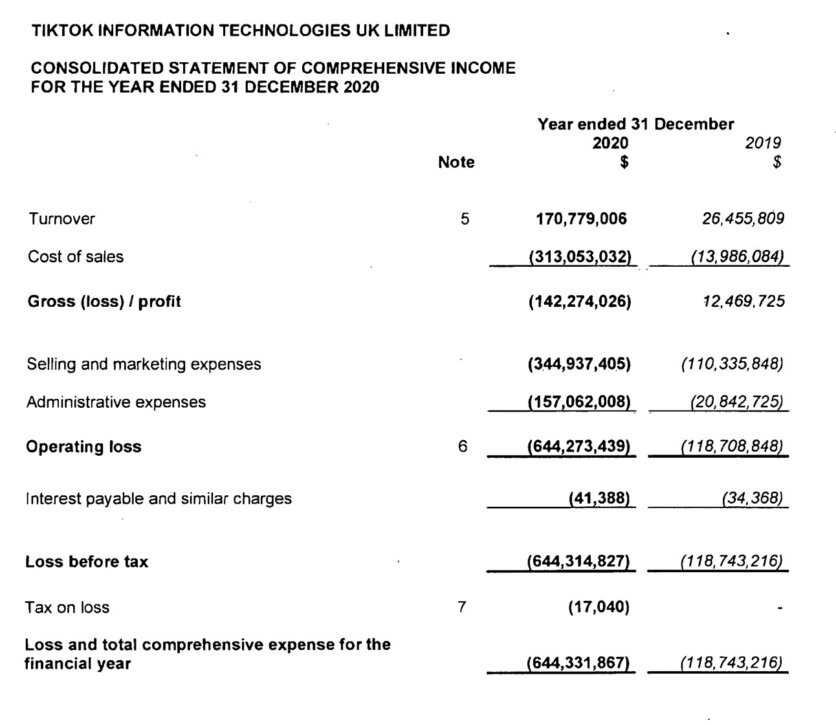 ---
Elsewhere in the filing, the company notes that "the size of TikTok's user base and level of users' engagement are crucial to our business".
TikTok also cites its continued "ability to attract cultivate and retain content creators to contribute content" as business risk.
Additionally, TikTok acknowledges that it faces competition from "internet companies that operate content-based social platforms", adding that "we need to continue to innovate and provide services that are useful to users to remain competitive".
TikTok revealed last week that it has over 1 billion global Monthly Active Users (MAUs).
That announcement followed the publication of a leaked a B2B pitch deck in April, which revealed that the TikTok app was reaching 732 million monthly active users (MAUs) around the world as of October 2020, and more than 100 million MAUs in the United States alone.Music Business Worldwide