With around 40,000 tracks uploaded to Spotify daily – and 500 hours of video uploaded to YouTube every minute – how can those working in the global music business hope to discover the most promising emerging artists in the world?
One option, of course, is to turn to the robots. Instrumental, a long-term partner of MBW, uses proprietary algorithms combined with human intelligence to comb streaming services and discover around 5,000 new commercially interesting artists a week whose popularity is starting to spike.
A small percentage of the 800,000 artists Instrumental tracks are tagged as 'hot' by their algorithm and are subsequently monitored day-by-day on Instrumental's platform. They are also recommended to Instrumental's partners, which include all three major labels and companies like Corite, Live Nation, Image Sound and Paradigm.
Now, every week, MBW will highlight five of the most promising prospects within Instrumental's new 'hot' artists from around the globe.
---
Emilee
Emilee (aka Emilee Flood)  is a pop artist from Arkansas, who first became 'Hot' on the Instrumental platform on September 5, 2019.
Emilee first gained attraction following her covers on TikTok, where she now has 670k followers and 5.3 million likes.
She utilised this traction by releasing her music onto DSP's and has now accumulated over 4 million Spotify streams.
She has become 'Hot' once more on the Instrumental platform for a streak over the last 20 days, and her direct Spotify follower count has increased by 1,600 in the last week alone.
Her most recent release Heaven  has gained over 240k Spotify streams in the last two weeks.
Emilee currently has 82.2 million playlist followers.
---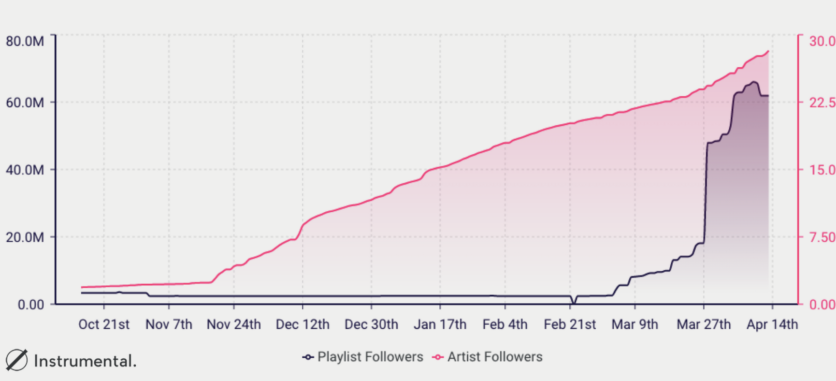 ---
Maya Delilah
Maya Delilah is a chill pop artist from Islington, London.
She was first picked up as a 'Hot' artist on the Instrumental platform in January of this year following her debut single Tangerine Dream which now has 471k Spotify streams.
Her latest release U R U has brought her another 'Hot' streak on the platform for the last week.
This track is currently featured on Spotify's editorial playlist New Music Friday UK which has 780k followers.
Since Maya first became a 'Hot' artist in January, her direct Spotify followers have increased by 130%, consistently growing by 10% each week.
---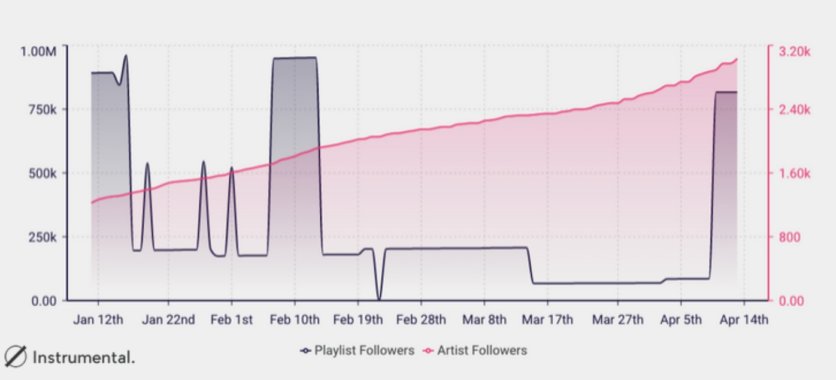 ---
Mia Rodriguez
Mia Rodriguez is an alternative pop artist from Australia.
Like Maya Delilah, Mia has had a 'Hot' streak on the Instrumental platform for the last week.
She was first shown to be 'Hot' back in December last year and has since gained 3.5k direct Spotify followers (1k of these have been in the last 7 days).
Her latest release Psycho (released April 6th 2020) is featured on a number of editorial playlists including 'New Music Friday AU & NZ' (317k followers) and 'Sad Bops' (240k followers).
Mia currently has almost 4 million Spotify playlist followers.
---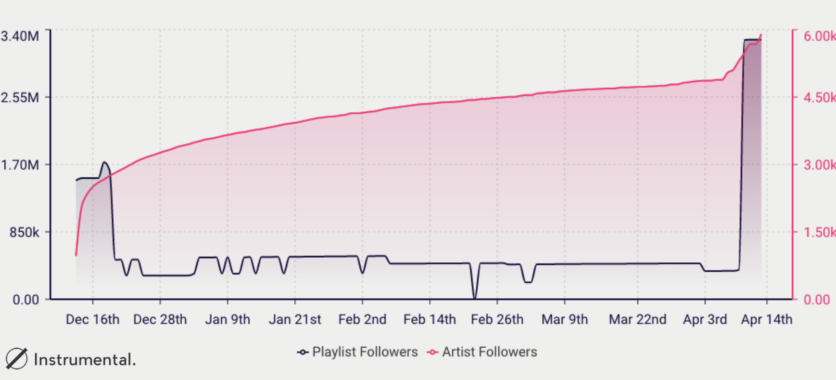 ---
Andrea Chahayed
Andrea Chahayed is a 21-year-old singer songwriter from Los Angeles.
She became a 'Hot' artist on the Instrumental platform just 3 days ago and over the last week her direct Spotify followers have increased by almost 30%.
Her debut single Tenant was released at the beginning of this year and currently features on the editorial playlist 'Left of Centre' (573k followers).
Her popularity score has increased by four points in the past 7 days.
---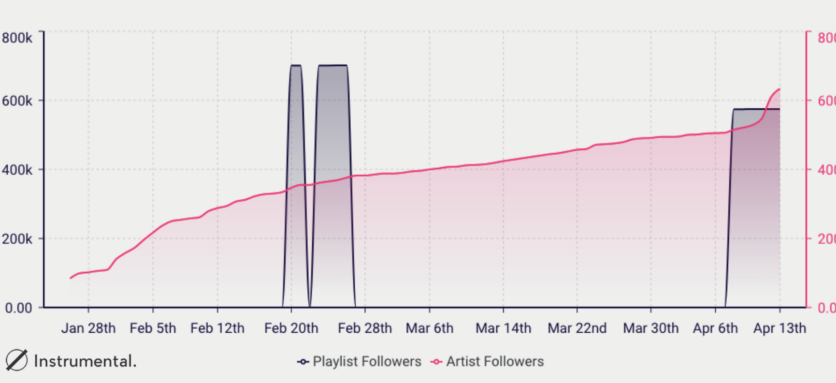 ---
edbl
Ed Black, better known under his alias of edbl, is a hip hop / R&B artist originally from Chester and now living in London.
He developed his love for making hip hop beats whilst studying alongside Ady Suleiman who he continues to work with.
edbl became a 'Hot' artist on the Instrumental platform for the first time 8 days ago and he remains on this 'Hot' streak today.
In the last week since he became 'Hot', Ed's Spotify followers have increased by 12% and his playlist followers have increased by 44.3%.
edbl's highest performing track to date is his collaboration single with Isaac Waddington 'The Way Things Were', now with 350k streams.
---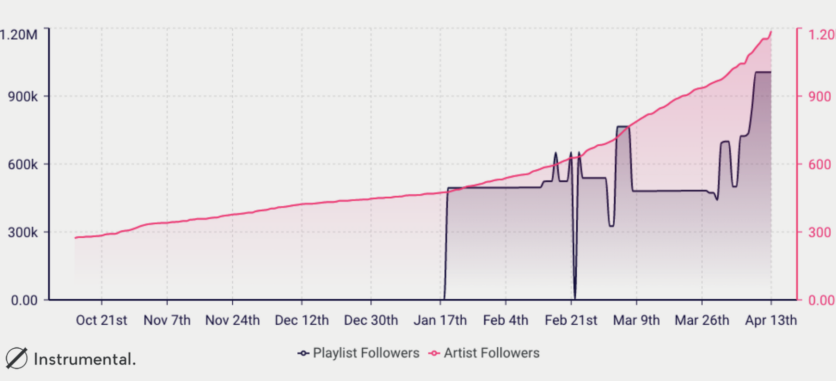 ---
Want to know more about these Hot Artists are found?
For a limited time, Instrumental are offering a 14 day free trial for their daily Hot Artist Alerts. Click here to sign up now!Music Business Worldwide