Streaming has now firmly established itself as Sony Music's biggest money-making format – walking all over downloads, which are shrinking at a pace.
In fact, streaming is now generating more than double the money for Sony that the major is receiving from iTunes and others.
In the three months to end of September (Sony's Q2), streaming made up 41.5% of Sony's retail recorded music revenues (excluding licensing income), with download pegged back on just 18%. Physical sales stayed strong, claiming the remaining 40.5%.
Streaming generated 31.49bn Yen ($303m) in the Q2 period, up 26.6% year-on-year.
Download, on the other hand, generated just 13.69bn Yen ($132m) – falling by a painful 31.6% compared to the same quarter of 2015.
That's a difference between the two formats of more than $150m – or $50m per month.
Streaming's growth in Sony's Q2 was up 6.63bn Yen ($64m) year-on-year – only just offsetting download's decline of 6.32bn Yen ($61m).
When licensing income (sync, performance, broadcast etc.) is factored in, streaming made up over 35% of Sony's recorded music revenues in the quarter (Sony's Q2) with download on a measly 15%.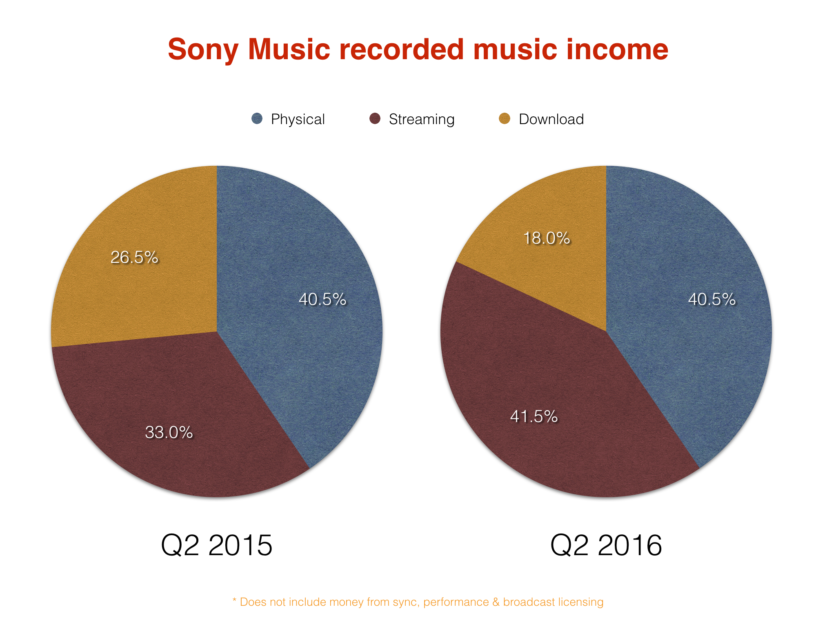 ---
Sony's total music income – including publishing, records and 'visual, media and platform' – was up 8% to 150.2bn Yen ($1.49bn) in its Q2, growing 19% at constant currency.
However, these gains were largely thanks to sales of a mobile video game title called Fate/Grand Order (categorized as 'visual media and platform').
Sony's recorded music revenues actually fell slightly in the period, down 1% year-on-year to 89.76bn Yen ($865m) – badly hampered by the strength of the Yen against the US dollar. (It's expected that recorded revenues rose at constant currency.)
Elsewhere, Q2 music publishing revenues – which include Sony/ATV, plus Sony's publishing activities in Japan – fell 11.9% to 15.59bn Yen ($150m).
Best-selling titles included Celine Dion's Encore un soir (pictured), Nogizaka46's Hadashi de Summer and Kana Nishino's Just Love.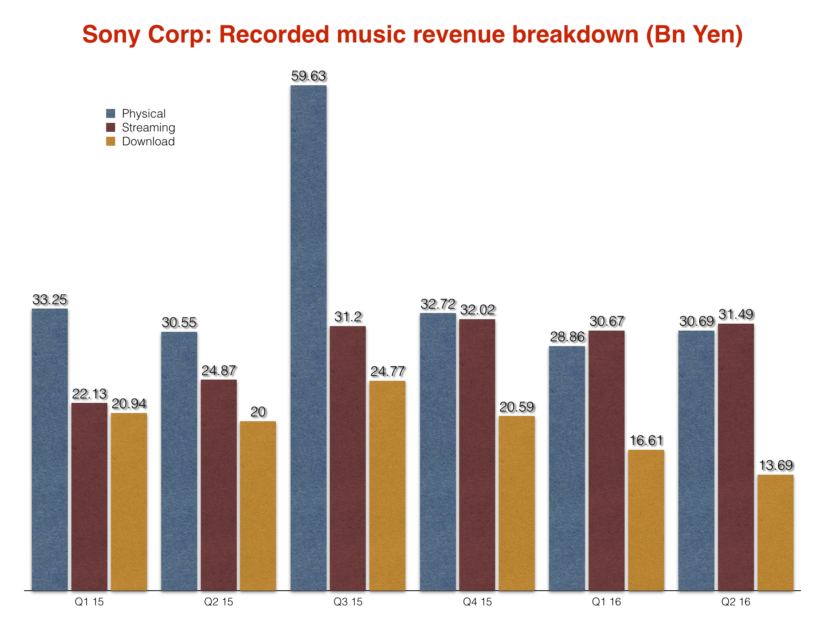 (Remember that Sony's Q3 is calendar Q4? That huge blue spike up there in 2015… that's pretty much Adele. Adele and Christmas. But mainly Adele.)
---
In the first three quarters of calendar 2016, Sony brought in 94.18bn Yen ($908m) from streaming, and 50.89bn ($491m) from download.
Physical sales remained robust, generating 92.27bn ($889m) in the same nine month period.
That all means Sony's income from streaming is easily set to surpass $1bn this year – but currency exchanges are clearly hurting the Japan-based business's bottom line.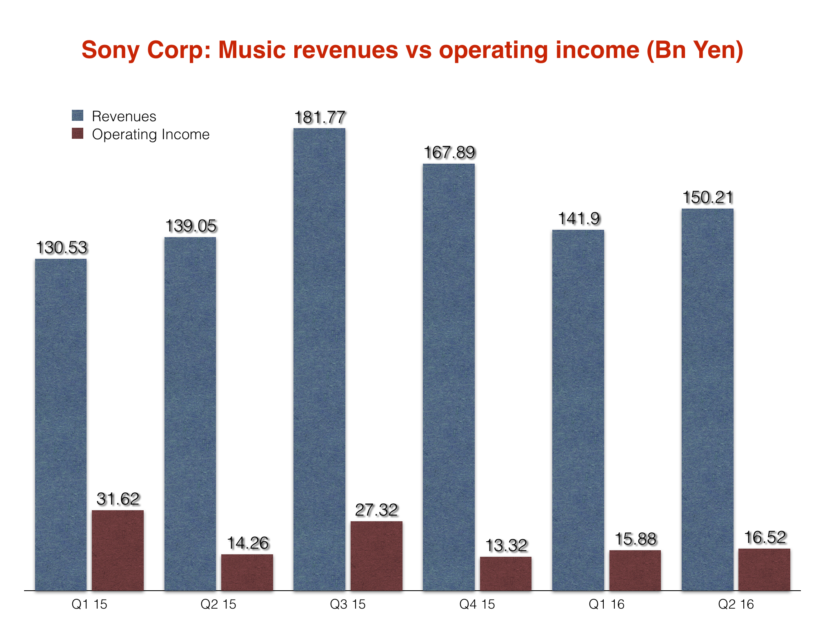 Music Business Worldwide