Spotify has confirmed that it ended December 2019 with 124m Premium subscribers and 271m total Monthly Active Users (MAUs) worldwide.
That subscriber figure was up by 11m on the 113m Premium subs base the platform hit at the end of September 2019 – representing an average per-month subscriber growth rate in Q4 of 3.66m.
Spotify posted a quarterly operating loss in Q4 (the three months to end of December 2019) of €77m, and of €73m for the full calendar year.
Its annual net loss for 2019 weighed in at €186m.
Spotify's subscriber numbers were revealed in its Q4 2019 financial update today (February 5).
The company confirmed that its global premium subs count at the close of 2019 was up 29% year on year. The 124m subs number was at the top end of SPOT's previously stated guidance range of 120-125m.
SPOT's global Q4 Monthly Active User count (271m) was up 31% year-on-year, and up by 23m people quarter-on-quarter.
The average paying Spotify subscriber across the world (ARPU) in Q4 2019 paid just €4.65 per month, down 5% YoY, but actually down 6% excluding the impact from foreign exchange rates.
Spotify said: "A significant portion of this [ARPU] decline was driven by the extension of the free trial period across our entire product suite in the quarter."
---

---
Spotify's total quarterly revenue in Q4 2019 hit €1.86bn, up 24% YoY.
Premium/subscription revenue in the quarter weighed in at €1.64bn, also up 24% YoY.
Quarterly ad-Supported revenue of €217m grew 23% YoY.
---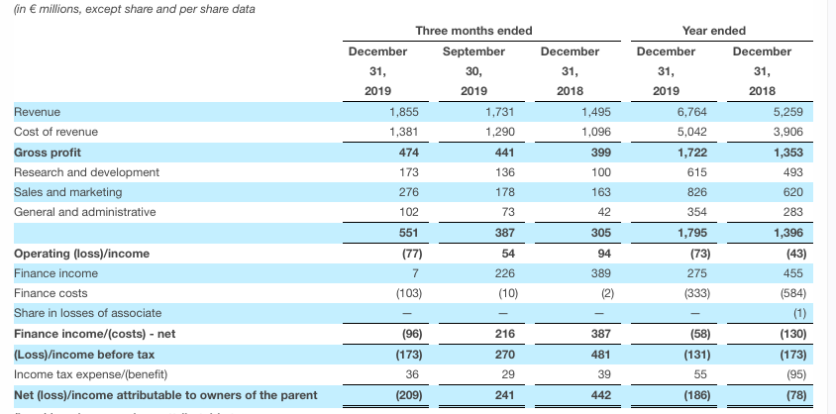 ---
Spotify told its investors today: "With three consecutive quarters of accelerating MAU growth and another year of record net subscriber additions behind us, we are enthusiastic about the underlying trends in the business.
"From history, we know that MAU growth tends to be a leading indicator of future subscriber additions, which is then followed by revenue gains in both premium and ad-supported users. While we believe these trends will continue moving forward, we have been appropriately conservative regarding our 2020 guidance as our data, particularly around the benefits from podcasts, is still reasonably new."Music Business Worldwide