Spain's recording industry registered moderate growth for the third year in a row in 2016 as the digital business surpasses the physical market for the first time.
The market earned €163.7 million from the sale of music last year – up 1.67%, or just €3.5m, on 2015.
In 2014, Spain's recorded music market was up 11% and in 2015, that reduced to 7%.
The country's annual recorded music revenues dropped by a shocking 80.2% between 2001 and 2013, down from €626.1m to €123.7m.
But in the last three years, something a fightback has taken hold – predominantly thanks to the rapid growth of streaming.
Good news, but let's look at the below and stay realistic: 2016's tally were still less than half that generated just a decade previously.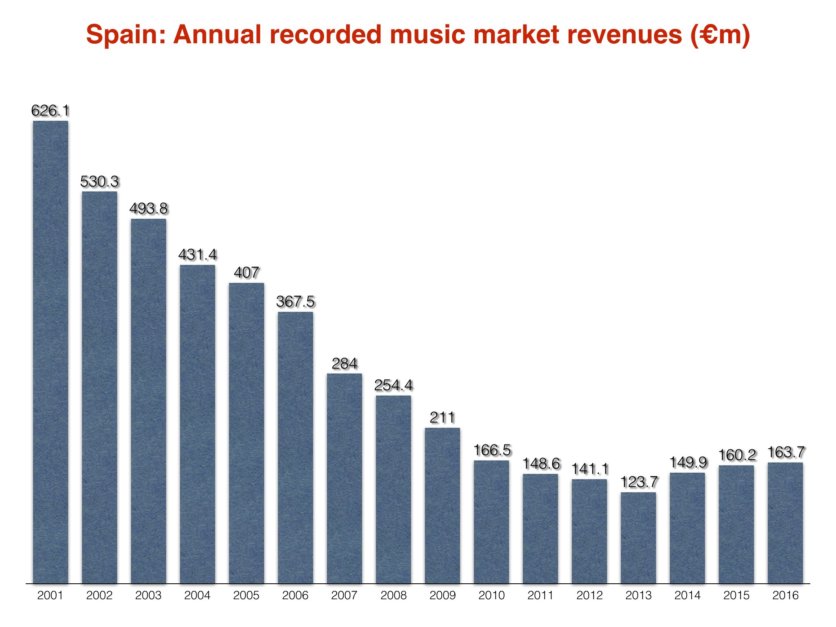 ---
Spain's digital business exceeded €100m in 2016, and now represents 61% of the market, according to new stats from local sales monitor ProMusicae.
Paying streaming subscribers in the market have now passed 1m, confirmed the trade body.
Annual subscription revenues increased 37.4%, up to €62.2m, while free ad-supported streaming rose 24.7% to 25.3m. 
The digital sector went from €79.6m to €100.2m – a rise of almost 26%.
In 2015, Spain ended with a 51%/49% physical/digital split.
Income generated by sales of CDs and vinyl exceeded €63.5m in 2016 as 38.8% of revenue came from traditional music shops.
More than 8.5m discs were sold in Spain last year, most of them in CD format.
Vinyl consumption rose 19.6% to 433,000 vinyl records sold, compared to 362k the year before.
---
The President of Promusicae, Antonio Guisasola, has urged the new Spanish Government to "make a firm commitment to our country's music creativity as a cultural vehicle."
Guisasola said: "This means to protect the development achieved so far, which in terms of the industry, goes through a digital model which is still unprotected and, despite all, moves forwards in a field where piracy remains the great threat.
"The time has come when the government must set as priority a plan to protect recorded music and develop digital distribution."

Antonio Guisasola, Promusicae
"The time has come when the government must set as priority a plan to protect recorded music and develop digital distribution.
"We have come here on our own and without support, in fact with many difficulties, assuming great investments and with a high-risk percentage.
"In fact, a clear and real example of the efforts the music industry is making to get renewed and to grow on the Internet is to be present in different streaming platforms.
"In global terms, these services, with Spotify at the head, offer today our music to more subscribers than Netflix, streaming leader for fans of the audio-visual productions."
---
Universal Music Spain artist Manuel Carrasco (pictured) ended 2016 as Spain's top-selling artist thanks to his eighth album, Bailar el viento, selling 89.5k units.
Taking second place was Sony artist Melendi with Quítate Las Gafas earning 53.5k units, followed by Adele with 25 (XL) notching up 45.6k sales in Spain last year.
Music Business Worldwide