Luxury personal exercise company Peloton got close to generating a billion dollars in the 12 months to end of June this year, turning over $915m.
That figure is revealed in a new prospectus SEC filing which signals Peloton's imminent IPO – and it's a document which also presents some intriguing information for the music industry.
Peloton sells stationary exercise bikes upon which users can stream videos of real-time spinning classes… complete with music playlists.
Not everyone, however, is happy with what Peloton pays for this music: in March, the National Music Publishers Association announced that it was suing New York-based Peloton for up to $150m in damages for "using [songwriters'] work without their permission or fair compensation".
Now we know exactly what that compensation amounts to: according to Peloton's S-1 filing, it paid $2.8m in "normal and recurring royalty expenses" to music rightsholders in its last fiscal year, up on the $1.0m paid out in the prior 12 months.
However, the company also paid an additional $16.4m to rightsholders in FY2019 for what it calls "recorded content costs for past use" – essentially, sweetheart bonuses handed to music rightsholders that specifically protect Peloton from facing legal action for any alleged historical use of copyrighted material.
In standard royalty payments ($2.8m), then, Peloton paid out just 0.3% of its annual revenues last year to music rightsholders.
However, added together with the $16.4m in "content costs for past use", this figure ($19.2m) represented 2.1% of Peloton's total revenues in the 12 months.
---

---
Who, exactly, is accepting these "past use" checks? Try the major music rights-holders (and/or their competitors).
Looking closer at the NMPA's lawsuit against Peloton, initially filed in March, shows it's only undersigned by a handful of indie publishers, including Downtown, ole, Big Deal, peermusic, Reservoir, Round Hill, the Royalty Network and Ultra International Music Publishing.
Additional names joined the lawsuit in May, namely: Greensleeves Publishing., Me Gusta Music, Raleigh Music Publishing, STB Music and TuneCore.
The NMPA alleges that Peloton has used hit songs recorded by the likes of Drake, Lady Gaga, Justin Timberlake and more.
---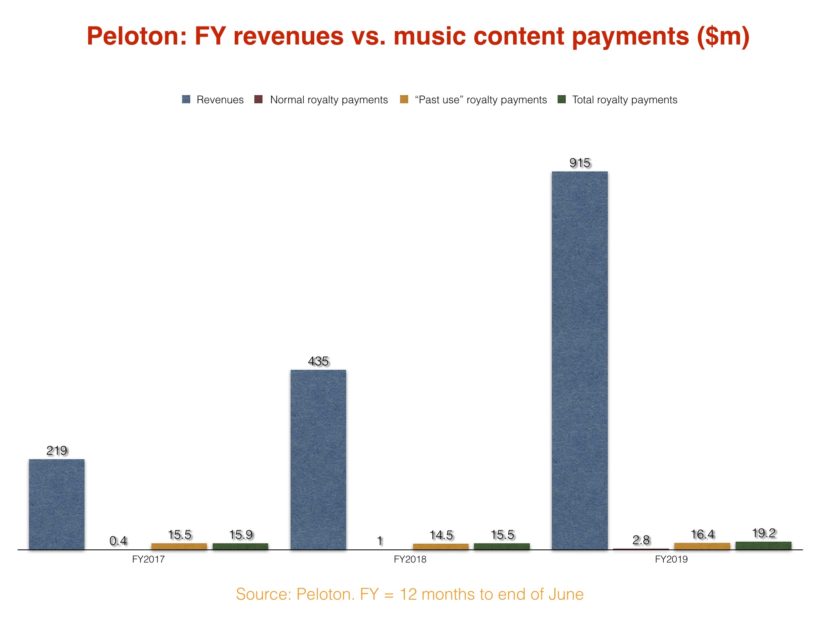 ---
Peloton directly addresses the NMPA's lawsuit in its filing, estimating that its costs due to a judgement or a settlement in the case may range from $4m to $11m – a long way off the $150m sought by the NMPA and its associate publishers.
"Amounts accrued for this matter… are not considered material to the company's financial position," says Peloton in its filing, "and the company continues to vigorously defend its position in the aforementioned outstanding matter and assess its legal position."
Peloton has also filed a counter-claim against the NMPA, alleging that the music trade org "coordinated to collectively negotiate licenses in violation of antitrust laws". (The NMPA, unsurprisingly, is seeking to have this counter-claim thrown out.)
---
Where did Peloton's $915m in revenues come from? As noted by Music Ally, some $719.2m (78.6%) of Peloton's revenues in FY2019 were derived from selling its bikes and treadmills; $181.1m (19.8%) of the sales came from subscriptions.
The firm has to date sold around 577,000 devices, which, when you consider that its bikes retail for $2,000-plus, represents a significant sum.
Some 92% of these subscribers (around 531,000 people) are fully fledged subscribers, according to Peloton, paying – in terms of a standard subscription price – $39 each per month.
Despite its $915m revenues, Peloton posted a net loss of $195.6m in FY2019, widening on a net loss of $47.9m in the prior year.
---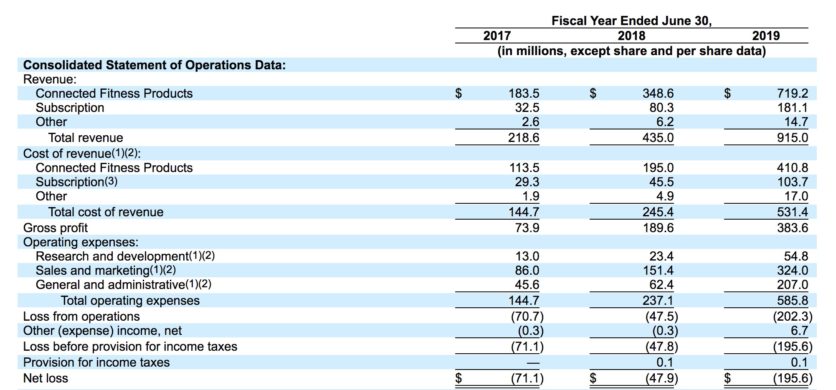 ---
Peloton, which was founded in 2012, hopes to raise $500m from its IPO, and plans to trade on the NASDAQ under the ticker PTON.
In the filing, Peloton acknowledges: "Given the high level of content concentration in the music industry, the market power of a few licensors, and the lack of transparent ownership information for compositions, we may be unable to license a large amount of music or the music of certain popular artists and our business, financial condition, and operating results could be materially harmed."Music Business Worldwide