This Friday (February 5) will usher in a new chapter in German music history: streaming will for the first time become part of the weekly Official German Album Charts from BVMI/GfK.

There are, however, a few slightly stricter rules compared to charts which have done the same in other parts of the world.
Most notable is the fact that only streams from premium interactive audio services will count.
That means no Spotify free plays will contribute to the chart's make-up, and neither will any 'lean back' digital streaming radio plays – even if someone has paid for it.
Like other territories such as the UK and US, only streams that are over 30-seconds long will count.
Dr. Florian Drücke, CEO of BVMI (pictured), said: "German music fans listen to music on literally every channel and in every possible form; from the record to the data cloud, the single song to the album.
"These multiple uses have the official German charts also depict as a central mirror for music achievements to show the market and reliable in its entirety.
"Not least with a view to the fact that streaming is off to a new growth record over the past year and now accounts for almost 14% of sales in Germany. "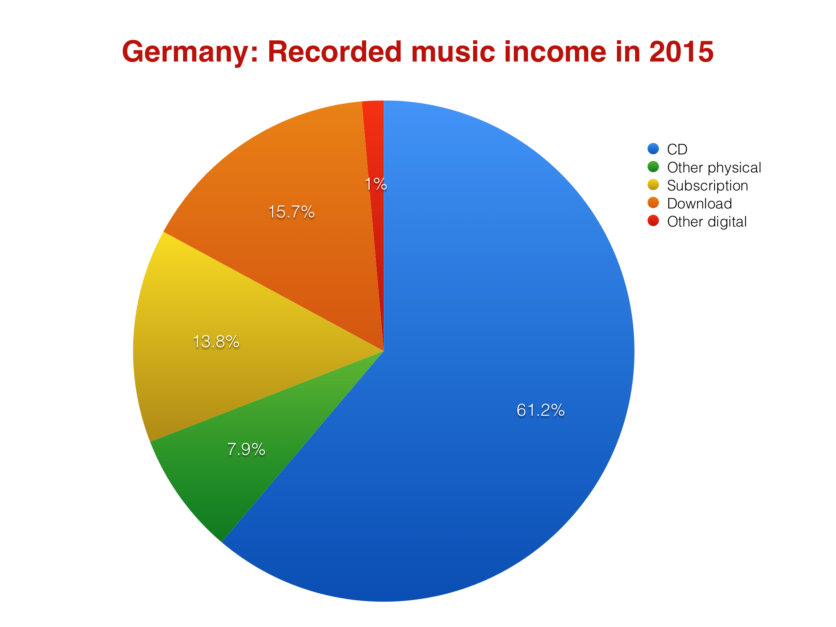 ---
All very well, we hear you cry, but what about the formula? How many streams equate to an album?
You had to ask, didn't you?
To say 'it's complicated' is a bit of an understatement.
Germany's charts are reliant on the value of an album's retail performance – rather than the relatively simple unit-based charts we see, for example, in the UK and US.
So in order to wedge streams into its listing, first GfK has to work out the value of each stream per week.
As you can see below in the company's scientific (translated) explanation document below, the formula to do so looks a little something like this:
No. of premium accounts X Average value of premium subscriptions / No. of streams by premium account holders in a given week.
It doesn't stop there.
The value per stream then has to be multiplied like this:
The sum of all streams from an album (but with the two most popular tracks from each LP down-weighted) / 10 X 12.
And if that wasn't proof enough that GfK has thought this one through, it's also going to meet twice a year with the BVMI's chart panel to make sure it's fiendishly complex formula is working.


Dr. Mathias Giloth, Managing Director GfK Entertainment, added: "Streaming has made a breakthrough in the music market permanently. At the end of 2015 we were counting up to 100 million music streams in Germany every day – twice as many as last year.
"Given these figures, the streaming integration is the logical consequence in the official German album charts. We are excited about the impact this trend will have on segment the music market in the future, the largest pillar are still the physical recorded music. "
---
Streaming has been factored in to the official Germany singles charts since 2004.
The following streaming providers send their data to GfK Entertainment: Apple Music, Deezer, Google Play Music, Juke, Microsoft Groove, Napster, Qobuz, Spotify and WiMP / Tidal.
The firm estimates that is enough to cover 96% of the country's streaming music activity.
Aside from the official German single and album charts music streams are consulted now also available for the following rankings: Compilation charts, hip-hop charts, pop charts, Comedy Charts, classical charts and jazz charts.Music Business Worldwide