K-pop giant SM Entertainment says it's expanding its search for songwriting talent worldwide, after logging its highest-ever quarterly revenue and profit in Q3.
The Seoul-headquartered company reported on Wednesday (November 8) that revenues for Q3 2023 came in at KRW 266.3 billion (USD $203 million at the average exchange rate for Q3), up 11.8% YoY.
Consolidated operating profit amounted to a record high of KRW 50.5 billion ($38.5 million), up 69.8% YoY.
"Record high quarterly album sales drove the revenue increase in the third quarter," SM's Chief Financial Officer, Jang Jeon Min, said on an investor call.
The company's net profit came in at KRW 84.2 billion ($64.2 million), an increase of 188.8% compared to the KRW 29.2 billion it clocked in the same period a year earlier.
---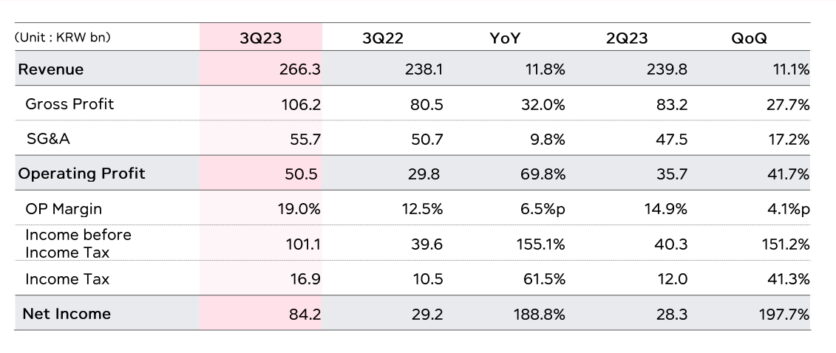 ---
SM continues to benefit from the popularity of K-pop outside South Korea, as well as from a roster of new and established artists that drove the company's album sales to record highs during the quarter.
The company reported sales equivalent to 8.71 million albums, more than double the 4.15 million it sold in the same quarter last year, which SM describes as an "extraordinary feat."
Sales were driven by the popularity of NCT Dream, a sub-unit of boy band NCT, whose third album, ISTJ, sold 4.32 million copies, including 3.65 million copies in its first week. SM groups EXO, NCT and Riize also clocked more than 1 million in sales for their latest albums.
The company is also seeing booming concert ticket sales. SM resumed offline concerts in the second half of 2022, following a shutdown due to the Covid pandemic, resulting in a massive increase in revenue in Q3 2022.
Growth continued in Q3 of this year, with SM artists holding 83 concerts and fan meetings worldwide during the quarter.
SM's earnings reports break down revenues for the standalone company and its subsidiaries. SM itself reported revenues of KRW 188.7 billion ($155.6 million) up 39.7% YoY.
Revenue from albums and digital music reached KRW 113.4 billion ($93.5 million), up 57.5% YoY, while concert revenues hit KRW 24.5 billion ($20.2 million) , up 124.2% YoY. Licensing revenues were the one weak spot, dropping 31.7% YoY to KRW 28.9 billion ($23.8 million).
---

---
Within its subsidiaries division, SM reported a revenue decline of 10.5% YoY, to KRW 122.3 billion ($100.8 million), which the company said was primarily due to clients' "conservative marketing cost execution" at SM C&C, SM Entertainment's talent agency, TV production and travel company. The subsidiary's revenue dropped 28.9% YoY to KRW 33.9 billion ($27.9 million).
Revenue also dropped at SM's talent agency subsidiary KeyEast, down 40.6% YoY to KRW 9.6 billion ($7.9 million).
They fell by 28.5% YoY at live entertainment production company Dream Maker. A 1.9% YoY increase in revenue at content distribution firm SMC, to KRW 24.0 billion ($19.8 million), wasn't enough to offset those declines.
---

---
Looking ahead, the company expects "robust" album and music revenues in Q4 and Q1 2024, thanks to a scheduled comeback album from NCT 127, a new single from Riize and a new mini-album in Q3, plus a new full-length album in Q1, from girl group aespa, among other releases.
Aespa is set to release an English-language full-length album next year, the company said, "aimed at a global audience."
SM expects a slight decrease in concert activity in the final quarter of 2024, as concerts and other artist appearances were concentrated in Q2 and Q3. It expects a pick-up in the number of live shows in Q1 2024.
On the company's investor call Wednesday, CEO Jang Cheol Hyuk said the company's recently-launched publishing subsidiary, KMR, has been "aggressively recruiting global writers".
"In the short term, we plan to secure 80 creators under KMR within this year. Through this, we will improve the quality of our artists' songs by ensuring a stable supply of quality songs," Jang said.
"To this end, we are pursuing various collaborations with domestic and foreign publishers… Globally, we plan to actively recruit foreign writers who wish to advance into K-pop by establishing overseas subsidiaries. In addition, we plan to internalize royalties and sell music to external labels and agencies in the future, which will serve as another new revenue stream for SM Entertainment."
"In the short term, we plan to secure 80 creators under KMR within this year. Through this, we will improve the quality of our artists' songs by ensuring a stable supply of quality songs."

Jang Cheol Hyuk, SM Entertainment
Like its larger rival, HYBE, SM Entertainment has set its sights on the world outside of South Korea for future growth. The company's new boy band, Riize, partnered with Sony Music-owned RCA Records ahead of the band's debut in September. In a symbolically important move, the group made its live stage debut at the Crypto.com Arena in Los Angeles.
Earlier in the quarter, SM announced a partnership with Korean media company Kakao Entertainment to set up a joint US subsidiary. SM and Kakao Entertainment are both controlled by telecom giant Kakao, which won a battle with HYBE for control of SM earlier this year.
"With North America being the hub of the global entertainment industry, the integrated corporation will serve as a solid foundation for business cooperation and knowledge sharing," Kakao and SM said in a joint statement.
"The companies plan to expand their reach into global markets, including Europe, in order to strengthen their presence as a key player [in the] global music industry."Music Business Worldwide