Many of the global music industry's leading companies are taking part in 'Black Out Tuesday' this week on June 2.
The likes of Atlantic Records, Capitol Music Group, Columbia Records, Def Jam, Elektra Music Group, HitCo, Interscope Geffen A&M, Island Records, Pulse Music Group, Reservoir, Republic Records, Sony/ATV, Sony Music, Virgin EMI and Warner Records have all pledged to cease business activity on the day.
UPDATE: Others who have confirmed their participation include BMG, Universal Music Group (including UMPG), Kobalt, Hipgnosis Songs Fund, ASCAP, Milk & Honey, Grand Hustle Records, Downtown, SESAC, Boomplay, Concord, Symphonic Distribution, SoundExchange, BMI, UTA and many more.
The move is being made as a statement of solidarity in response to the death of George Floyd in Minneapolis.
---
Video footage appears to show a white police officer fatally suffocating Floyd, 46, last Monday (May 25) by kneeling on his neck during an arrest.
That now ex-police officer, Derek Chauvin, has been charged with murdering Floyd.
The George Floyd case has further fuelled widespread anger over police killings of black people in the US. Large-scale protests have taken place in 30-plus cities across the States throughout this weekend.
---
An image began spreading on social media on Friday (May 29), containing text calling for a music industry "Black Out" on Tuesday, while promoting the hashtag #TheShowMustBePaused.
It proposed that Tuesday be used as "a day to disconnect from work and reconnect with our community" via "an urgent step of action to provoke accountability and change."
The likes of distributor EMPIRE, Apple Music's Ebro Darden, publisher Peermusic, legendary producer Quincy Jones and UK label Dirty Hit have all reposted the image.
A series of others in the industry have also carried on the central message of Black Out Tuesday within their own posts.
---
Posting this evening (May 31) on Instagram, Columbia Records said "Black Out Tuesday… is not a day off.
"Instead, this is a day to reflect and figure out ways to move forward in solidarity. We continue to stand with the Black community, our staff, artists, and peers in the music industry."
Adds Columbia: "Perhaps with the music off, we can truly listen."
Columbia parent Sony Music says it too will be observing Black Out Tuesday – "a day of action committed to meaningful change in our communities both now & in the future".
---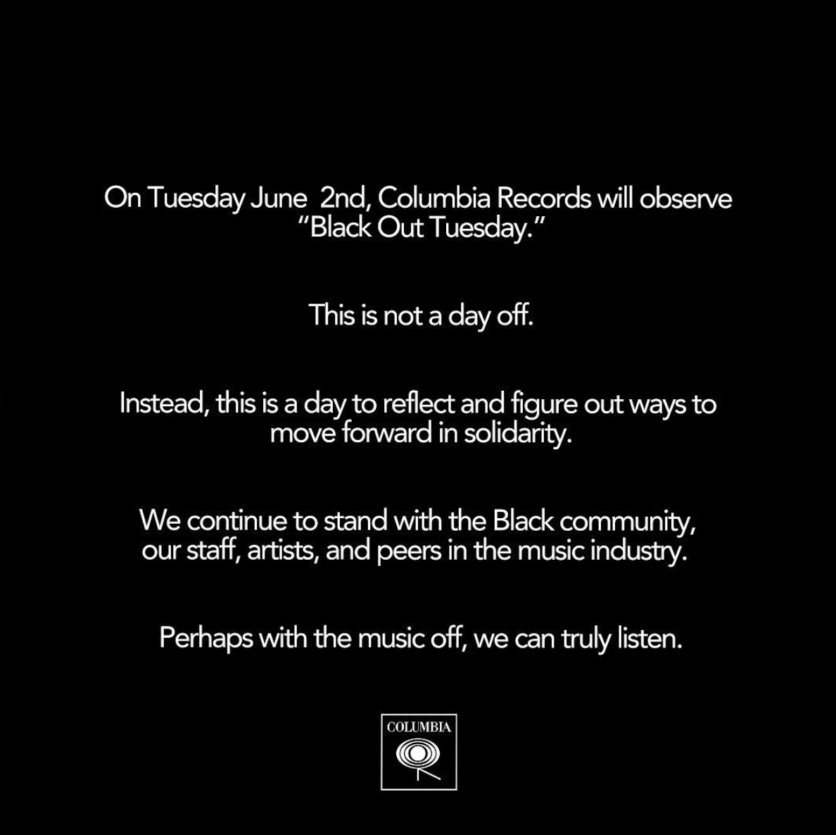 ---
Capitol Music Group says it will not be conducting any business on Tuesday in "solidarity with our Black colleagues, artists and loved ones across the country who are reeling from the senseless taking of another innocent black life".
Capitol is also making a donation to Color Of Change – a non-profit that works to "end practices that unfairly hold Black people back, and champion solutions that move us all forward."
---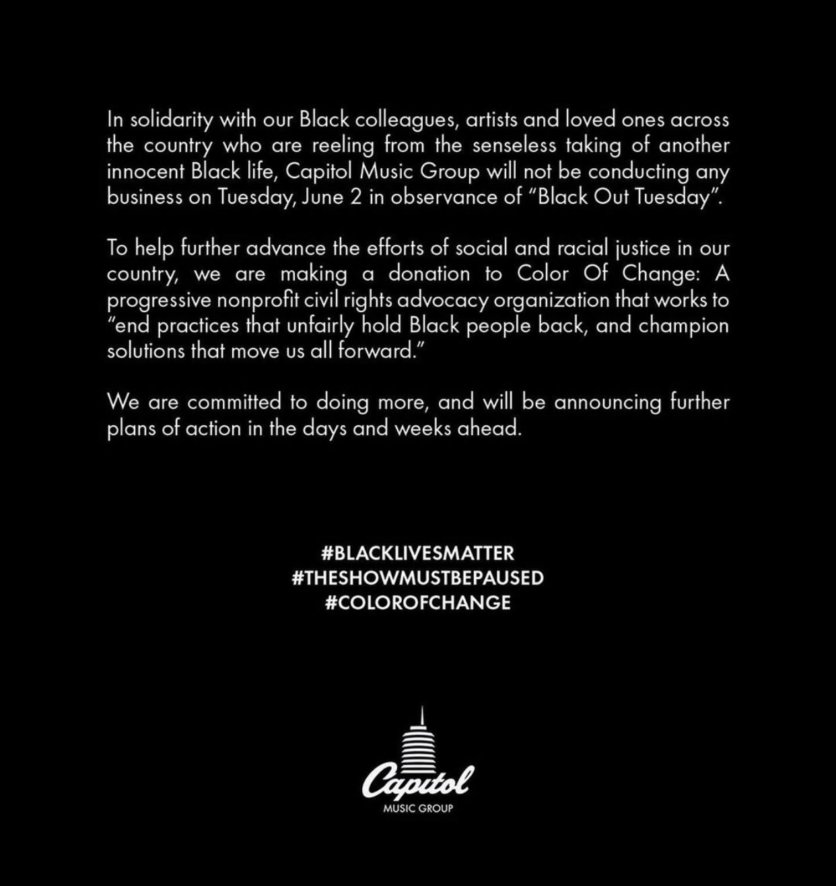 ---
Atlantic Records, which posted alongside other WMG companies on social media yesterday (May 30) says it will "support our employees, artists and global community" on Black Out Tuesday.
"The music business at WMG will not go on as usual," the company writes. "While this is only one day, we are committed to continuing the fight for real change."
Atlantic has contributed an undisclosed sum to Black Lives Matter and other organizations which it says are "doing crucial work to combat racial injustice".
The same words are carried in a post from fellow WMG label Warner Records
---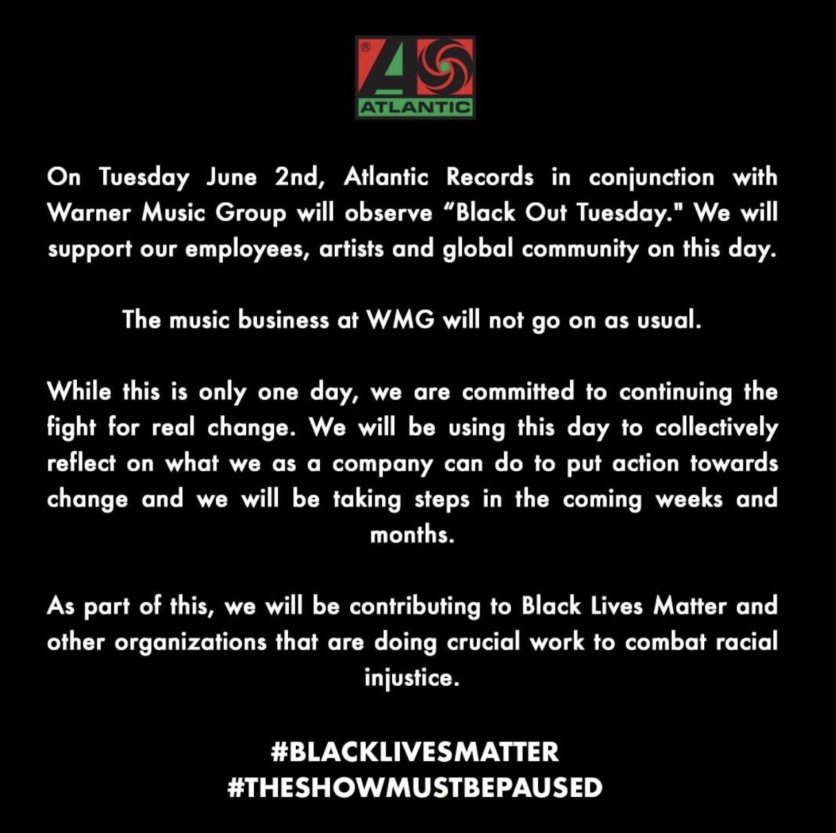 ---
Sony/ATV says it's observing Black Out Tuesday to "help combat racial discrimination and social injustice".
The world's biggest publishing company adds: "People are in pain, and cities are burning. It is critical that we use our voice not only to take a stand, but to take action."
---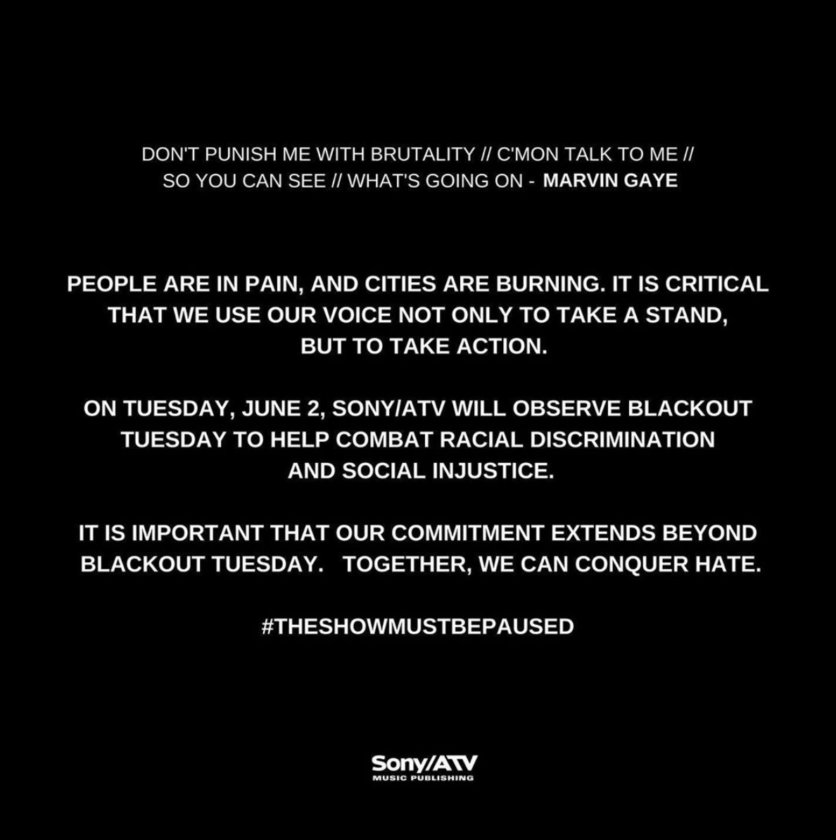 ---
Interscope Geffen A&M says that it will not release any new music in the week commencing June 1.
In addition to observing Black Out Tuesday, the label says it will "contribute to organizations that help to bail out protestors exercising their right to peacefully assemble, aid lawyers working for systematic change, and provide assistance to charities focused on creating economic empowerment in the Black community."
MBW understands that IGA has postponed new music releases from artists including but not limited to Smokepurp, MGK, 6lack, Dylan, Lil Mosey, Billy Raffoul, Jessie Ware, Max Leone and more in coordination with partners Alamo, LVRN, The Darkroom, Bad Boy and more.
---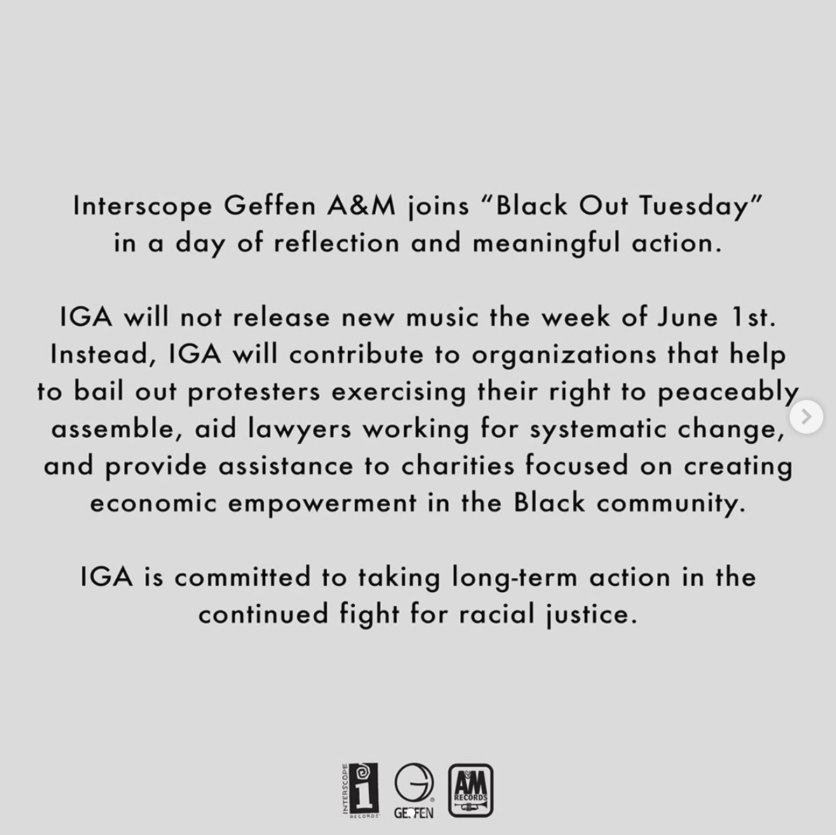 ---
Others in the music industry posting messages of support for the Black community include Amazon Music, Apple Music, BMG, Full Stop Management, Hipgnosis Songs Fund, Kobalt, Live Nation, Milk & Honey, SESAC, SoundCloud, Spotify, Universal Music Group, Universal Music Publishing Group, Vevo, Warner Chappell Music, YouTube and many more.Music Business Worldwide