Sono Innocente ('I Am Innocent') by Vasco Rossi was the biggest selling album of 2014 in Italy, followed by Pink Floyd's The Endless River
Other Anglo/American repertoire in the bestsellers list, according to new data from Gfk/FIMI, included Chris Brown's Best Of Original (No.4), One Direction's Four at No.7 and Coldplay's Ghost Stories at No.8.
Seven out of the Top 10 artists were Italian. One of them, Monovision Ligabue, was Italy's best-selling album in 2013 and remained among the Top Ten in 2014.
Among the year's digital singles chart, which for the first time in 2014 include both downloading and streaming, Enrique Iglesias's Bailando dominated followed by Happy by Pharrell Williams and then Jubel by Klingande.
One Direction released the bestselling music DVD of the year with Where We Are:live from San Siro Stadium.
Italy is the world's eight-biggest recorded music market, according to IFPI data – behind Canada (No.7), Australia (No.6), France (No.5), the UK (No.4), Germany (No.3), Japan (No.2) and the US (No.1).
In 2013, Italy's annual recorded music retail market was worth €$117.6m. Its turnover grew 4% in the year – its first increase since 2002.
Italy: Bestselling albums of 2014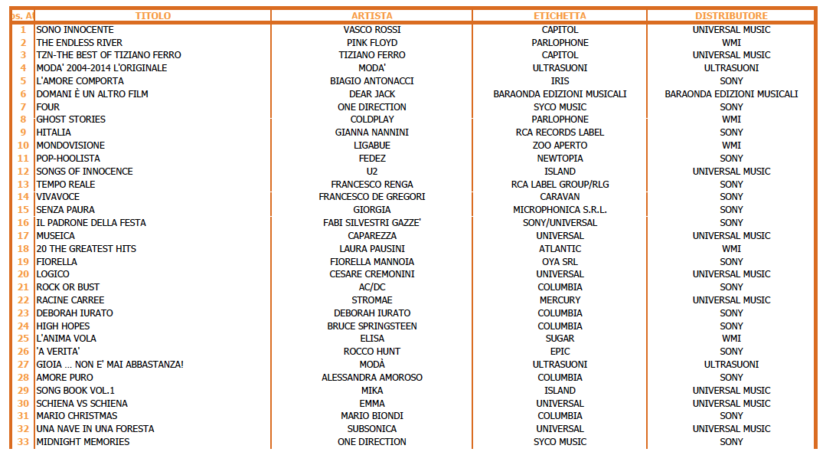 ITALY: BESTSELLING DIGITAL SINGLES OF 2014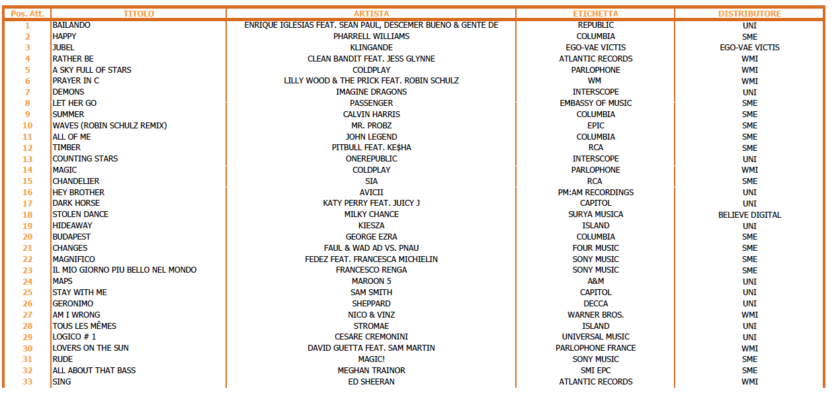 ITALY: BESTSELLING COMPILATION ALBUMS OF 2014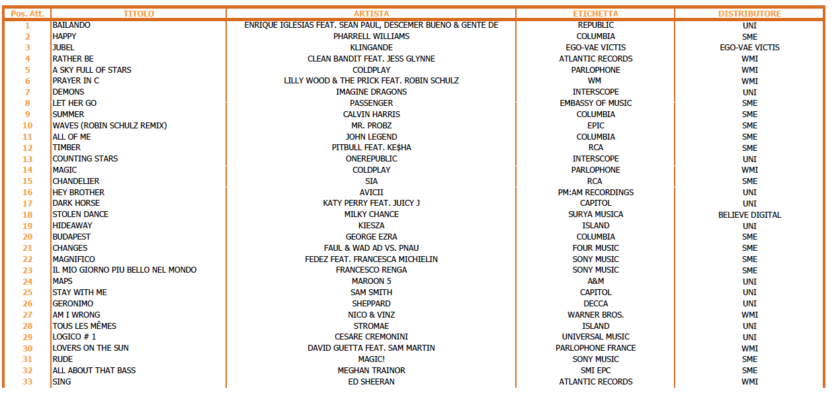 ITALY: BESTSELLING MUSIC DVDS OF 2014

Source for all charts: Gfk/FIMIMusic Business Worldwide