Last year, the Worldwide Independent Network (WIN) issued a report suggesting that independent labels claimed a 37.6% market share in 2015.
The WINTEL write-up, co-authored by respected analyst Mark Mulligan, discovered that independent labels generated $5.6 billion in revenue in the year.
Unlike traditional market share metrics, which judge the industry on distribution power, the WIN report instead measured money generated by rights ownership.
Why that's important: a big chunk of the major labels' global market share is typically based on the revenue they accrue through their ability to distribute releases from independent label partners.
Much of this revenue, however, is subsequently paid through to the majors' independent partners.
In the case of UMG, for instance, that includes Big Machine (Taylor Swift), Concord (Iggy Pop, Paul McCartney) and Glassnote (Mumford & Sons, Childish Gambino – pictured).
WIN argues that it's the rights ownership figure, rather than the distribution figure, which is most important.
Their hypothesis just got some heavy duty back-up.
---
Respected US market monitor BuzzAngle has, for the first time, broken down annual market share in the US into major-owned repertoire, independently-distributed repertoire and – crucially – major-distributed repertoire.
This latter category includes the aforementioned (Glassnote, Big Machine), in addition to another huge 'independent' UMG partner – Disney. In addition, it includes sales from clients of Warner-owned ADA, Sony-owned RED and UMG-owned Caroline.
According to BuzzAngle's stats, independently-distributed labels (who are therefore independent labels by default) claimed a 13.6% market share in 2016.
That therefore leaves a major label distribution market share of 86.4%; a stranglehold any way you look at it.
(Unlike WIN's report, it's important to note, BuzzAngle's market share it based on volume figures across physical sales, streams and download – rather than on a value/revenue basis.)
Yet things get really interesting when BuzzAngle drills down into major-distributed figures – the category of sales/streams attached to independent labels who then upstream their releases into major label systems.
These companies, says BuzzAngle, were responsible for 21.5% of the US market's activity last year.
Combined, that means independent labels – both those distributed by fellow indies and by major labels – claimed a 35.1% US market share of total music consumption in 2016.
Conversely, major-owned repertoire accounted for a much-smaller-than-usual 64.9% market share.
Just like the WIN report, these market share figures are rather different to those that some people (including digital services?) might expect…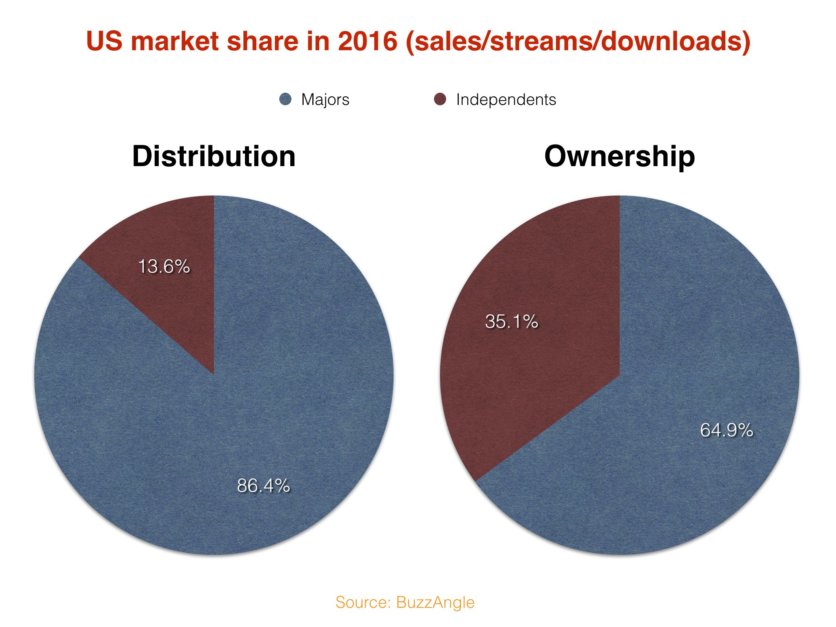 (BuzzAngle bases its market share on an 'total album project' metric to measure across formats; it equates album 'sales' in the download world as ten song sales, and in the streaming world as 1,500 plays. Although MBW is no fan of 'equivalent album' conversions, in market share terms this is a completely fair and equal yardstick for all parties.)
We'll have more from BuzzAngle's in-depth annual report – which you can read in full through here –  in the coming days.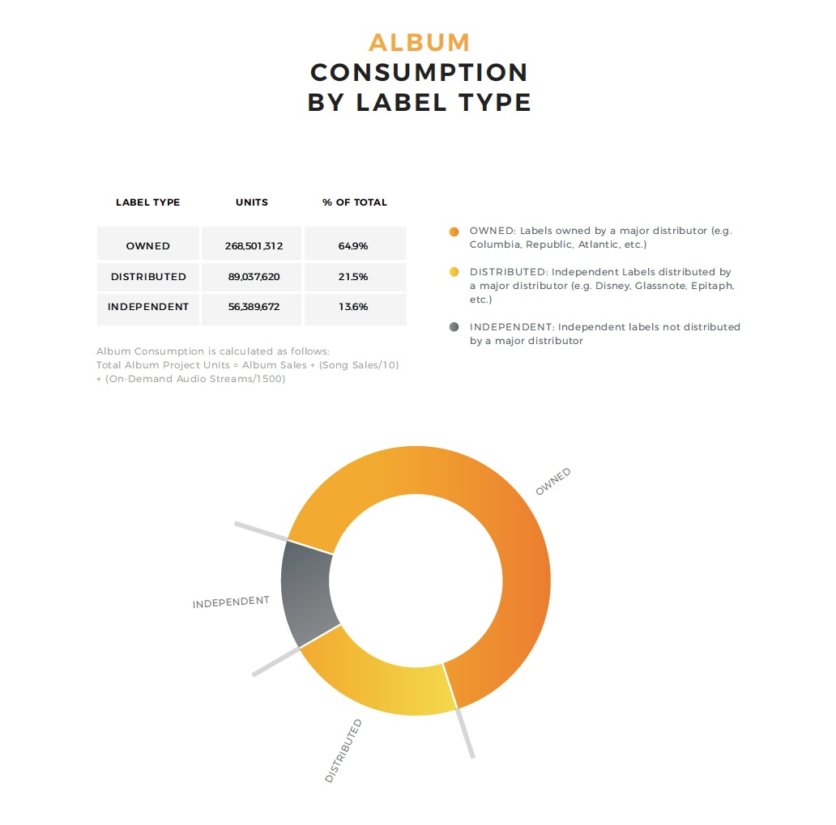 Music Business Worldwide