Music streaming company Deezer is testing its own wellbeing app, called Zen by Deezer.
The project was revealed this week as part of the company's H1 2022 results, Deezer's first earnings release as a publicly-traded company.
Deezer's earnings results, published yesterday (August 24), revealed a loss of 300,000 subscribers in the first half of the year, posting a 2.9% YoY drop in its total subscribers from 9.7 million to 9.4 million as of the end of June.
The decline came as the 10.7% increase in its subscriber base in France offset an 18% decrease in its subscriber count in the rest of the world, according to Deezer's earnings release.
Despite seeing its subscriber numbers fall outside France, Deezer's overall H1 sales increased 9.9% YoY (at constant currency) to €219 million in H1 2022.
The music streaming service made its official stock market debut on the Euronext Paris last month, after combining its business with I2PO, a Special Purpose Acquisition Company (SPAC) based in France.
Commenting on Deezer's 'business highlights' in H1 during the company's investor call today (August 25), Deezer CEO Jeronimo Folgueira, said that the company "made progress in multiple areas that will continue to support our growth moving forward, and will reflect implementation of our strategy".
Amongst the areas listed included "an improved version of Track mix, a new AI-generated way to discover music based on your personal taste", as well as Deezer's plan to reposition the brand to attract younger users to the streaming service.
Folgueira also cited the development of a new wellbeing app called  Zen by Deezer, which, Folgueira said, "we plan to roll out in 2023".
He added: "We expect this to be a highly profitable cross-sell opportunity."
On the app's page on Apple's App store, Deezer says that the app will feature music and sounds, guided Yoga, breathing exercises, meditation and more.
According to an explainer post on Deezer's community page, The Zen by Deezer application is currently only available on IOS and for users in Belgium, with plans to develop an Android version in the near future.
---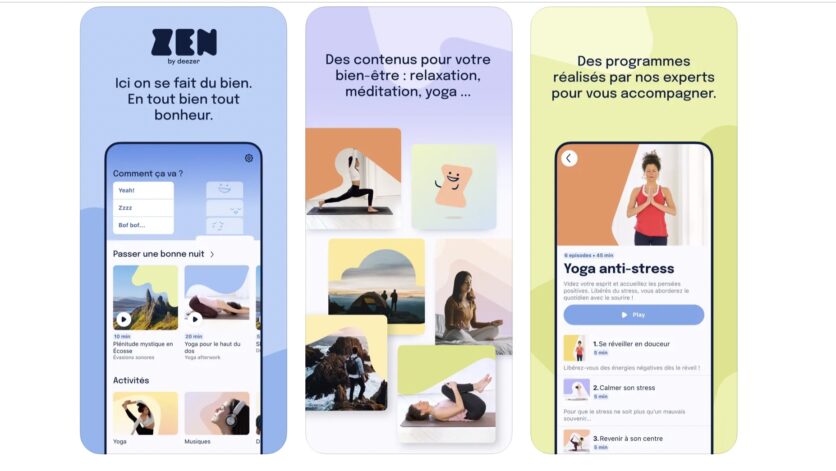 ---
In Deezer's earnings press release, the company says that Zen by Deezer is "currently being tested with small user groups to prepare for a launch in early 2023".
Deezer says that it "is also developing several other apps, to further expand its diversification portfolio and drive profitable cross-sell opportunities".
The explainer page for the new app also references a feature called the 'Mood Selector', which Deezer says will help the platform "understand what mood you're in and shows you content that matches that mood".
Adds the post: "It will help you stay positive by boosting or maintaining your level of well-being. Choose the mood that suits your mood and we'll recommend content that matches your selection."
---
When Zen by Deezer does get a wider roll-out, the app will be entering a space dominated by meditation apps like Calm and Headspace.
The app would also be entering a market that is reportedly attracting fewer users and less engagement than it was during the pandemic.
According to a report from app analytics company Apptopia, published this month, combined user sessions of the Top 10 meditation apps fell 48% versus Q2 2020.
The report also notes that "user sessions of Calm and Headspace are down 26.4% and 60.3% YoY in July, respectively".
Commenting on the company's earnings results, Deezer's CEO Jeronimo Folgueira said: "This positive momentum shows the strength of Deezer's unique B2B/B2C strategy, as well as our capacity to capture the global growth of the music streaming industry.
"The success of our initial public offering on Euronext Paris is a major milestone, which gives us the resources to continue the successful expansion of Deezer.
"With a highly competitive product, a clear strategy, a renewed and experienced management team, supported by a strong new Board of Directors, I am very confident that we are now perfectly positioned to accelerate our growth, and deliver substantial value for all our stakeholders."
Music Business Worldwide