BMG parent Bertelsmann has broken out the financials of its music company for the first time – revealing a business likely to post somewhere close to $500m this year, with an impressive profit margin.

In the first six months of 2016, BMG revenues grew 4.6% to €182m ($203m). That was up from €174m ($194m) in the same period of 2015.
Operating EBITDA (earnings before interest, taxes, depreciation and amortization) amounted to €32m ($36m), up by 6.7% year on year (H1 2015: €30m).
BMG's revenues might still be multiples behind the majors, but in profitability terms it may have left its rivals envious.
The company's operating EBITDA translated into an adjusted margin of 17.6%.
---
Universal Music Group was last week revealed to have generated €2.315bn ($2.58bn) in the first half of 2016, with an EBITA of €177m ($197m) – an adjusted margin of 7.6%.
Warner Music Group posted total group revenues of $1.556bn in H1 2016, with an OIBDA (operating income before depreciation and amortization) of $247m. That represented an adjusted half-year margin of 15.9%.
Sony Music Entertainment posted the equivalent of $2.857bn in the same six months, with a 'pure' operating profit of $275m – a margin of 9.6%.
(Important to note that all profit measures here are slightly different: UMG's EBITA adjustment takes into account depreciation, while Sony's operating income numbers appear to take into account depreciation and amortization. SME's figures also include its 'visual media and platform' business in addition to recorded music and publishing operations.)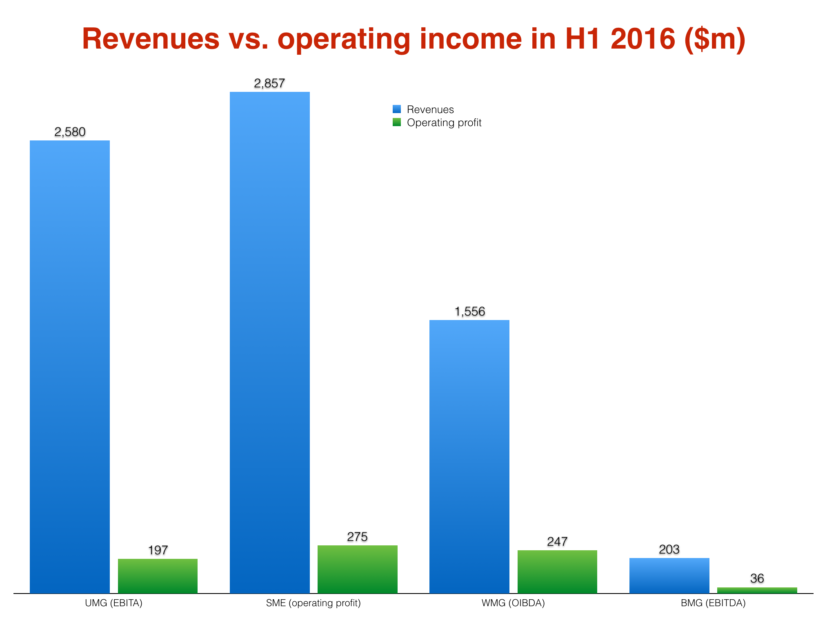 ---
Bertelsmann-owned BMG said its highlights of the six months included the signing of the Roger Waters publishing catalogue, which it called "one of the industry's most important deals" of the period.
In addition, BMG's recorded music division released Rick Astley's most successful album in 30 years – a UK No.1 – while BMG songwriters contributed to more than 20 No.1 albums in the US, UK and Germany, including releases from Rihanna, Beyoncé and Volbeat.
It also signed Blink 182 in the period, whose California was released in July and became a UK and US No.1 album.
Led by CEO Hartwig Masuch (pictured), BMG has gained a reputation for its acquisitive approach to the market in recent years.
Since 2013, it has purchased recorded music assets including the Sanctuary and Mute catalogues, plus Infectious Music, Vagrant, Union Square Music, Skint/Loaded, Rise Records, S-Curve and Atmospheriques.
In the publishing world, it's snapped up the likes of Bug, Cherry Lane, Stage Three, Chrysalis, Primary Wave, Virgin Music, Talpa and Tipping Music.
In 2016 so far, the company's acquisitions have included Australian indie label/publisher Alberts and Brazil's Basement Music – which has allowed it to set up a fully-owned HQ in São Paolo under John Telfer.
The company has also acquired a majority stake in the ARC music publishing catalogue, securing rights to songs by artists including Chuck Berry, the Beach Boys and John Lee Hooker.
In April, BMG signed a worldwide distribution deal with Warner Music Group's ADA – run by WMG's Eliah Seton out of New York.
---
BMG parent Bertelsmann posted flat revenues in the first six months of 2016 at €7.966 bn.
Group profits stood at €482m, up 21.1% on the prior year's period (H1 2015: €398 million).
Thomas Rabe, Chairman and CEO of Bertelsmann, said: "We are very pleased with the positive development of the first six months of the year, in which all of the divisions played their part. The best operating result in Bertelsmann's history, the high profitability of our businesses, and significantly improved Group profit of nearly a half billion euros give us confidence for the full year.
"We recognize that our growth profile has further improved through a series of strategic measures; our new Group structure with eight divisions introduced at the beginning of the year makes this transparent. At the same time, we have become more digital and more international – we will continue on this path in the second half of the year."
In addition to BMG, Bertelsmann also owns and operates companies including broadcaster RTL Group, the trade book publisher Penguin Random House, the magazine publisher Gruner + Jahr, the service provider Arvato, the Bertelsmann Printing Group, the Bertelsmann Education Group, and Bertelsmann Investments, an international network of funds.Music Business Worldwide