It's the number that just keeps creeping up and up.
You may remember that back in May, MBW told you that Universal Music Group generated $3.9m a day from streaming services in the first three months of 2016.
Now, parent Vivendi has released its fiscal results covering the first half of this year- and streaming's contribution is on the rise again.
UMG turned over €1.83bn ($2.07bn) in recorded music revenue in the six months to end of June.
According to Vivendi, streaming contributed 36% of this money – compared to a 17% of recorded revenues in H1 2014 (two years prior).
That 36% equated to a total streaming haul of €653m ($737m) over the six months. That's $28.3m a week, and over $4m per day.
This means that Universal and Sony are now comfortably bringing in over $50m every week from streaming alone.
Nice work if you can get it.
Total subscription and streaming revenues at UMG grew by around 62% year-on-year in the half-year period.
However, iTunes income is in freefall. Across the first half of 2016, download income fell by 29%, according to Vivendi.
UMG's total H1 2016 recorded music revenues were down 0.8% compared to the same period in the prior year, but up 0.5% at constant perimeter and constant currency.
Music publishing (UMPG) enjoyed 4% growth to €361m ($407m).
UMG's group-wide revenues was up 1.6% to €2.32bn ($2.61bn).
Earnings before interest, taxes and amortization (EBITA) was €177m, up 3.7%.
UMG's biggest-selling acts in the first half of the year were Drake, Rihanna (pictured) and Ariana Grande.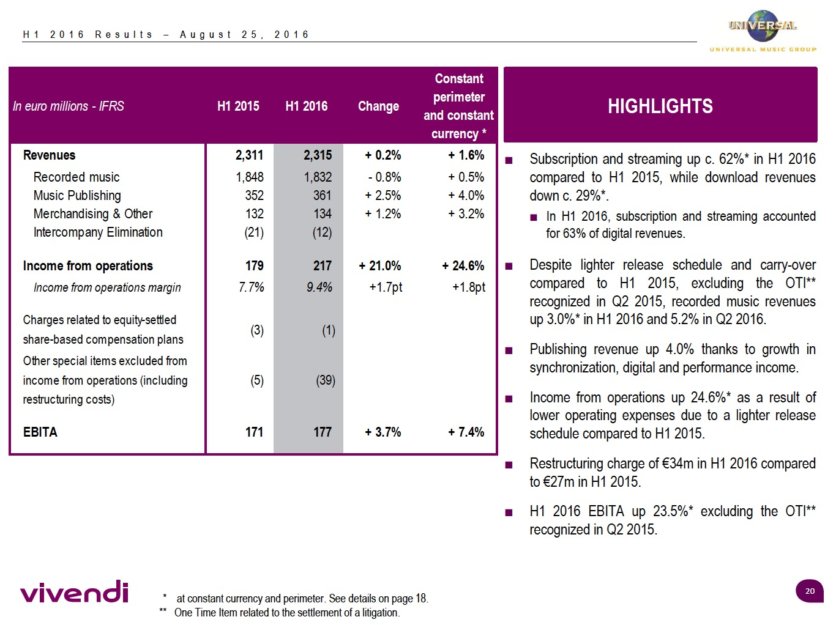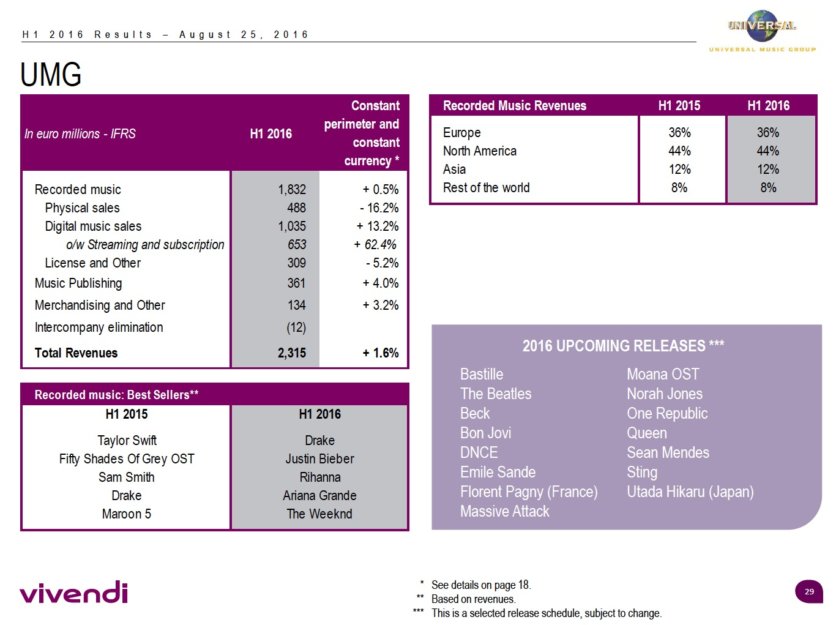 Music Business Worldwide