At its current pace of growth, Apple Music will easily have attracted 20m subscribers by the end of 2016.
The streaming music service has added a million paying subs in the past month, according to the Cupertino giant's Eddy Cue.
We learned that Apple had clocked up 10m subscribers in early Jan – a figure later confirmed by CEO Tim Cook to investors at the end of last month.
"We shared the incredible Apple Music experience with even more listeners, with over 10 million paying subscribers less than four months since customers began paying for the service," noted Cook in Apple's Q1 earnings call.
"We have to educate people [about music streaming]. We're doing a lot of work on that right now."

Eddy Cue, Apple
Now, little over four weeks on from the point that milestone was surpassed, Apple SVP Eddy Cue has confirmed that Apple Music has breached 11m subs.
"I live in a world where all of my music is in the cloud, and we're going to see more and more customers [think the same]," said Cue on John Gruber's The Talk Show podcast.
"We just passed 11m Apple Music subscribers, and all of those people live in a world where music is in the cloud."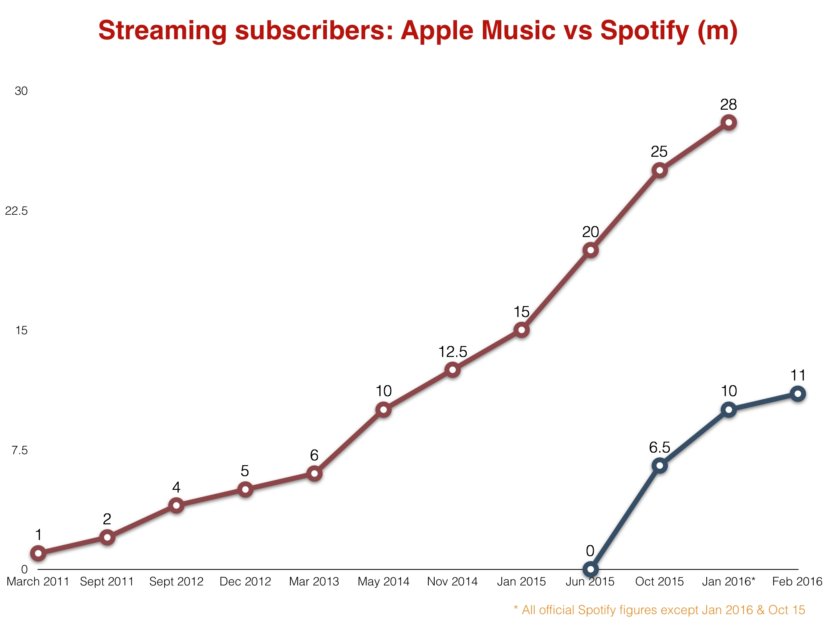 Discussing Apple Music's user growth, Cue commented: "We've been very pleased. Just this past week we introduced it in Taiwan and Turkey, we [recently] introduced a version for Android…
"One of the things we've learned is that we have to educate people. As much of all of us know about music subscriptions, when you go around the world, what does it mean have access to all of the music [ever made]?
"That's something we're doing a lot of work on right now. We noticed that a lot time, people didn't understand the concept: 'What do you mean I pay $9.99 [ a month]? What do I get?' That's been a big part of moving the number forward."
Eddy Cue is onto something.
Industry insiders tell MBW that the official worldwide paid music subscriber figure ticked up over 50m in 2015, an increase from the 41m stat the IFPI confirmed for 2014.
Here's a slightly unfair take on that number, but one that speaks volumes: 50m people equates to just 0.7% of the world's population.
As MBW reported last week, Apple's resources have allowed it to tackle this level of global opportunity/ignorance head-on, in a manner which loss-making Spotify simply doesn't have the cash to facilitate.
Since first arriving on June 30 last year, Apple Music has launched in 113 countries. It's now available in 59 markets in which Spotify is not – including Russia, China, India and Japan.
Clearly, Cue is feeling bullish about one big advantage of Apple Music versus most of its competitors, Spotify included – the ability for users to upload their own music into a cloud locker and access these tracks from multiple devices.
"You're seeing Music make that transition now," he told the podcast. "Music before was very local, it really didn't live in the cloud. You moved your content to a device locally.
"This is about all of your music, no matter how your acquired it. If it doesn't exist in the subscription service, if you bought it yourself or it's available as a bootleg – all of the things you consumer [as] music."
("No matter how you acquired it." What could he be referring to?)
The Apple Music app arrived on Android in November last year – the first ever frontline Apple app to do so.
Apple has just prevented free users of Apple Music being able to access the platform's curated radio stations, although they can still listen to Beats 1 without paying anything.
Other revelations made by Cue and his fellow guest, SVP Craig Federighi , on the podcast included the fact that Apple's iCloud service now reaches 782m users, while the App Store and iTunes handle 750 million transactions every week.Music Business Worldwide