MBW Reacts is a series of analytical commentaries from Music Business Worldwide written in response to major recent entertainment events or news stories. MBW Reacts is supported by JKBX, a technology platform that offers consumers access to music royalties as an asset class.
---
Songtradr got the entire music business talking last week with the news that it is the new owner of prominent D2C and merch-buying platform Bandcamp.
Bandcamp was acquired by Songtradr from Epic Games, the maker of hit video game Fortnite, just 18 months after Epic itself acquired Bandcamp.
(Epic's divestiture of Bandcamp arrived alongside the news that the gaming giant is laying off around 16% of its global workforce.)
Songtradr's acquisition of Bandcamp – and the former company's expansion into the direct-to-consumer (D2C) market – is a major coup for Los Angeles-headquartered Songtradr which to date has been best known for its B2B music licensing operation.
Bandcamp was founded in 2008, and reports to have been profitable since 2012. The company also reports that, via its platform, fans have paid artists and their labels $1.19 billion to date.
According to Songtradr's press release announcing the new deal, the acquisition will "help Bandcamp continue to grow within a music-first company and enable Songtradr to expand its capabilities to support the artist community".
Here are five observations about what the deal means for Songtradr, Bandcamp, and other players in the music industry…
Photo credit: Piotr Swat/Shutterstock

1) Why didn't one of the majors buy bandcamp?
As a music store with what it says is a community of over 5 million artists and labels, BandCamp is a key player in the independent direct-to-consumer (D2C) market.
Plus, with over a decade in the D2C business, BandCamp owns a goldmine of data around the buying trends and behaviors of 'superfans'.
By now, regular MBW readers will know of the rising importance of the 'superfan' – and how important it is for an artist and their team to be able to sell their music directly to this hyper-passionate music audience.
One group of music vendors especially excited by the lucrative potential of 'superfans' in the streaming era, of course, is the three major music companies.
Yet for whatever reason (perhaps one of price?), Universal Music Group, Sony Music Group, and Warner Music Group were evidently not interested in acquiring Bandcamp to boost their D2C businesses – nor their increasingly large presence in the world of independent artists (via ADA, AWAL,The Orchard, Virgin Music Group etc.).
US market monitor Luminate reported in July that 'superfans' in the United States spend 80% more on music each month versus the average US-based music listener.
Additionally, physical music buyers of formats such as vinyl, CDs, or cassette tapes, are more than twice as likely (+128%) to be music superfans.
Luminate also pointed to the growth in Direct-to-Consumer (D2C) sales to highlight the buying power of the superfan category.
According to Luminate's Midyear report, D2C sales of music from artists' stores were up over 20% YoY in H1 2023, with D2C vinyl sales up 26% YoY in the same period, to 3.6 million copies. 
Meanwhile, 1.7 million CDs were sold via D2C in the first half of the year, an increase of 15% YoY.
---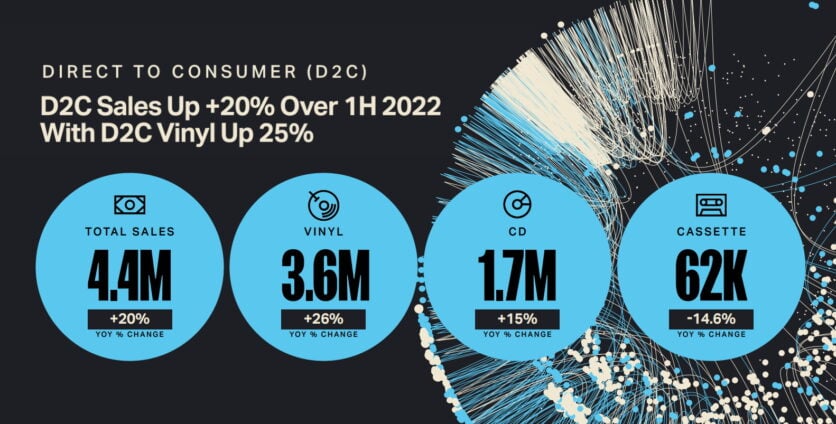 ---
The potential financial impact of the superfan category was also recently highlighted in Goldman Sachs' latest Music In The Air report,  in which the financial giant claimed that 20% of paid streaming subscribers today could be categorized as 'superfans'.
GS claimed further that if these 'superfans' were willing to spend double what a non-superfan spends on digital music each year, it implies a $4.2 billion (currently untapped) annual revenue opportunity for the record industry. As explained in our recent analysis of Goldman's report, that $4.2 billion figure represents a 'Total Addressable Market' (TAM).
For any major player in the business of music, artists, and their fans, not making a play for Bandcamp was arguably a missed opportunity.
---
Credit: Shutterstock/Diego Thomazini

2) Why didn't Spotify buy bandcamp?
So why didn't Spotify buy Bandcamp? Think about it. Spotify could have acquired its very own D2C merch-selling platform with a super-fan-centric userbase and integrated it directly into Spotify for Artists.
Spotify currently offers artists the ability to sell their merch on their profiles via a partnership with Shopify. Artists can also list merch via Merchbar on Spotify. But Bandcamp could have offered Spotify so much more.
In the press release announcing its acquisition by Songtradr, Bandcamp is claimed to be a "music store and community with over 5m artists and labels".
Spotify could have learned a lot from the data around the platform's userbase of fans, artists, and labels to inform editorial decisions, R&D for new features, not to mention giving artists a native platform to list and sell their merch.
Also, remember – Bandcamp isn't only a platform where artist sells vinyl, CDs, and T-shirts to their fans. It's also technically a streaming platform, allowing users unlimited streams of music once purchased. Some of that music might not be available to stream on Spotify.
In acquiring Bandcamp, Spotify could have snapped up a niche rival, acquired all of its user data in the process, and tapped into the increasingly important D2C segment of the market all in one swoop.
---
3. What was Epic Games thinking by buying a D2C music platform in the first place?
Epic Games is very good at making and marketing games. So good, in fact, that it confirmed that its flagship title Fortnite counted over 350 million registered users in 2020. In 2021, that number jumped to 400 million.
In addition to Fortnite, Epic Games is the developer behind the Unreal Engine, a powerful 3D creation tool that offers photo-realistic graphics.
Around three years ago, Epic Games started getting a bit closer to the music business, serving as a popular virtual performance space for major stars, while its Unreal Engine platform formed the building blocks for 3D music videos created by Sony Music's Immersive Music Studios.
Then in March 2022, Epic bought Bandcamp, announcing in a statement at the time that BC was set to play an "important role" in its "vision to build out a creator marketplace ecosystem for content, technology, games, art, music and more".
The news followed Epic's acquisition in November 2021 of Harmonix, creator of the popular Rock Band and Dance Central franchises for an undisclosed sum.
At the time, Epic hinted at ambitious plans in music, stating that it would collaborate closely with Harmonix "to develop musical journeys and gameplay for Fortnite" and that as it works "to build the metaverse", the Harmonix team's "expertise is needed to reimagine how music is experienced, created and distributed".
Now, just 18 months later, Epic's music ambitions seem to have been reduced somewhat, divesting Bandcamp alongside the news of it laying off 16% of its global workforce.
According to a note issued by Epic CEO Tim Sweeney last week, Epic has "been spending way more money than we earn, investing in the next evolution of Epic and growing Fortnite as a metaverse-inspired ecosystem for creators".
Epic says that it will continue to collaborate with Bandcamp on projects like the curated Fortnite Radio feature, but beyond that, it's not clear where music fits into Epic's strategy going forward…
---
4) Tencent and SOny Corporation (but especially Tencent) just became even more powerful in the music business…
One point mentioned in the press release announcing the news of Songtradr's Bandcamp acquisition is that, via the deal, Epic Games just became an investor in Songtradr.
According to the release, Epic "is investing in Songtradr to support Bandcamp's successful integration" into the music platform's new owner.
It's worth taking a look at who owns Epic Games at present to see why that's significant news in and of itself.
One significant stakeholder in Epic Games is China-headquartered technology giant Tencent Holdings, owner of Tencent Music Entertainment.
Via a consortium it leads, Tencent is a 20% stakeholder of Universal Music Group. It also owns stakes in Spotify and Warner Music Group and runs a JV label based in Hong Kong, Liquid State, with Sony Music.
Chinese giant Tencent owns around 40% of the North Carolina-headquartered Epic via a $330m investment made in 2012.
Meanwhile, in April last year, Epic Games confirmed that Japan-headquartered Sony Corporation had agreed to spend $1 billion to acquire an additional stake in its company.
Epic Games said this agreement gave it a $31.5 billion post-investment equity valuation – meaning that Sony's $1 billion investment bought it an additional slice worth approximately 3.2% of Epic.
Across three investments over the prior three years ($250m in 2020; $200m in 2021; $1bn in 2022), Sony spent $1.45 billion buying equity in Epic Games. As a result, today Sony owns approximately 5.4% in the interactive entertainment firm.
Sony wasn't the only participant in Epic Games' funding round last April: KIRKBI, the family-owned holding and investment company behind The LEGO Group, also acquired a ≈3.2% stake with its own $1 billion investment. Across Sony and KIRKBI, then, Epic Games raised $2 billion last April at that $31.5 billion valuation.
---
5) Songtradr is now a serious B2C player in addition to being a prominent B2B player…
Last but definitely not least, is what the deal means for Songtradr's own positioning in the global music business.
The Santa Monica-based music company, led by CEO and founder Paul Wiltshire (pictured) has been active in expanding its portfolio through strategic acquisitions over the past few years. But this latest deal marks a significant shift in the type of company Songtradr has targeted.
To date, Songtradr has largely been focused on expanding in the world of B2B music platforms and services.
Amongst Songtradr's acquisitions over the past few years include B2B music company 7digital (in March), AI metadata and music search company, Musicube in June last year. In addition to Musicube, Songtradr's portfolio of music companies includes Massive Music (acquired in June 2021), Big Sync Music (acquired in February 2019) and Song Zu (acquired in March 2021).
Other companies acquired by Songtradr include film, TV and gaming music data platform Tunefind, and Pretzel, which provides DMCA-proof music for Twitch and YouTube livestreamers. In September 2020, Songtradr invested $1m in music credit resource Jaxsta, inks exclusive partnership.
Songtradr raised USD $50 million in an oversubscribed Series D funding round in June 2021, which followed its $30m Series C round in August 2020, which, at the time, valued the company at $165m. The B2B music rights firm has now raised over $100m to date, valuing the company at over $300m. Previously, Songtradr raised $4 million in a Series A funding round in 2018 and $12 million in a Series B funding round in 2019.
---
Songtradr's strategic move into the increasingly important direct-to-fan space promises to be positive news for the actual artists who use Bandcamp.
Songtradr said in its press release last week that it "will also offer Bandcamp artists the ability and choice to have their music licensed to all forms of media including content creators, game and app developers and brands".
The company added that this "will enable artists to continue to own and control their music rights, and increase their earning capacity from Songtradr's global licensing network".
This music licensing opportunity Songtradr could provide Bandcamp artists may become significant.
Today, Songtradr specializes in licensing fully cleared music for sync to a range of clients including the likes of Disney, Netflix, Apple, Coca-Cola, Amazon, and Columbia Pictures.
Songtradr is also an Official TikTok Sound Partner, explaining on its website that "through flexible monthly, yearly, or project-based licensing plans, we enable brands and creators to develop sound-on strategies for TikTok".
With all of that in its locker, Songtradr says that it's "the world's largest B2B music licensing marketplace".
By adding Bandcamp to its portfolio, Songtradr will now be able to make big claims about its B2C credentials, too.

JKBX (pronounced "Jukebox") unlocks shared value from things people love by offering consumers access to music as an asset class — it calls them Royalty Shares. In short: JKBX makes it possible for you to invest in music the same way you invest in stocks and other securities.Music Business Worldwide