Vivendi has appointed banks to manage "the acquisition of a minority interest" in its subsidiary, Universal Music Group (UMG).
The news was announced today (July 25) as part the France-based media giant's H1 2019 earnings call, confirming a report published by Reuters yesterday.
The news officially fires the starting pistol on the UMG stake sell-off process, but Vivendi is yet to name the banks it has commissioned to work with it on the sale.
Vivendi initially announced its intention to sell off up to half of UMG last July and at the time recommended a 'sale of up to 50% of UMG's share capital to one or more strategic partners, in order to extract the highest value'.
Today's reference to "a minority interest" appears to confirm that the stake sold will be less than 50% and that Vivendi intends to hold onto a controlling interest in UMG.
Last July Vivendi also said that it could possibly complete the UMG process by the end of January 2020.
A Bloomberg report in May this year then suggested that the UMG's parent company was facing difficulties in the sale process, citing sources who said that "some private equity investors balk at the high price and slow pace of the deal".
That report also revealed that Vivendi held preliminary sale talks with Tencent Holdings about making a minority investment in UMG.
Today, Vivendi said that "several contacts have already been established with potential strategic partners".
---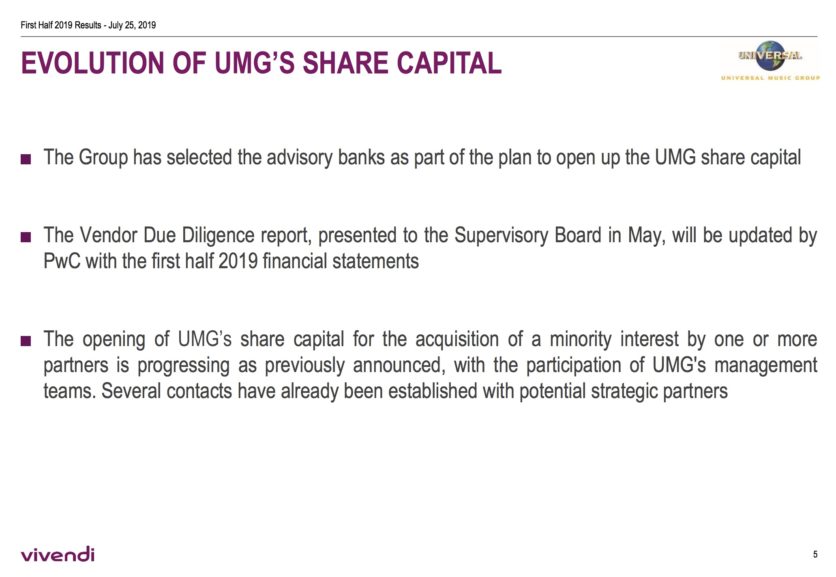 ---
"The opening of UMG's share capital for the acquisition of a minority interest by one or more partners is progressing as previously announced, with the participation of UMG's management teams."

Vivendi
"The opening of UMG's share capital for the acquisition of a minority interest by one or more partners is progressing as previously announced, with the participation of UMG's management teams," stated the company.Music Business Worldwide