Universal Music's UK company posted revenue growth of 8.8% in calendar 2017, according to a new filing with Companies House – finishing the year with £344.3m in sales.
The gross profit of Universal Music Operations Ltd stood at £106.9m in the year, up 12.3% on 2016.
After distribution costs and administrative expenses, the firm's annual operating profit hit £10.6m in 2017, a huge leap (+999%) on the £964,000 operating profit posted in the prior year.
Thanks to a £40.7m deficit due to 'interest payable and similar charges' (as you can see below), its pre-tax loss last year was £20.5m.
Universal said its growth in revenues was "driven by increased demand for streaming services, as well as the timing of new releases".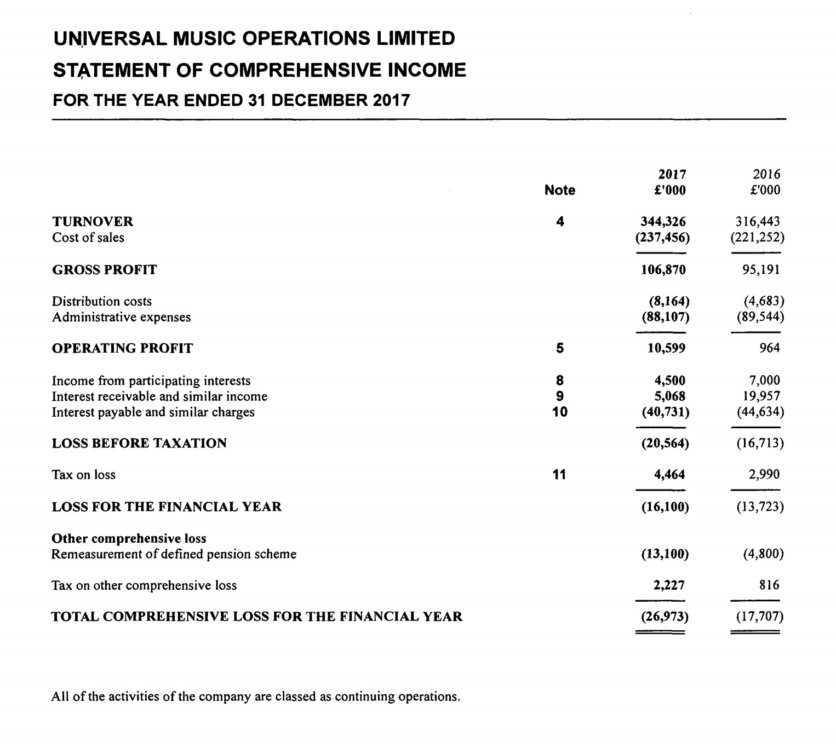 Universal Music Operations Ltd generated £188.8m from product sales in 2017, up 11.7% year-on-year.
It also generated £155.5m from royalties, up 5.5% year-on-year.
The vast majority (70.3%) of its revenues in 2017 were derived in the UK (£242.1m), with 11.8% coming in the USA (£40.7m).
Universal Music UK labels include Virgin EMI, Island Records UK, Capitol Records UK and Polydor.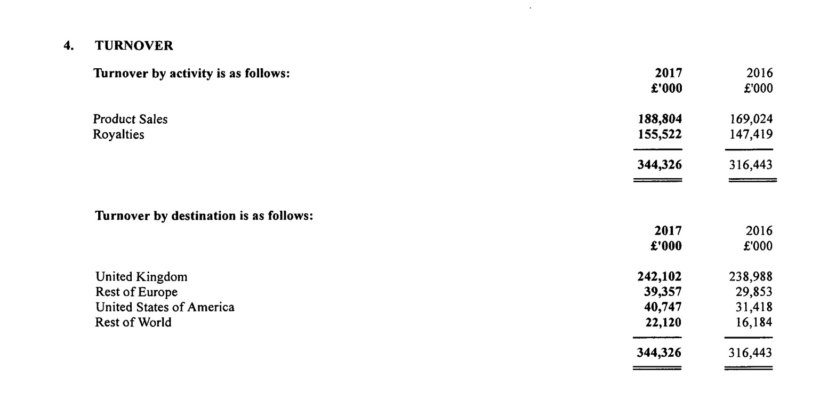 Universal Music Operations Ltd, run by CEO and Chairman David Joseph, spent a total £15.74m consideration on acquiring controlling stakes last year, including its buyouts of All Around The World Ltd, RG2016 Ltd (aka Strange Music), Stiff Records Ltd and ZTT Ltd.
£2.48m of this money was deferred and is due to be paid in three equal instalments over the next three years.

At 31 December 2017 the company had contractual commitments in respect of artist advances of £34,864,324 (2016 – £35,299,000), of which £9,426,062 (2016 – £20,336,000) relates to the current (FY2018) financial year.Music Business Worldwide