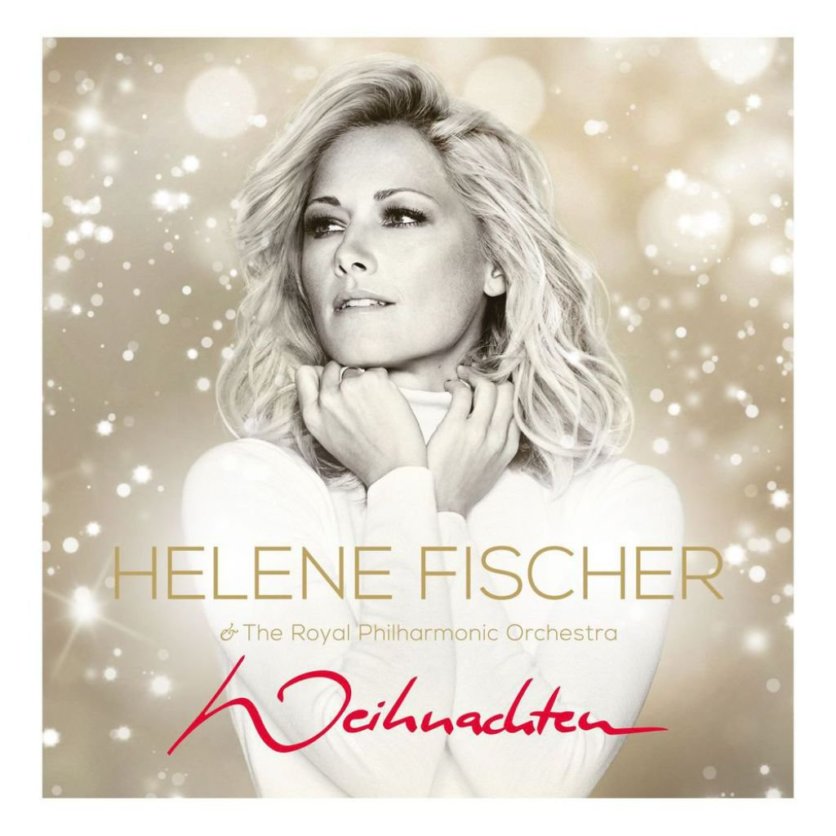 Adele's 25 has done it all: delighted her fans, pleased the critics and, of course, smashed sales records.
Indeed, you could be forgiven for assuming that 25 will win every 'Album Of The Year' award going in 2016 at mainstream commercial music ceremonies.
It did exactly that at the BRITs in February, where Adele swept the board by picking up four awards.
It's a different story in Germany, however.
Some industry watchers were surprised by Germany's Echo Awards in Berlin last night, where local legend Helene Fischer beat Adele to pick up the Album Of the Year prize.
What level of melodic mastery bested Hello, When We Were Young et al?
Fischer's Weihnachten is a Christmas album which features one disc of festive German tracks, and another of traditional English songs such as White Christmas, Let It Snow, Little Drummer Boy and Jingle Bells.

It also includes a version of Wham!'s Last Christmas, featuring Ricky Martin.
The Echo awards weren't a complete washout for Adele, however.
She picked up a gong for Best Artist Pop/Rock International, while fellow Brits James Bay and Ed Sheeran also collected prizes.
Funnily enough, Helene Fischer won the same number of Echos as Adele did BRITs two months ago – collecting four awards in total.
You can see the full list of winners and nominees from last night's ceremony below:
Album of the Year
Adele – "25" (XL/Beggars/Indigo)
Sarah Connor – "Muttersprache" (Polydor/Island/Universal)
Helene Fischer – "Weihnachten" (Polydor/Island/Universal)
Santiano – "Von Liebe, Tod und Freiheit" (We Love Music/Universal)
Various Artists – "Sing meinen Song – Das Tauschkonzert Vol. 2" (XN-Tertainment/Tonpool)
Artist Rock / Pop national
Andreas Bourani – "Hey" (Vertigo/Capitol/Universal)
Mark Forster – "Bauch und Kopf" (Four Music/Sony)
Herbert Grönemeyer – "Dauernd Jetzt" (Vertigo/Capitol/Universal)
Peter Maffay – "Tabaluga – Es lebe die Freundschaft!" (RCA Deutschland/Sony)
Johannes Oerding – "Alles brennt" (Columbia D/Sony)
Artist Rock / Pop International
James Bay – "Chaos And The Calm" (Universal)
Justin Bieber – "Purpose" (Island/Universal)
David Bowie – "Blackstar" (Columbia/Sony)
Mark Knopfler – "Tracker" (Virgin/Universal)
Ed Sheeran – "x" (Warner)
Artist Rock / Pop national
Sarah Connor – "Muttersprache" (Polydor/Island/Universal)
Lena – "Crystal Sky" (USFO/Universal)
Namika – "Nador" (Jive Germany/Sony)
Nena – "Oldschool" (The Laugh & Peas Company/Sony)
Oonagh – "Aeria" (We Love Music/Universal)
Artist Rock / Pop International
Adele – "25" (XL/Beggars/Indigo)
Enya – "Dark Sky Island" (Warner)
Madonna – "Rebel Heart" (Interscope/Universal)
Christina Stürmer – "Gestern. Heute. – Best Of" (Polydor/Island/Universal)
Taylor Swift – 1989 (Universal)
Band Rock / Pop national
The BossHoss – "Dos Bros" (Polydor/Island/Universal)
Pur – "Achtung" (Music Pur/Universal Music)
Revolverheld – "MTV Unplugged in drei Akten" (Columbia D/Sony)
Silbermond – "Leichtes Gepäck" (Verschwende Deine Zeit/Sony)
Unheilig – "MTV Unplugged 'Unter Dampf – Ohne Strom'" (Vertigo/Capitol/Universal)
Band Rock / Pop International
Coldplay – "A Head Full Of Dreams" (Parlophone/Warner)
Florence + The Machine – "How Big, How Blue, How Beautiful" (Island/Universal)
Mumford & Sons – "Wilder Mind" (Island/Universal)
One Direction – "Made In The A.M." (Syco Music/Sony)
Sunrise Avenue – "Fairytales – Best Of 2006 – 2014" (Polydor/Island/Universal)
Schlager
Fantasy – "Freudensprünge" (Ariola/Sony)
Klubbb3 – "Vorsicht unzensiert!" (Electrola/Universal)
Wolfgang Petry – "Brandneu" (Na klar!/Sony)
Semino Rossi – "Amor – Die schönsten Liebeslieder aller Zeiten" (Polydor/Universal)
Wolkenfrei – "Wachgeküsst" (Ariola/Sony)
Folk music
Amigos – "Santiago Blue" (Ariola/Sony)
Andreas Gabalier – "Mountain Man" (Electrola/Universal)
Hansi Hinterseer – "Gefühle" (Ariola/Sony)
Kastelruther Spatzen – "Heimat – Deine Lieder" (Electrola/Universal)
Santiano – "Von Liebe, Tod und Freiheit" (We Love Music/Universal)
Hip-Hop / Urban national
Alligatoah – "Musik ist keine Lösung" (Trailerpark/Groove Attack)
Cro – "MTV Unplugged" (Chimperator/Groove Attack)
Genetikk – "Achter Tag" (Selfmade Records/Universal)
K.I.Z. – "Hurra die Welt geht unter" (Vertigo/Capitol/Universal)
Kollegah – "Zuhältertape Vol. 4" (Selfmade Records/Universal)
Sido – "VI" (Urban/Universal)
Hip-Hop / Urban international
Chris Brown & Tyga – "Fan Of A Fan The Album" (RCA Int./Sony)
Dr. Dre – "Compton" (Interscope/Universal)
Kendrick Lamar – "To Pimp A Butterfly" (Interscope/Universal)
Macklemore & Ryan Lewis – "This Unruly Mess I've Made" (ADA/Global/Warner)
The Weeknd – "Beauty Behind The Madness" (Republic/Universal)
Dance national
Deichkind – "Niveau Weshalb Warum" (Sultan Günter/Universal)
Gestört aber GeiL – "Gestört aber GeiL" (Kontor/Edel)
Felix Jaehn – "Ain't Nobody (Loves Me Better)" u.a. (Island/Universal)
Paul Kalkbrenner – "7" (Columbia/Sony)
Robin Schulz – "Sugar" (WePlay/Tonspiel/Warner)
Dance international
David Guetta – "Listen" (Parlophone/Warner)
Kygo – "Stole The Show" u.a. (B1 Recordings/Sony)
Lost Frequencies – "Are You With Me" u.a. (Kontor/Edel)
Major Lazer – "Peace Is The Mission" (Because Music/Warner)
Omi – "Cheerleader (Felix Jaehn Remix)" (Sony)
Rock / Alternative national
Avantasia – "Ghostlights" (Nuclear Blast/Warner)
Frei.Wild – "Opposition" (Rookies & Kings/Soulfood)
Lindemann – "Skills In Pills" (Warner)
Saltatio Mortis – "Zirkus Zeitgeist" (Napalm/Universal)
Wirtz – "Auf die Plätze, Fertig, Los" (Wirtzmusik/Tonpool)
Rock / Alternative International
AC/DC – "Rock Or Bust" (Columbia/Sony)
Iron Maiden – "The Book Of Souls" (Parlophone/Warner)
Motörhead – "Bad Magic" (ADA/UDR/Warner)
Nightwish – "Endless Forms Most Beautiful" (Nuclear Blast/Warner)
Placebo – "MTV Unplugged" (Vertigo/Capitol/Universal)
Crossover
Bratislava Symphony Orchestra – "35 Jahre Böhse Onkelz – Symphonien & Sonaten" (Rule23/Tonpool)
Roger Cicero – "Cicero Sings Sinatra (Live in Hamburg)" (RCA Deutschland/Sony)
Helene Fischer – "Weihnachten" (Polydor/Island/Universal)
David Garrett – "Explosive" (Decca/Universal)
Gregorian – "Masters Of Chant X" (Earmusic/Edel)
National newcomer
Philipp Dittberner – "2:33" (Grönland/Rough Trade)
Gestört aber GeiL – "Gestört aber GeiL" (Kontor/Edel)
Joris – "Hoffnungslos Hoffnungsvoll" (Four Music/Sony)
LX & Maxwell – "Obststand" (Auf!Keinen!Fall!/Universal)
Namika – "Nador" (Jive Germany/Sony)
Newcomer international
James Bay – "Chaos And The Calm" (Universal)
Bilderbuch – "Schick Schock" (Maschin Records/Universal)
Louane – "Chambre 12" (Mercury/Universal)
Wanda – "Bussi" (Vertigo Berlin/Universal)
The Weeknd – "Beauty Behind The Madness" (Republic/Universal)
Hit of the Year
Adele – "Hello" (XL/Beggars/Indigo)
Felix Jaehn feat. Jasmine Thompson – "Ain't Nobody (Loves Me Better)" (Polydor/Island/Universal)
Lost Frequencies – "Are You With Me" (Kontor/Edel)
Major Lazer feat. DJ Snake & MØ – "Lean On" (Mad Decent/Warner)
Sido feat. Andreas Bourani – "Astronaut" (Urban/Universal)
Music DVD / Blu-ray nationally
Böhse Onkelz – "Nichts ist für die Ewigkeit – Live am Hockenheimring 2014" (Tonpool)
Helene Fischer – "Farbenspiel Live" (Universal)
Udo Jürgens – "Das letzte Konzert – Zürich 2014" (Sony)
Peter Maffay – "Niemals war es besser (Live)" (Sony)
Rammstein – "Rammstein in Amerika" (Universal)
producer national
Alex Christensen
Live act nationally
Helene Fischer – "Farbenspiel Live – Die Stadion-Tournee" (Semmel Concerts)
lifetime Achievement
Puhdys
Partner of the Year
aspects (ZDF)
Trading partner of the year
Spotify
social commitment
Roland Kaiser
National Act Abroad
Robin Schulz
Best Interactive Act national
Kollegah
Best Video National
Mark Forster – "Bauch und Kopf" (Four Music/Sony)
Lindemann – "Fish On" (Warner)
Udo Lindenberg – "Durch die schweren Zeiten" (Warner)
Ssio – "Nullkommaneun" (Alles oder Nix/Groove Attack)
Sido feat. Andreas Bourani – "Astronaut" (Urban/Universal)
Kritikerpreis national
DJ Koze – "DJ Kicks" (!K7/Indigo)
Isolation Berlin – "Und aus den Wolken tropft die Zeit" (Staatsakt/Universal)
Joris – "Hoffnungslos Hoffnungsvoll" (Four Music/Sony)
K.I.Z. – "Hurra die Welt geht unter" (Vertigo/Capitol/Universal)
Tocotronic – "Das rote Album" (Vertigo Berlin/Universal)
Radio Echo
Cro – "Bye Bye" (Chimperator/Groove Attack)
Joris – "Herz über Kopf" (Four Music/Sony)
Namika – "Lieblingsmensch" (Jive Germany/Sony)
Philipp Dittberner & Marv – "Wolke 4" (Grönland/Rough Trade)
Sido feat. Andreas Bourani – "Astronaut" (Urban/Universal)Music Business Worldwide