The power of Sony/ATV's sheer size in the music publishing world has become clear.
According to information passed to MBW, the number of copyrights owned or administered by Sony/ATV grew to 3.97m in March 2015, up 10.3% year-on-year.
This was made up of copyrights looked after by the EMI Music Publishing side of the business (2.03m) as well as Sony itself (1.94m).
With an average monthly net catalogue growth of over 30,000 songs, Sony/ATV's total repertoire has now almost certainly topped 4m.
Sony/ATV's nearest competitor in the market, Universal Music Publishing, controls 3.2m copyrights.
The third biggest music publisher in the world, Warner/Chappell, is understood to look after somewhere between 1m and 2m songs.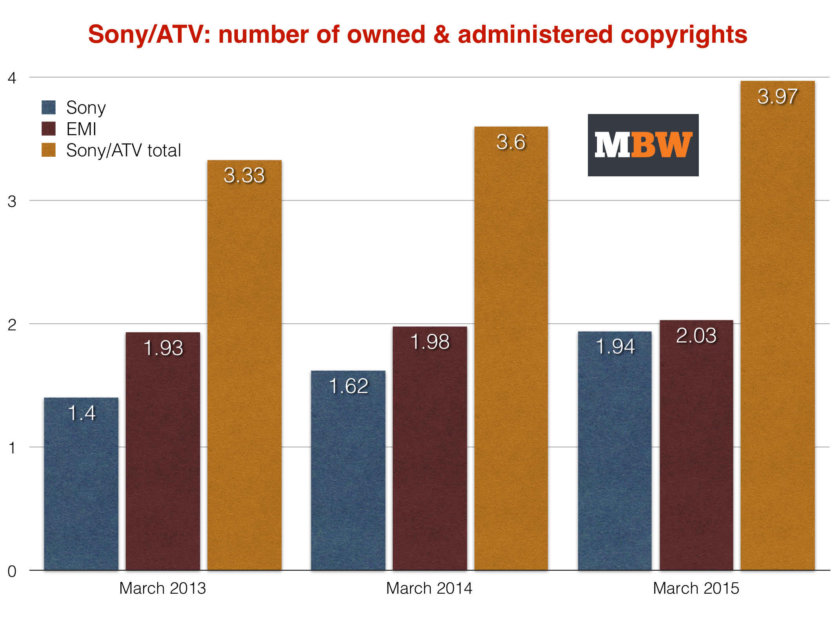 Sony/ATV is 50% owned by Sony Corporation through subsidiary Sony Music Entertainment.
In 2011, an investor group led by Sony/ATV acquired EMI Music Publishing from Citigroup, Inc. for a total sum of US $2.2 billion.
Sony Corp released its FY fiscal results to end of March 2015 last week.
Helped by the weakness of the Yen against the US Dollar, Sony Music Entertainment posted an 8.2% rise in revenues to $4.53bn.
SME's operating income was up 17.4% to $491m.
Although Sony didn't break out Sony ATV's individual full-year performance, MBW estimates that it would have turned over around $1.1bn in the 12 months.
Sony/ATV Music Publishing was established in 1995 as a joint venture between Sony and Michael Jackson.
Today, it represents the songwriting copyrights of artists such as The Beatles, Leonard Cohen, Bob Dylan, Marvin Gaye, Michael Jackson, Carole King, Kraftwerk, Joni Mitchell, Willie Nelson, Roy Orbison and Queen.Music Business Worldwide