Sony Music Entertainment isn't enjoying the same streaming-driven growth as its competitors – and it's all down to the strength of the Yen.
The Japanese major's global recorded music division has just posted revenues of 388.95bn Yen ($3.5bn) – down 5.8% year-on-year – for the full fiscal year to end of March 2017.
Within that figure, streaming revenues grew 27.6% to 140.6bn Yen ($1.3bn) – as downloads and physical sales declined.
Download revenues dropped by 31% to 59.415bn Yen ($530m), while physical sales fell 16% to 130.982bn Yen ($1.2bn).
Universal Music Group posted recorded music revenue growth of 1.8% in its last financial year (to end of December) – and Warner Music Group's labels generated 9% more cash in the 12 months to end of September (FY 2016) than they did in FY 2015.
(Sony's key problem was one of foreign exchange: MBW understands that at constant currency, the firm's recorded music revenues were up around 4%.)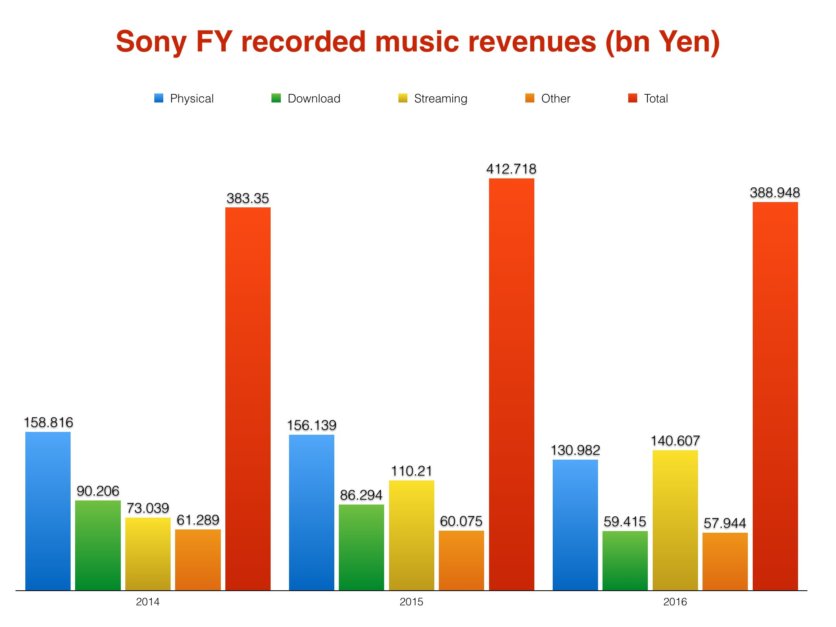 ---
Sony's overall music division recorded growth of 4.6% to 630.767bn Yen ($5.65bn) in FY2016.
However, this was propped up by increases in the company's 'Visual Media and Platform' sales – especially the strong performance of mobile gaming app Fate/Grand Order.
(It would be a stretch to categorize this as 'music' for most people.)
In fact, in addition to recorded music, Sony's music publishing revenues also declined in FY2016, down 6.6% to 66.541bn Yen ($595m).
There's no doubt that the strength of the Japanese Yen hurt Sony's performance in the year; the company confirmed that its overall Music segment revenues (across recorded music, publishing and 'visual media and platform') would have grown 11% on a constant currency basis.
You also have to take into account the record breaking sales recorded by Adele's 25 in Sony's FY2015; the major released the album in the USA and Latin America.

---
Sony Corp is now forecasting a further decline of 2.7% in sales for its music division in FY2017, down to 630bn Yen ($5.7bn) – indicating that it feels an increase in digital streaming may not be enough to battle currency issues.
Sony's music division (again, including recorded music, publishing and 'visual media and platform') posted an operating income of 75.8bn Yen ($677m) in the 12 months to end of March, down 12.4% year-on-year.
This decline was primarily down to the absence of the $151m gain that it recorded in the previous fiscal year on the remeasurement of SME's equity interest in The Orchard.
Sony's best-selling music titles in its last fiscal year included Beyonce's Lemonade, as well as various hit tracks from The Chainsmokers (pictured) and Sia's This is Acting.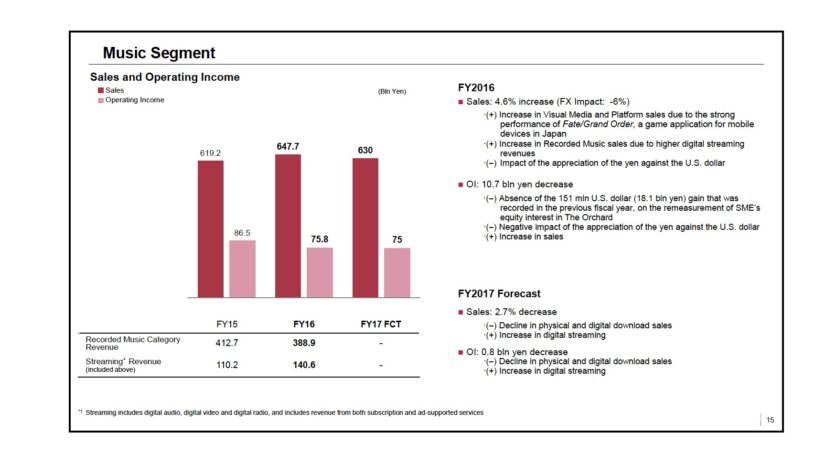 Music Business Worldwide