The amount of money that PRS For Music spent on operating costs grew by £7.8m in 2014 – despite the cash it passed to publishers and songwriters falling by a painful £16.2m.
The UK collection society's 2014 costs jumped despite total royalties collected during the year falling by £8m to £664.3m
MBW has conducted in-depth analysis of the not-for-profit organisation's expenditure – paid for with royalties collected for songwriters and publishers – over the past five years.
Now in possession of PRS For Music's full year-end financial results for 2014 (which include figures from its administration of mechanical society MCPS), we can paint a clear picture of the firm's income and outgoings.
Here's some of the highlights of what we've discovered:
The best way to judge PRS's efficiency – ie. whether its spending its reaping related rewards in collection – is to look at its cost-to-income ratio (or in this case, its operating-cost-to-royalty-income ratio). MBW finds that in 2014,  this ratio (11.47%) was higher, or less efficient, than at any time in the past five years;
The biggest drain on PRS's cash in 2014 was staff/'people costs', which grew £3.5m year-on-year from £32.2m to £35.7m;
The biggest percentage jump in spending, though, came in for 'legal and professional' fees, up to £7.7m in 2014. That's a 32.8% rise year-on-year, and a 92.5% jump on what PRS spent on the category in 2012.
The amount paid out in distributions to songwriters/publishers dropped by 2.7%. The amount collected in royalties dropped 1.2%. Operating cost spending rose 11.4%.
MBW understands that MCPS contributed £140m to the topline turnover of PRS in the year, and paid PRS around £15m to administer its rights.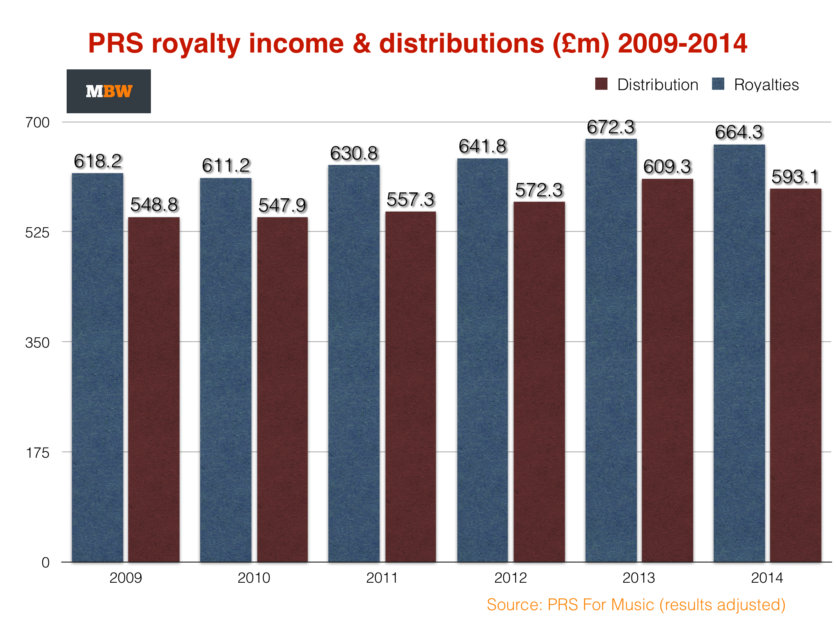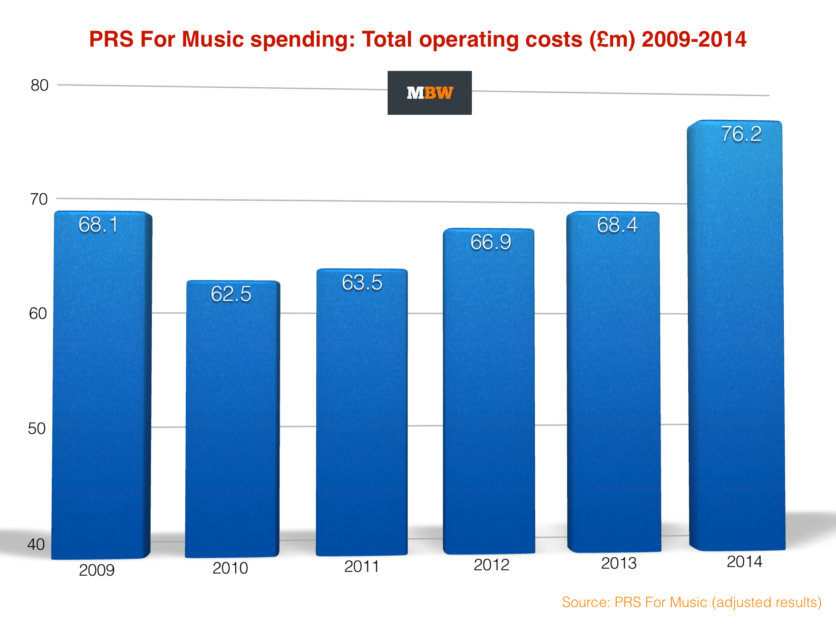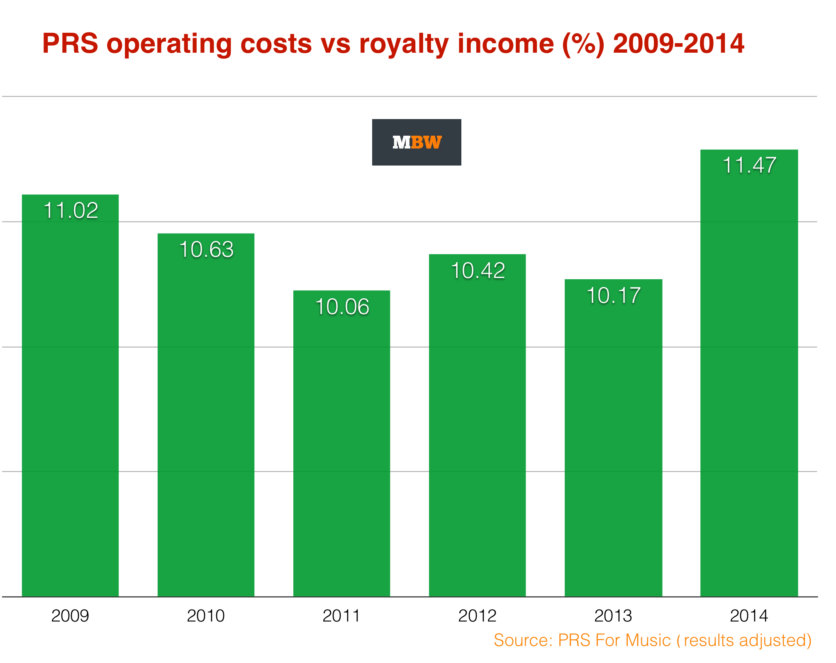 According to its 2014 review, which you can read through here, the main reason for PRS's £8m fall in royalty income in 2014 was international revenue – hit hard by unfavourable currency conversion – which fell by 6.4%, or £12.9m, to £188.2. (At constant currency, its total revenue grew 1%.)
Income to MCPS from recorded media unsurprisingly continued to fall, tumbling 21.8% to £63.1m.
But let's look deeper at why PRS For Music needed to spend more money on costs in 2014, despite a significant drop in both its income and its distributions to songwriters.
In its press release announcing its financial results earlier this year, PRS explained that the processing of complex streaming data had naturally incurred more manpower and technology costs.
Said CEO Robert Ashcroft: "Despite the potential disruption of two office moves, a major systems upgrade and a dramatic increase in the volume of music usage to process we managed to contain our costs to within budgeted levels while at the same time increasing our distribution frequency to ensure that the money reached our members more swiftly than ever before."
See below for an analysis of the CMO's key cost rises in 2014 in more detail.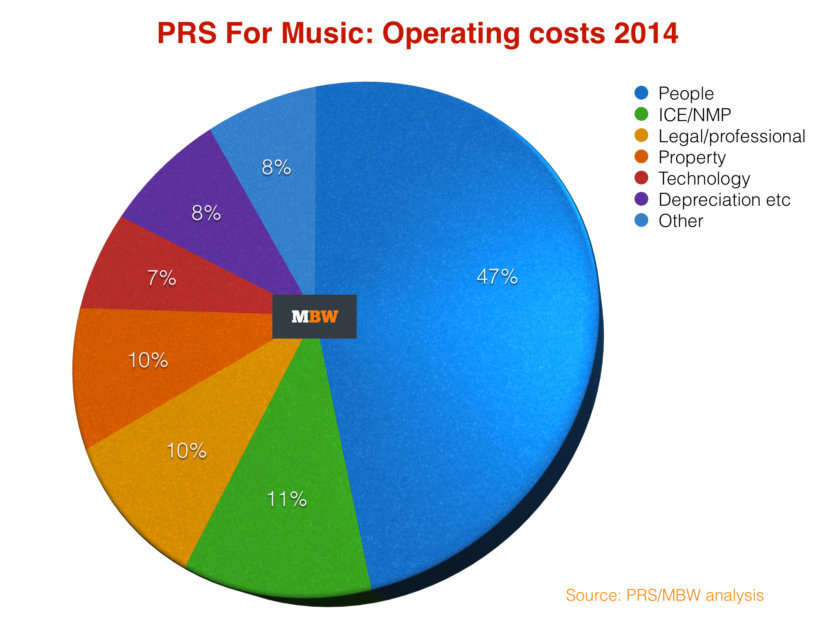 People
Staff costs were by far PRS For Music's biggest expenditure in 2014, draining £35.7m out of royalties collected.
This represented an 11.2% rise in costs on 2013 – or a £3.5m rise in monetary terms.
PRS argues that these extra staff are needed to deal with the "increasingly complex and demanding industry in which we are working and the exponential increase in transaction volumes".
Interesting to note that after two years of a reduction in spending on employees, 2014 saw costs rise.
According to MBW calculations, people accounted for 47% of PRS's spending in the year.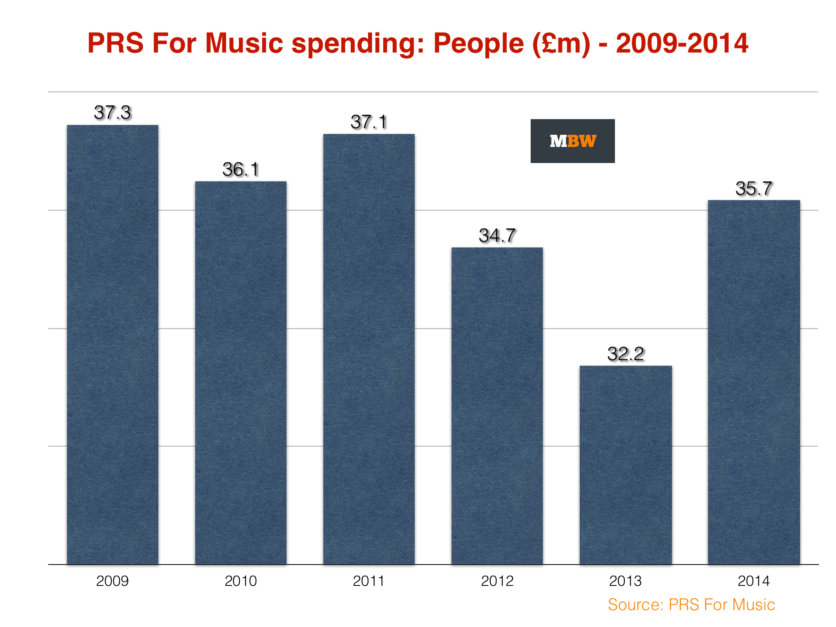 Legal and professional
Before we look at the rise and rise in 'legal and professional' fees at PRS over the past five years, an important note: the second biggest expenditure at the company in 2014 was its ICE and Network of Music Partners (NMP) enterprise, which it runs with the Nordic Copyright Bureau.
This cost of running these initiatives, which only date back the past few years, was reduced in 2014 by 8.2% to £8.3m.
As for legal (and other professional) costs, these have spiraled in the past few years at PRS.
They jumped £1.9m in 2014 alone to £7.7m, representing a £3.7m climb on the amount spent in 2013.
Some of this expenditure was likely used to lobby the European Commission regarding collective licensing: last month, PRS, GEMA and STIM were permitted by the EC to join forces in a pan-continent hub.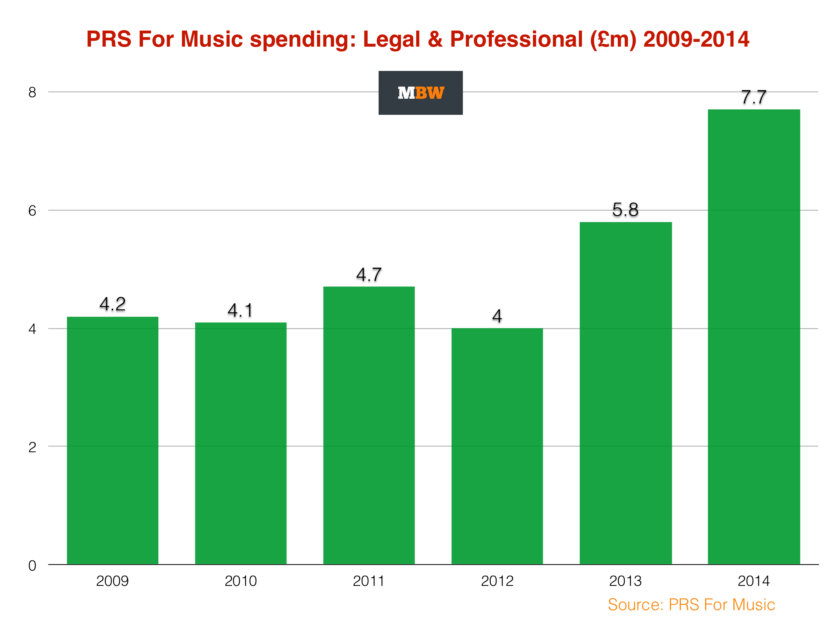 PROPERTY
In 2014, PRS made two major office changes: modernising its Streatham office in London, and opening a flash new HQ in the city's Kings Cross.
According to PRS For Music CFO Craig Nunn, speaking at the organisation's AGM in May, these offices now accommodate PRS's 200 staff members, but have reduced total office space by 40%.
"Alongside these savings in square footage, savings in energy bills, printing costs, and maintenance have allowed us to save well over £1m annually," he said.
According to PRS's 2014 financials, though, these changes certainly hit the wallet of PRS members in the year.
In fact, the cost of PRS's London property has continually risen over the past half-decade.
At £7.3m in 2014, it cost more than three times what it did just five years before.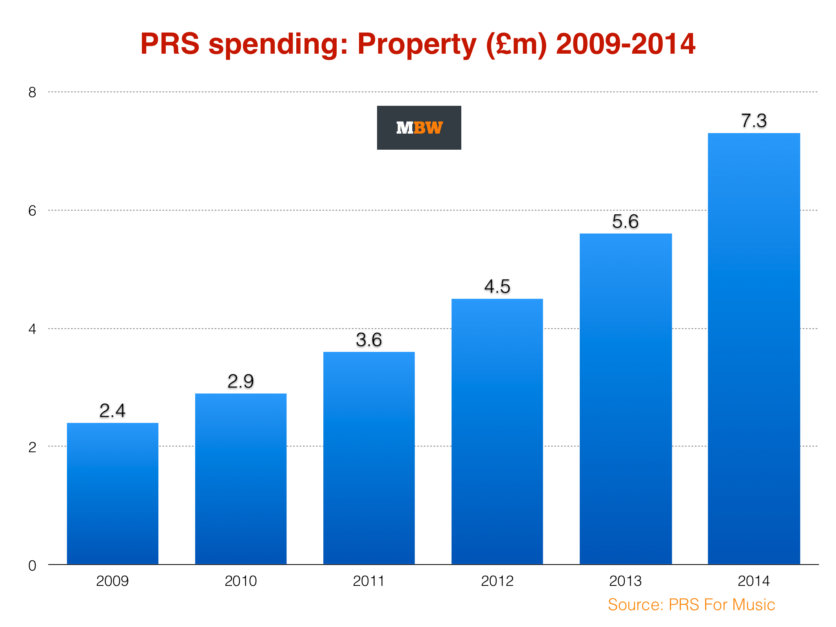 According to Craig Nunn, the sale of the leases for PRS For Music's previous HQ at Berners Street in London allowed it to invest £35m into its pension scheme.
"I can confirm that the money remains safely invested in the pension schemes, but the actuaries assessment of the amount that we need to set aside to pay pensions did increase last year," he said.
"This was something all pension schemes suffered from and was a direct result of interest rates reducing – something we have no control over."
Technology
The last real major controllable expense of PRS in 2014 was its technology, which received an overhaul to help staff deal with the huge number of music usages (and subsequent royalty lines) coming their way from streaming services.
According to Nunn: "We made the necessary investments in IT, involving the relocation of critical systems offsite, the replacement of our elderly desktop PCs and the replacement of ageing telephony systems."
As you can see below, PRS expenditure on tech actually dipped in 2013, before hitting an all-time high of £5.1m in 2014.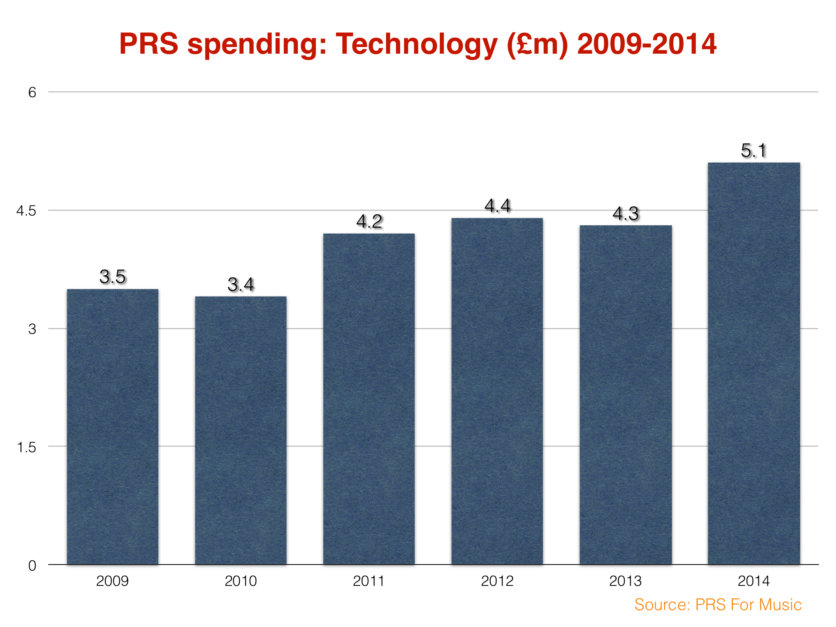 NB: PRS For Music tends to report adjusted (increased) income/cost numbers for prior years which differ from the figures reported at the time. Where possible, MBW has relied on these adjusted figures.Music Business Worldwide