UK collection society PRS For Music celebrated a record year in 2016, with net payouts to its songwriter members rising above £500m for the first time in history.
The organization's distributions to members rose 11.1% at constant currency in the year, climbing to £527.6m.
However, its topline costs grew at a faster percentage rate, widening 14.2% year-on-year to top £77m.
Overall revenues collected in the 12 months grew 15.6% to £621.5m.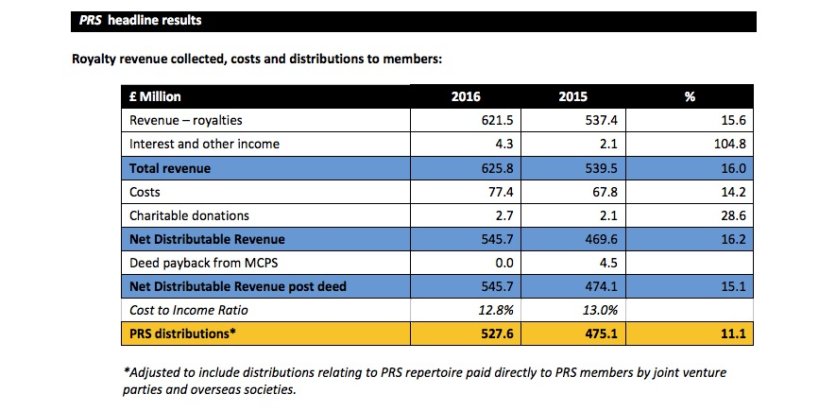 ---
According to specific figures related to its expenditure (see below), PRS spent £91.3m in 2016 outside of donations and rent subsidies.
With its MCPS service fee discounted, the society's net cost stood at £80.1m – a 14.6% jump on the £69.9m it burned through in 2015.
PRS blamed these growing costs on, amongst other things, the weakening of the UK sterling against major currencies in the year.
It said that its commission cost, directly linked to the significant increase in online revenue and distributions, accounted for over 50% of the 2016 cost increase (£5.1m).
PRS's investments in the year including the improvement of its digital services and the creation of a JV  for public performance licensing with PPL, as PRS commits to improve its offering to both members and customers.
Its donations to the PRS For Music Foundation increased to £2.5m in the year.

---
Of the music licensing company's four main revenue streams, international income generated from members' music played abroad saw significant growth, with £233.7m received from equivalent societies overseas.
This represented an increase of 5% (£11.2m) year-on-year.
Revenue from music played via online platforms saw the largest uplift at 89.9% (£38.1m) to £80.5m, while public performance income grew 4.6% to £183.2m and broadcast revenues dipped very slightly by 0.1%.
In 2016, over 4.3 trillion uses of music were reported to the organisation from across the globe. This figure was only 126 billion in 2012.
Robert Ashcroft, CEO, PRS for Music, said: "2016 was another landmark year as we achieved record revenues and delivered, for the first time, member distributions in excess of half a billion pounds. We paid out more money, to more members, across more works and against significantly increased data volumes, than ever before. This has been made possible through our long term strategy of investing in technology, data, joint ventures and other strategic partnerships.
"Despite the growth in revenues, there remain some very real challenges in the online market and we welcome the European Commission's proposed clarification of copyright law to ensure the value of creators' work is better protected online. These are critical to the development of a healthy and sustainable online market for music. We hope the European Parliament and Council, including own our government, support its recommendations."
Look out for an interview with Robert Ashcroft – and more number-crunching of PRS's results – on MBW later this week.

Music Business Worldwide