Concert giant Live Nation Entertainment has published its Q3 results for the three months ended September 30.
Within the filing, the company reports quarterly revenues of $2.69 billion across all divisions, including concerts, ticketing and advertising & sponsorship, with Live Nation President and CEO Michael Rapino telling investors in a letter this week that "live music roared back over the past quarter."
That $2.69 billion revenue figure has eclipsed the $184 million posted in the same quarter last year, when concerts were largely on hold in most global markets due to Covid restrictions, but still comes in at over $1 billion less than the $3.77 billion Live Nation generated in Q3 2019.
Rapino noted in his letter to shareholders that summer concerts season "rebounded quickly" in 2021, with 17 million fans attending Live Nation shows across Q3, "as the return to live reflected tremendous pent-up demand".
A closer look at Live Nation results shows that revenues generated by concerts alone topped $2.1 billion in Q3, compared to $154.8 million in the same quarter in 2020.
According to Michael Rapino, "festivals were a large part of our return to live this summer, with many of our festivals selling out in record time and overall ticket sales for major festivals were up 10% versus 2019".
He added: "And we have had a number of tours already sell over 500 thousand tickets for shows this year, including sell-out tours by Harry Styles, Chris Stapleton and others."
Live Nation's ticketing business saw revenues of $374.2 million in Q3 2021, compared to negative $19.8 million in the prior year quarter (Q3 2021),  which indicated that the company paid out more in refunds than it generated in sales in Q3 2020 (see below).
Across Live Nation's Sponsorship & Advertising division, the firm generated revenues of $174.4 million in Q3 2021, an increase of $126.5 million (72.5%) compared to the prior year quarter (Q3 2020).
---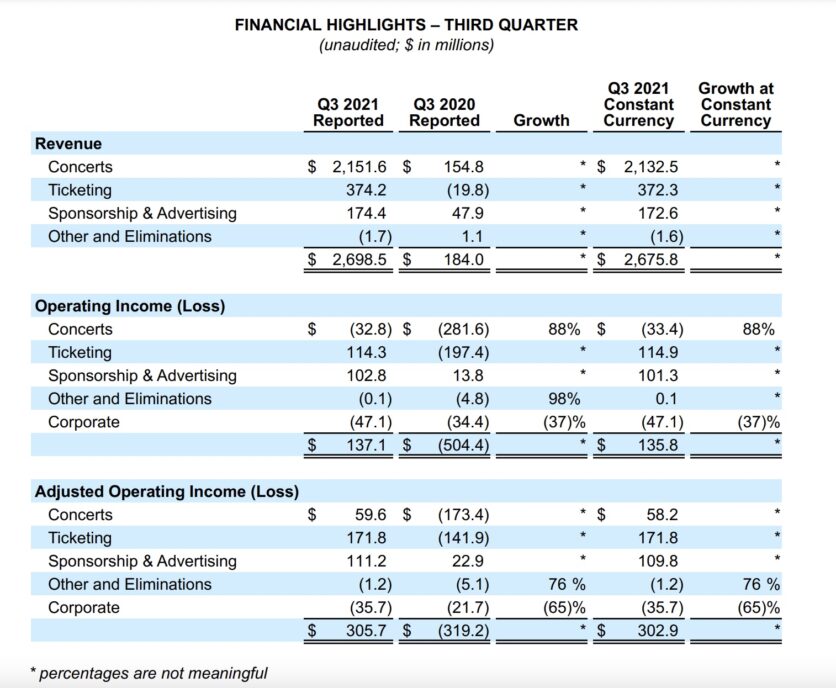 ---
Looking to 2022, according to Rapino, Live Nation's confirmed show count across amphitheaters, arenas and stadiums is (through October) already up "double-digits relative to the same time in 2019 for 2020 shows".
Through mid-October, the company had already sold 22 million tickets for shows next year.
"Demand has been stronger than ever for many of these on-sales with one million tickets sold for each Coldplay and Red Hot Chili Peppers tours, and several other tours already selling over 500,000 tickets," writes Rapino.
He added: "Ticketmaster's on-sales for 2022 reinforce this demand, as we expect the 2021 fourth quarter transacted fee-bearing GTV to be at a record level, even after already selling 65 million fee-bearing tickets for events next year.
"Ticketmaster has also added clients representing 14 million net new fee-bearing tickets so far this year, further accelerating its growth on a global basis."
---
At the the end of Q3 (as of September 30), live Nation had total cash and cash equivalents of $4.6 billion, which includes $1.3 billion in ticketing client cash and $1.7 billion in free cash.
This free cash, along with $571 million of available debt capacity, gives the company $2.3 billion of available liquidity.
Live Nation says that it "believes this level of liquidity will provide it with the runway it needs as more shows return".
Live Nation's overall revenues in the first nine months of 2021 came in at $3.5 billion, an increase of $1.9 billion (54.2%) compared to the first nine months of 2020, when the company generated revenues of $1.6 billion (see below).
---

---
"No industry was more impacted by the pandemic over the last two years, and no industry has so proven its durability of demand in the face of such disruption."

Michael Rapino, Live Nation
In closing his letter issued to investors this week, Rapino noted: "As we get close to turning the page on 2021, I remain more convinced than ever on the power and potential of live entertainment, and the strength of our position.
"No industry was more impacted by the pandemic over the last two years, and no industry has so proven its durability of demand in the face of such disruption.
"I fully expect we will continue to have bumps in the road in the coming months, and it will take some time for international artists to be touring on a truly global basis, but the fundamental strength of live entertainment and Live Nation has proven out, and I expect we will only continue to grow from here."Music Business Worldwide