BMG rode out the pandemic-hit year of 2020 with a slight rise in revenues and another healthy annual profit margin.
According to new figures released by the music company's German parent, Bertelsmann, BMG revenues hit €602 million (approx USD $680 million) across the course of last year.
That figure was up 1.9% in terms of organic growth (adjusted by exchange rate, portfolio and other effects) on the €600m revenue figure that BMG posted for the calendar year of 2019.
BMG's operating EBITDA weighed in at €137m (approx $155m) in 2020, flat on the prior year's EBITDA of €138m.
This resulted in a 2020 EBITDA margin of 22.7%, versus 23.0% in 2019.
Bertelsmann said in a note to investors in its annual report, released today: "Thanks to [BMG's] focus on digital business and strong growth in music streaming, BMG was able to offset declines due to the effective shutdown of record stores worldwide."
According to that annual report, BMG spent €58m (approx $66m) in 2020 acquiring catalogs, with €15m of this money relating to various catalogs in the United Kingdom, €34m to various catalogs in the United States, and €6m to various catalogs in Germany.
Some 49.9% of BMG's revenues in 2020 were generated in the United States, with 13.7% in the UK, 8.3% in France, and 7.5% in Germany.
---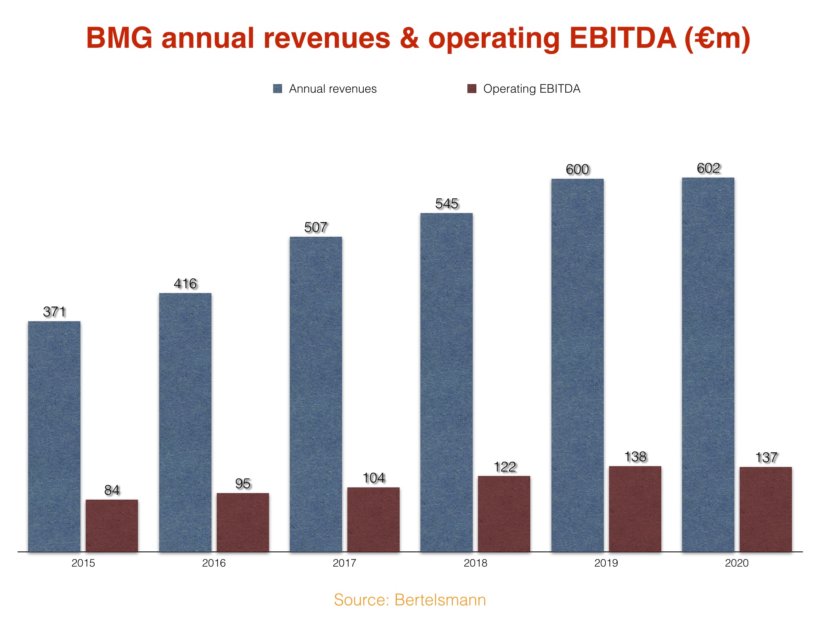 ---
BMG's strategic moves in 2020 included an expansion into live entertainment by acquiring a majority stake in Undercover, an independent German concert promoter.
In May 2020, BMG launched a neighboring rights service, whose clients include The Rolling Stones and Roger Daltrey.
Other strategic highlights from the past 12 months have included BMG acquiring Cheyenne Records, home to the catalog of German girl band No Angels, and the acquisition of Mick Fleetwood's go-forward royalties in Fleetwood Mac's recording catalog.
Amid the international discourse on racism and social justice, in June last year BMG launched an investigation into whether it had acquired music catalogs whose contract terms discriminate against Black artists.
Initial findings and an action plan were presented at the end of the year.
---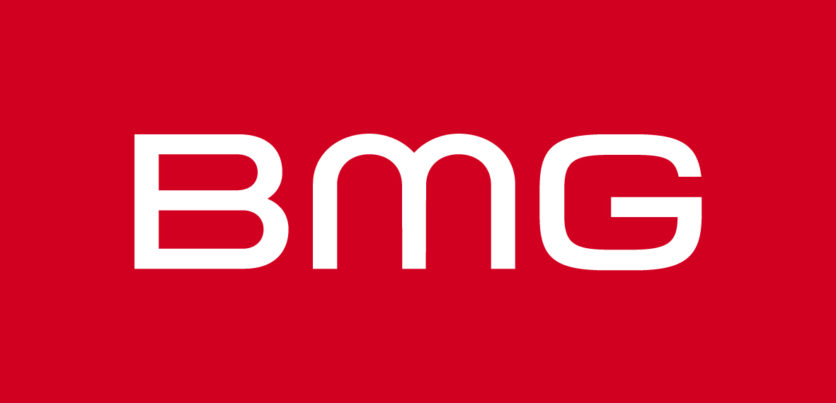 BMG's standout releases for the recorded music side of its business in 2020 included new projects by Conkarah, Curtis Waters, Kontra K, KSI, Kylie Minogue and Run The Jewels.
Conkarah's hit single Banana scored more than one billion streams worldwide by the end of the year, while Kylie Minogue's Disco was her third No.1 album in the United Kingdom with BMG
New recording contracts were signed with, amongst others, production duo Jimmy Jam & Terry Lewis, Pat Metheny, Julia Stone, Aloe Blacc, Sepultura and Erika Ender.
BMG's publishing business saw strong performances from the likes of singer-songwriter Lewis Capaldi, AC/DC with their international number-one album Power Up, and The Rolling Stones, who presented their first new single in eight years with Living in a Ghost Town.
In April 2020, Xiao Zhan's hit Made to Love, written by BMG songwriters, became the fastest-selling digital track in Chinese music history, generating 25.5 million downloads within 24 hours.
Diane Warren and Neil Finn, among others, signed new publishing agreements with BMG in 2020, while Mick Jagger and Keith  Richards renewed and extended their existing contracts.
---
BMG runs 20 international offices in 12  core music markets, representing more than 3 million songs and recordings, said the report.
At the close of 2020, it had 974 employees worldwide.Music Business Worldwide