The Australian recorded music business generated revenues of $382.7 million in 2011, according to ARIA figures – representing a drop of 27.5% on the $528.2 million (AUS) generated in 2005.
In 2010, the industry pulled in $384 million, according to ARIA via the IFPI's Digital Music Report (see graph).
Digital sales made up 36.7% of the industry's value in 2011, compared to 27.2% in 2010, mirroring the increasing trend of digital music consumption internationally. Digital track sales increased by 39.2% and digital albums were up 45.9% on 2010.
Further growth in the digital market is expected in 2012, with a number of new music subscription services likely to enter the Australian streaming market, including Spotify, Deezer and Rdio, joining existing services from JB HiFi and Samsung.
Figures recently released by the IFPI, show that one in four Australian internet users access unauthorised services on a monthly basis, costing the recorded music industry potential sales and revenues.
In 2011 physical music sales were down 13.8% on 2010, although still accounted for $242 million dollars worth of revenue. There was the 20.5% increase on 2010 in the quantity of units sold. Someone Like You by Adele (pictured) was one of the year's biggest selling songs, having spent seven consecutive weeks at the top of the ARIA singles chart.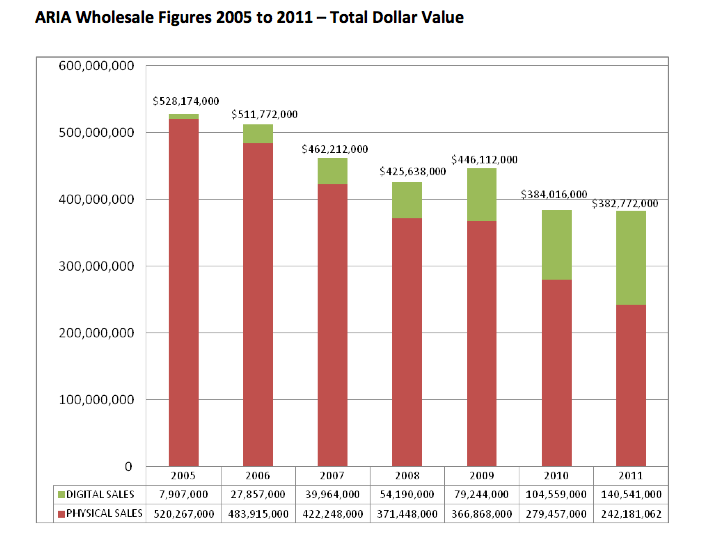 Dan Rosen, ARIA CEO, said today, "2011 was an extremely positive year for our industry and we enter 2012 with a great deal of momentum on all fronts.There were a whole range of fantastic releases by artists both here and abroad and the array of options by which music fans could listen to, consume and purchase music grew exponentially."
"While as an industry we are doing all we can to embrace the digital media landscape by offering music fans more options than ever before to get their music legally online, we require urgent assistance in the fight against the negative impact of illegal online piracy. We will continue our fight to protect the rights of artists and labels, ensuring money flows back for their creative work and to the grassroots of the music industry. We will work in good faith with the Government and ISPs for practical progress in the coming year."
Denis Handlin AM, ARIA Chairman & CEO of Sony Music Entertainment Australia & New Zealand and President
Asia said, "Australian music fans continue to be some of the most passionate and knowledgeable in the world and demand for music has never been greater, which is reflected in today's figures.
"Overall 2011 was a very positive year for our industry, with growth in a number of areas, a host of exciting new releases and a wonderful anniversary celebration at our 25th ARIA Awards."Music Business Worldwide