Warner Chappell Music is a major music publishing company owned by Warner Music Group.
According to the Warner Music Group FY 2020 annual report: "Warner Chappell Music, our global music publishing business, boasts an extraordinary catalog that includes timeless standards and contemporary hits, representing works by over 80,000 songwriters and composers, with a global collection of more than one million musical compositions."
Those composers include the likes of Twenty One Pilots, Green Day, Katy Perry, Lizzo, George Michael, Chris Stapleton, Dan + Shay, Tayla Parx and Stormzy, as well as songwriting icons such as Dr. Dre, Stephen Sondheim, George & Ira Gershwin and Gamble & Huff.
---
Warner Chappell Music's origins and ownership
The world's third biggest music publishing company by revenue, Warner Chappell Music's origins began in 1811, when the UK publishing company Chappell & Co was founded.
Over the next two centuries, Chappell & Co became one of the world's largest music publishing companies.
Warner Chappell Music (then Warner/Chappell Music) was officially formed in 1987 when Warner Music Group acquired Chappell & Co from PolyGram in a $275 million deal.
In 1990, Warner Chappell Music, as part of Warner Music Group, became a subsidiary of Time Warner. Warner Music Group was then sold to a group of investors led by Edgar Bronfman Jr. for $2.6bn in February 2004.
Access Industries acquired Warner Music Group, inclusive of Warner Chappell, in May 2011 for $3.3 billion.
---
Warner Chappell Music financials
According to Warner Music Group's annual fiscal report, Warner Chappell Music generated $657 million in the 12 months to end of September 2020.
That figure was up 2% year-on-year.
---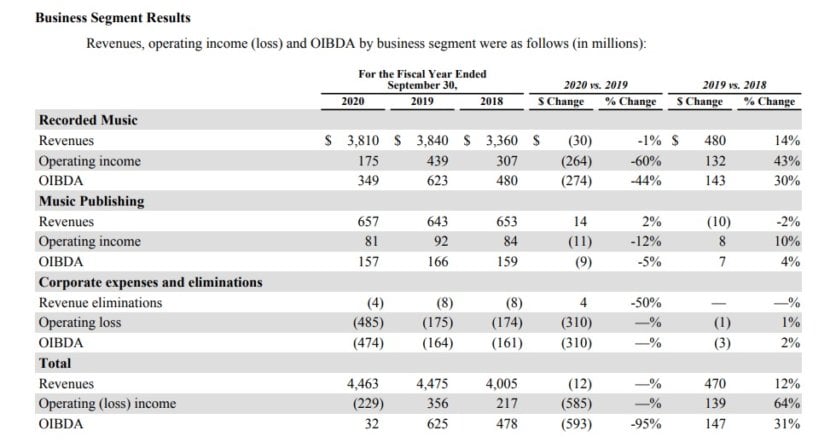 ---
Warner Chappell Music: Change of branding and leadership
In April 2019, it was officially announced that Guy Moot would be taking over leadership of Warner Chappell as CEO and co-Chairman.
He joined Carianne Marshall, Warner Chappell's Co-Chair & Chief Operating Officer since January 2019.
Moot and Marshall jointly succeeded ex-Warner/Chappell boss Jon Platt, who left the publisher to become CEO and Chairman of Sony/ATV.
In May 2019, Warner officially announced that Warner/Chappell was rebranding to Warner Chappell Music, with a new logo and brand identity.Music Business Worldwide