You can listen to the latest MBW podcast above, or on Apple Podcasts, Google Podcasts, Spotify, Stitcher, iHeart etc. via this link.
---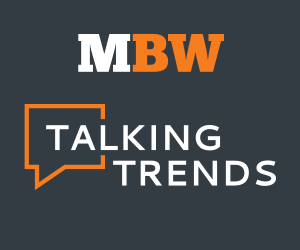 Welcome to the latest episode of Talking Trends, the weekly podcast from Music Business Worldwide – where we go deep behind the headlines of two major news stories affecting the entertainment industry. Talking Trends, which you can listen to above, is supported by Voly Music.
This week, host Louise Porter asks MBW founder Tim Ingham about the news that Warner Music Group is raising $535 million in order to part-fund three new potential acquisitions.
Ingham suggests that one acquisition that makes perfect sense for Warner is David Bowie's songwriting catalog, which is reportedly on the block for around $200 million.
He points out that Warner's Max Lousada has already announced an important deal with the Bowie estate this year – with Warner licensing Bowie's entire post-1968 recordings catalog from 2023 onwards.
This may have "opened an ongoing line of negotiation" between WMG and the Bowie estate, suggests Ingham.
Says Ingham: "If Warner is going to be in complete control of Bowie's hit recordings catalog from 2023 onwards, then it's an obvious complement to also be in control of – or indeed own – the publishing rights to his songs.
"Imagine a SuperBowl or a Grammy special, for example, celebrating all of Bowie's hit music – maybe around an anniversary of a particular release – with Warner earning both on the recorded side and on the publishing side, not only from the usage of music at the event, but also on the subsequent uplift in Bowie's catalog."
---
The second story discussed on Talking Trends this week is the news that Universal Music Group is teaming with Authentic Brands Group to acquire 'name and likeness' rights from artists.
Ingham suggests that this move may have a fair amount to do with Universal's internal audio-visual company, PolyGram, and the artist films it hopes to make in the future.
He says: "Universal starting to have more exclusive control of name and likeness rights of legendary artists will not only help propel [UMG's] audio-visual business forward, but I'm guessing it will also help Universal and PolyGram obtain exclusivity to making artist biopics, scaring off others in Hollywood from from trying to do the same films."
---
MBW's podcasts are supported by Voly Music. Voly's platform enables music industry professionals from all sectors to manage a tour's budgets, forecasts, track expenses, approve invoices and make payments 24/7, 365 days a year. For more information and to sign up to a free trial of the platform, visit VolyMusic.com.
---
Companies mentioned in this week's episode of Talking Trends include: 300 Entertainment, Alphabet, Andreessen Horowitz, Apple, Sony Music Group, UnitedMasters, Universal Music Group, Warner Music Group.
People mentioned in this week's episode of Talking Trends include: David Bowie, Lyor Cohen, Sir Lucian Grainge, Kevin Liles, Max Lousada, Steve Stoute.