MBW's Stat Of The Week is a series in which we highlight a single data point that deserves the attention of the global music industry. Stat Of the Week is supported by Cinq Music Group, a technology-driven record label, distribution, and rights management company.
---
"As the world's creator platform, we will provide the infrastructure and resources that will enable more than 50 million artists and creators to grow and manage their own businesses, to monetize their work and effectively promote it."
This is Daniel Ek's long-term vision for Spotify.
The entrepreneur and CEO said at his firm's Investor Day last summer that he wants the "Spotify Machine" to eventually host the work of over 50 million "creators" (and over 1 billion active users) over the course of the next decade.
It's a lofty ambition.
At the end of 2021, according to Ek, Spotify played host to recordings from just 11 million "creators" – a number that was up by 3 million year-on-year. That's a long way off 50 million.
There is, though, at least one music-driven platform launched in the past decade that has already surpassed the 50-million-creator mark Ek's been dreaming of…. and beyond.
BandLab is a music creation platform that offers a suite of tools for creators to "make music, share their music with fans, earn a living, and even top the charts".
This week, the Singapore-headquartered firm confirmed to MBW that it now boasts over 60 million registered creators on its service, up from the 50 million milestone that it surpassed in June last year.
That means BandLab has added around 10 million creators to its platform in little over six months – having already added 20 million in the 15 months between March 2021 and June 2022.
And that's just a taster of the knock-out stats now emerging out of BandLab.
---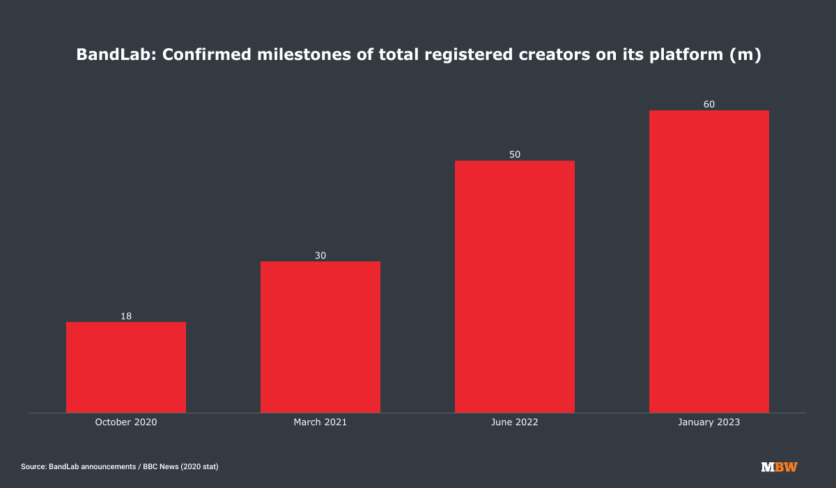 ---
The company's CEO and founder, Meng Ru Kuok, recently revealed in a Billboard interview that BandLab users are now responsible for creating approximately 16-17 million songs on the platform each month.
That's up on around 10 million tracks per month that were being made on BandLab in March 2021.
We know life's busy, the world's non-stop, the music industry's drowning in 'millions' and 'billions' these days, and you mightn't even have read this far down in this article.
But, sorry, we're going to have to take a breather and walk you through those numbers again – because they're jaw-dropping.
Seventeen million

new songs now being created on BandLab every month;
That's around 200 million new songs a year;
Which is in itself around double the colossal number of total tracks currently available on streaming services like Spotify, Apple Music, and Amazon Music (i.e. 100 million).
Here's another way to slice these astonishing numbers: 17 million songs per month represents, on average, around 567,000 songs being created on BandLab per day.
And to think the major record companies keep getting agitated about a mere 100,000 songs being uploaded to streaming services every 24 hours.
---
BandLab's Music-making tools
Obviously, not all of the 60 million-plus music creators on BandLab will have professional aspirations or  – evidently – are even bothered about distributing their tracks to leading music streaming platforms. Some of them will just be messing around.
BandLab, which was founded in 2015, talks up its capabilities as a "social music creation" platform, positioning itself somewhere between a serious music-making service / DAW (a la Logic Pro or Native Instruments) and a fun social network.
The whole idea is that anyone – whether a musical maestro or a musical know-nothing – can create a track on BandLab, and have fun doing it.
(Tellingly, Meng Ru Kuok suggests that musical "creators" in the modern age don't have to beaver away on a seven-minute sonnet: instead, inspired by platforms like TikTok, he thinks that hit songs may soon become "10 to 30 seconds" long – an idea he says he finds both "scary and meaningful".)
"For a free piece of software, BandLab's 'Studio' is surprisingly sophisticated, offering features like guitar amp simulations, time-stretching, automated pitch correction, guitar/bass/vocal effects, and over 200 virtual instruments."
None of which is to suggest there aren't some impressive creative features available for 'serious' music-heads via BandLab.
First up, those 60 million creators have access to BandLab's free 'Studio' platform – an online DAW that enables recording, mixing and collaboration.
For a free piece of software, BandLab's 'Studio' is surprisingly sophisticated, offering features like guitar amp simulations, time-stretching, automated pitch correction, guitar/bass/vocal effects, and over 200 virtual instruments (as well as the obvious live recording capability).
BandLab Studio's closest natural rival might be Apple's GarageBand: BandLab claimed in 2021 that it had caught up with GarageBand in terms of total global mobile downloads.
Aside from 'Studio', BandLab also has a 'Sounds' offering (which provides users with additional access to royalty-free sound-packs, loops, and beats), plus digital mastering features.
And, in a very 2023 kinda twist, BandLab houses 'Songstarter' – a generative AI tool that helps creators by cranking out royalty-free song ideas.
---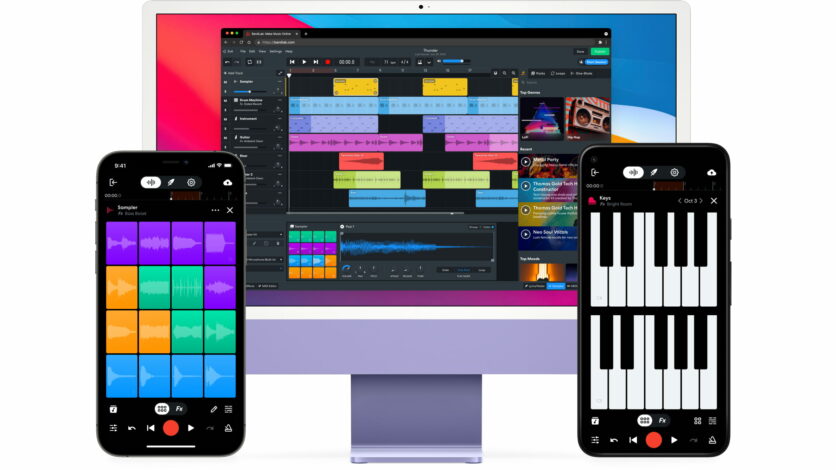 ---
Beyond this, BandLab offers creators a variety of different ways to earn, and to spend, money.
For example: musicians can use BandLab (via Zire... which BandLab owns) to create and launch ad campaigns across social sites like Instagram, Facebook, and key online music media.
Via a feature called 'BandLab Boost', creators can also promote their music via ads on the BandLab platform itself.
In addition, BandLab has distribution through ReverbNation, for a fee, and will soon offer users the ability to distribute directly through the app.
Elsewhere, BandLab users can submit their music to on-platform contests that offer cash prizes, plus they can discover opportunities (via ReverbNation... which BandLab owns) to join festival line-ups and have their music featured in movies, video games, ads etc..
And users can sell their music directly to other creators on the BandLab platform, BandCamp-style, via Stripe and PayPal integrations.
---
Having hits
BandLab's work with independent artists is already spawning industry-morphing results.
Last summer, teenage Houston artist d4vd used his phone and recorded a track called Romantic Homicide – in his sister's closet. He used a vocal signal chain recorded via a stock BandLab fx preset. He also used BandLab's free algorithmic/automated mastering service – BandLab Mastering – to finish the track.
It gained traction on TikTok, where, according to MBW's analysis of ChartMetric data, clips from Romantic Homicide have now been played over 807 million times.
To date, the same track's been streamed more than 380 million times on Spotify, and over 30 million times on YouTube.
---
---
At some point between making that track on his sister's phone, and racking up nearly a billion TikTok plays, d4vd (real name: David Burke) signed to major label powerhouse Interscope/Darkroom, home of Billie Eilish.
Another teenage artist whose BandLab-made tracks have blown up is Cl4pers, who currently counts over 1.2 million monthly listeners on Spotify.
Cl4pers' biggest track on YouTube, Without Me!, recently surpassed 9 million plays. There's been over a billion views of the hashtag #Cl4pers on TikTok to date.
---
---
Where BandLab's going next…
To understand the potential of BandLab in the future, it's helpful to appreciate the corporate structure it sits within.
Since December 2021, BandLab's parent has been known as Caldecott Music Group (CMG). CMG also owns properties including Vista Musical Instruments and NME Networks, which counts publications such as NME, Uncut and Guitar.com amongst its roster of media brands.
(Offering BandLab creators more opportunities to advertise – and maybe even be featured – on/in these CMG-owned publications is an obvious possible route for experimentation for the music platform in the months ahead.)
In addition, CMG is the owner of a fully-fledged professional digital audio workstation (DAW), Cakewalk.
It's not hard to see how CMG might hope to transition successful producers on BandLab towards Cakewalk as their career, and their skillset, progresses.
---
The other important thing to know about BandLab's future potential is its spending power.
In late 2021, the company raised USD $65 million in investment, valuing its company at over $300 million.
The round attracted some very serious financial backers, including an arm of Netherlands-listed Prosus, which is majority-owned by Naspers… the largest shareholder of Tencent.
The round's other investors included Vulcan Capital (the multi-billion-dollar investment arm of Microsoft co-founder Paul Allen) plus K3 Ventures, a venture capital firm that's previously invested in AirBnB and was an early backer of TikTok/ByteDance.
---
BandLab's mission in the years ahead is the dramatic democratization of music-making – whether that's for someone having a laugh cooking up a 30-second track for TikTok, or a future Triple-A producer delving into their creative 'flow state'.
As Meng Ru Kuok put it last year: "We don't believe that people's creativity or their ability to make music or to express themselves should be limited by their spending power or their knowledge of how to write a song."
He added that, as of November 2022, BandLab was a "small platform getting started" with a global staff of just 140 people.
Judging by its immense popularity with creators to date, we can surely expect that headcount – as well as BandLab's already sizeable presence in the music industry – to rapidly multiply in the years ahead.
---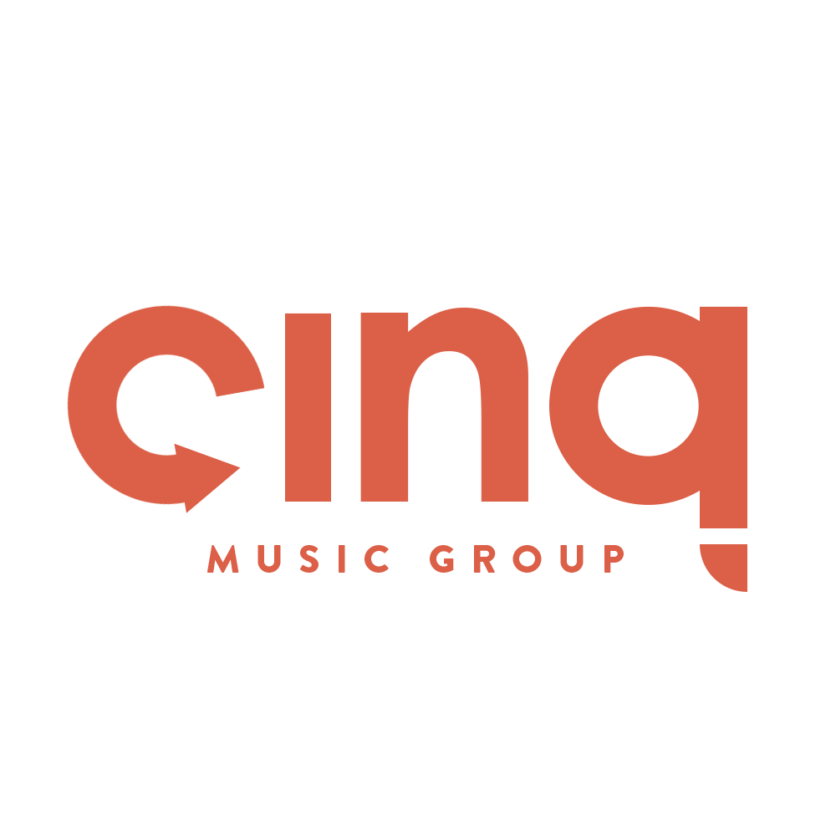 Cinq Music Group's repertoire has won Grammy awards, dozens of Gold and Platinum RIAA certifications, and numerous No.1 chart positions on a variety of Billboard charts. Its repertoire includes heavyweights such as Bad Bunny, Janet Jackson, Daddy Yankee, T.I., Sean Kingston, Anuel, and hundreds more.Music Business Worldwide