MBW's Stat Of The Week is a series in which we highlight a single data point that deserves the attention of the global music industry. Stat Of the Week is supported by Cinq Music Group, a technology-driven record label, distribution, and rights management company.
---
YouTube says it still has its sights on overtaking Spotify as the music rights industry's biggest partner by 2025 – although right now the two firms appear to be just about keeping pace with one another.
Today (September 13), YouTube's Global Head of Music, Lyor Cohen, has announced that YouTube paid music rightsholders over USD $6 billion in the 12 months to end of June 2022.
That figure is significant for a number of reasons, not least that it's a $2 billion increase from the $4 billion contribution to music rightsholders that YouTube said it paid out in the prior-year period (the 12 months to end of June 2021).
It's also double the size of the money that YouTube said it paid to the music industry in the calendar year of 2019 ($3 billion).
---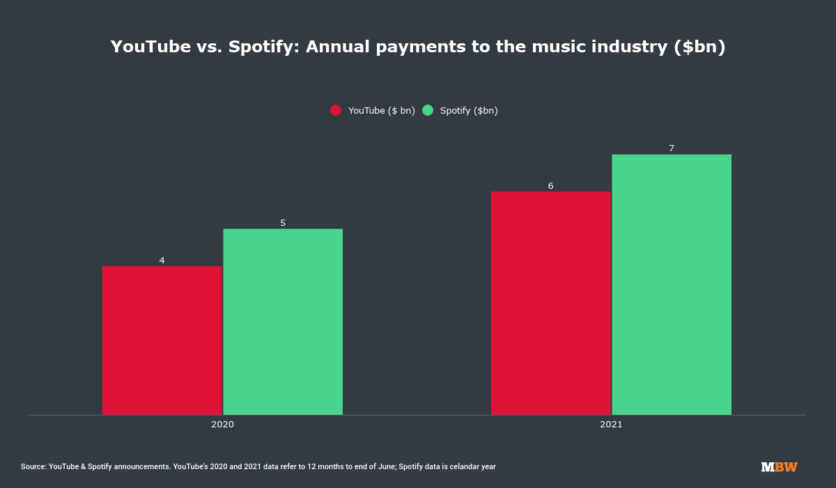 ---
Things get really interesting, however, when you compare YouTube's numbers to what we know of Spotify's equivalent payouts.
Spotify updated its Loud and Clear site earlier this year to confirm that it paid out more than $7 billion to music rightsholders in 2021, up from $5 billion in 2020.
Like YouTube, then, Spotify grew annual payouts to the music industry by approximately $2 billion year-on-year (although YouTube's growth was for the 12 months to end of June 2022; Spotify's growth was calendar year).
---
How is YouTube keeping up the pace of its own growth?
Because of one of Lyor Cohen's favorite phrases: The "twin engine" via which YouTube generates money for music rightsholders – namely YouTube's ads business, plus YouTube Music / YouTube Premium subscriptions.
Cohen also confirmed today that some 30% of the USD $6 billion-plus that YouTube delivered to music rightsholders in the year to end of June came specifically from UGC (user-generated content).
Or to put it in simpler terms: YouTube is now paying music rightsholders somewhere close to $2 billion annually in ad revenue generated from UGC.
That's food for thought for music labels and publishers when they compare it to the money they're receiving from TikTok and Facebook/Meta, amongst other 'emerging' social platforms.
---
In a blog announcing the $6 billion milestone posted today, Lyor Cohen said: "We want our twin engine of ads and subscriptions to be the #1 contributor of revenue to the industry by 2025. That's why YouTube is monetizing all music formats (short & long form video, audio tracks, Live, etc.), on all platforms (desktop, tablet, mobile, and TV), in over 100 countries. And overall watch time of music content on YouTube across desktop, tablet, mobile, and TV continues to grow year over year.
Cohen further noted that short-form video platform YouTube Shorts is now generating 30 billion views per day with 1.5 billion of its own monthly logged-in users.
He promised that in addition to a $100 million Shorts Fund for creators, YouTube is "creating long-term monetization solutions for Shorts, and we'll have more to share on this soon".
---
Commenting on YouTube's $6 billion payout milestone, Michael Nash, Executive Vice President of Digital Strategy at Universal Music Group, said: "YouTube continues to be a powerhouse of music discovery, offering a full-featured journey across content formats for our artists' fans.
"UMG is proud of the partnership we've built together that has led to an exponential increase in payouts to recording artists, songwriters, labels and the entire music ecosystem."
Mike O'Neill, President & CEO, BMI, added: "We applaud YouTube's amplified focus on music, which has increased royalties for the creators of that music. BMI and YouTube have long collaborated in numerous ways to help BMI creators utilize YouTube's platform to promote their craft and maximize their exposure.
"YouTube contributed to BMI's record-breaking revenue and royalty distributions this past year, and we're excited to continue to strengthen our partnership to benefit our music creators and copyright owners."
And Annabella Coldrick, Chief Executive, Music Managers Forum, said: "This significant uplift in payments from YouTube through to the wider music industry is very positive news for artists and songwriters in a time of economic uncertainty and rising touring costs.
"MMF hugely values the constructive relationship we have with YouTube music and the consistent investment they have made in developing the skills and talent of the UK management community. This support has directly contributed to the success of new artists whose music is hitting new heights in the UK and globally."
---
Added Lyor Cohen: "I could not be more proud about YouTube's progress in driving revenue back to the music industry," said Lyor Cohen, Global Head of Music at YouTube. "We remain laser focused on becoming the number one contributor of revenue for the industry while also building a connected music experience across all music formats for fans and artists that allows for discovery, consumption and participation."
Noah Assad, CEO, Rimas Music (Manager for Bad Bunny), said: "Not only is YouTube a massive contributor of revenue to the music industry, it's an essential platform for artist development, independent music and music promotion.
"I've seen firsthand how artists benefit from the multi format potential of YouTube. From music video premieres, to live streams to shorts and so much more. The platform is constantly evolving, working to build artist careers and helping them to reach music fans all over the world with long lasting results. Youtube is where community and culture connect."
And Danny Rukasin, Co-Founder / Artist Manager, Best Friends Music (Manager for Billie Eilish), commented: "We have collaborated with our friends at YouTube on music campaigns and launches across our entire roster, and have enjoyed every single moment. Their team's commitment to the creative process, music discovery, and support for all artists comes through connecting and driving fandom and consistency in reaching new viewership milestones.
"A direct example of that support of developing artists early in their career, is their "Foundry Program" and its recently launched 2022 Class, who we proudly have a client in.  As an Artist Management company, we are very excited about their growth in monetization for the community of artists and creators that work incredibly hard on their art."
---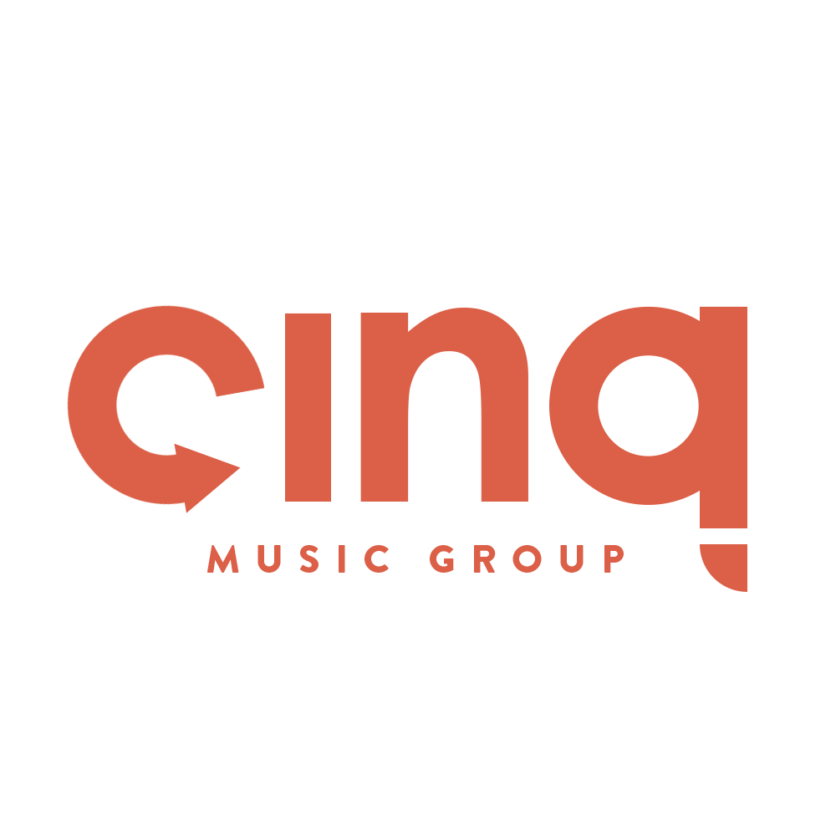 Cinq Music Group's repertoire has won Grammy awards, dozens of Gold and Platinum RIAA certifications, and numerous No.1 chart positions on a variety of Billboard charts. Its repertoire includes heavyweights such as Bad Bunny, Janet Jackson, Daddy Yankee, T.I., Sean Kingston, Anuel, and hundreds more.
Music Business Worldwide