People paying for the likes of Spotify and Apple Music played more music streams in the US last year than users of YouTube – in a dramatic market reversal.
That's according to the latest data from trusted market monitor BuzzAngle – whose stats show that digital video music streams grew by just 7.5% in the year.
By contrast, audio on-demand services saw streams on their platforms grow by a whopping 82.6% – from 137.29bn in 2015 to 250.73bn in 2016.
That was enough to comfortably overtake digital video, which attracted 181.31bn music streams in 2015, up 7.5% on 168.59bn in 2015.
(Obviously, two related players completely dominate this field. So for 'digital video' you can largely read 'YouTube and Vevo'. And before you ask… BuzzAngle's tally includes both premium content and identified tracks attached to YouTube user-generated-content.)
Ad-funded on-demand streaming volume only grew 14.3%, up to 59.36bn from 51.96bn year-on-year.
The biggest story in the market was on-demand audio subscription streaming.
According to BuzzAngle, paid-for streams in 2016 bounded up 124.3% – attracting 191.36bn plays in total.
That meant, for the first time ever, there were more music streams played by US users of on-demand audio services than there were on digital video platforms like YouTube – nearly 70bn more.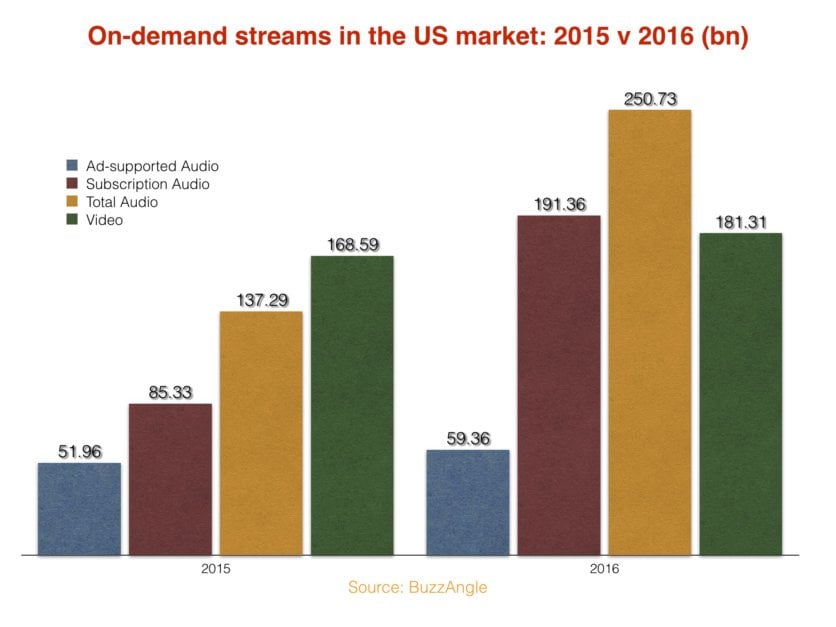 ---
The traditional sales market behaved a little more as expected.
As you can see below, total sales of albums in the US declined 15.6% to 173.4m – dropping below the 200m mark for the first time in recent memory.
This fall was mainly due to digital albums dropping 19.4% to 104.1m. Meanwhile, physical album sales dropped 11.7% to 89.4m.
Although digital remains the US consumer's favoured albums format, physical increased its share of the market in 2016.
As for single-track downloads, these plummeted 24.8%, down to 734.2m.
Vinyl album sales increased 25.9% to 7.19m in the year, enough to claim just over 4% of the total albums market.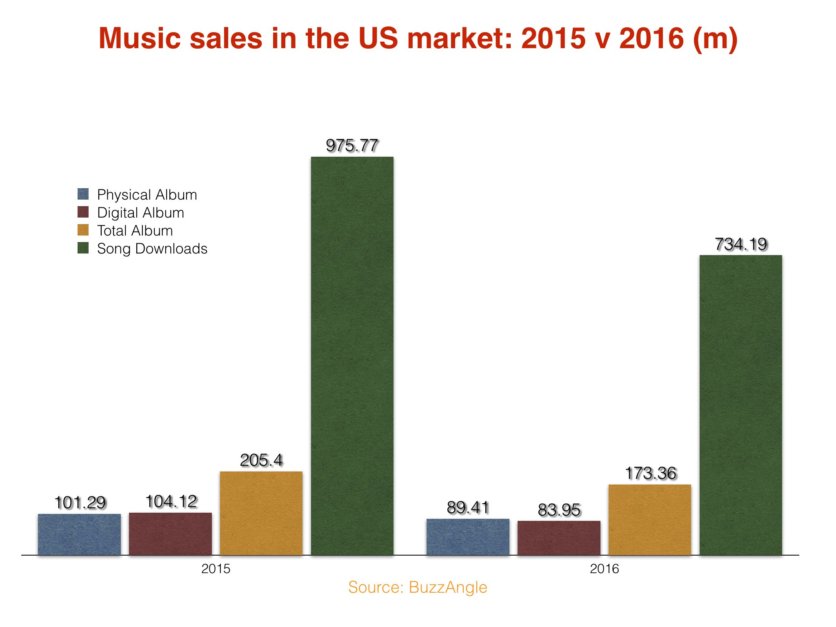 BuzzAngle uses an 'total album project' metric to measure the US market across formats – which equates album 'sales' in the download world as ten song sales, and in the streaming world as 1,500 plays.
In its annual report – which you can read in full through here –  it estimates that the US market's music consumption (on this 'project' basis) grew 4.2% in 2016.Music Business Worldwide